News
Rediscovering Familiar Places through an Unfamiliar Lens
---
How we see the world is largely shaped by our past experiences, and as members of the JMU and Harrisonburg communities our perceptions often share common themes. While there is variation that makes our point of views unique in their own way, most originate from the same storybook. Occasionally, opportunities present themselves to experience the world through the lens of someone whose story exists in an entirely different book, and experiencing this is both an enlightening and humbling experience.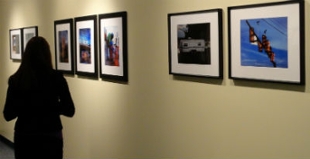 Iraqi refugee and photographer Husam Adnan Abdulazeez's photography exhibition: "How I See: A Refugee's Experience in Harrisonburg" is one of these unique opportunities.  The exhibition, sponsored by JMU's Institute for Visual Studies serves as an introduction to the Center for International Stabilization and Recovery's Post Conflict Recovery Week, which focuses on the physical and emotional process of recovery after conflict. Husam Adnan Abdulazeez's photography exhibition displays the Harrisonburg community from his perspective and allows a glimpse into the world of a refugee.
Husam Adnan Abdulazeez arrived in Harrisonburg in 2014, after seeking asylum in the United States. He and his family fled their home country of Iraq after the Gulf War in 1991 and lived in Syria for 15 years before arriving in America. Husam started taking pictures when he was 18 years old after his father gave him a camera. Utilizing his interest in photography Husam sought to visually capture the places and experiences that were vastly different from his life in the Middle East. What's on display offers to everyone the opportunity to see our community through a new and fresh perspective, one which may change the way we see the world.