University Recreation
UREC Cyber Maymester Mayhem
Join UREC for a series of programs and classes this Maymester!
---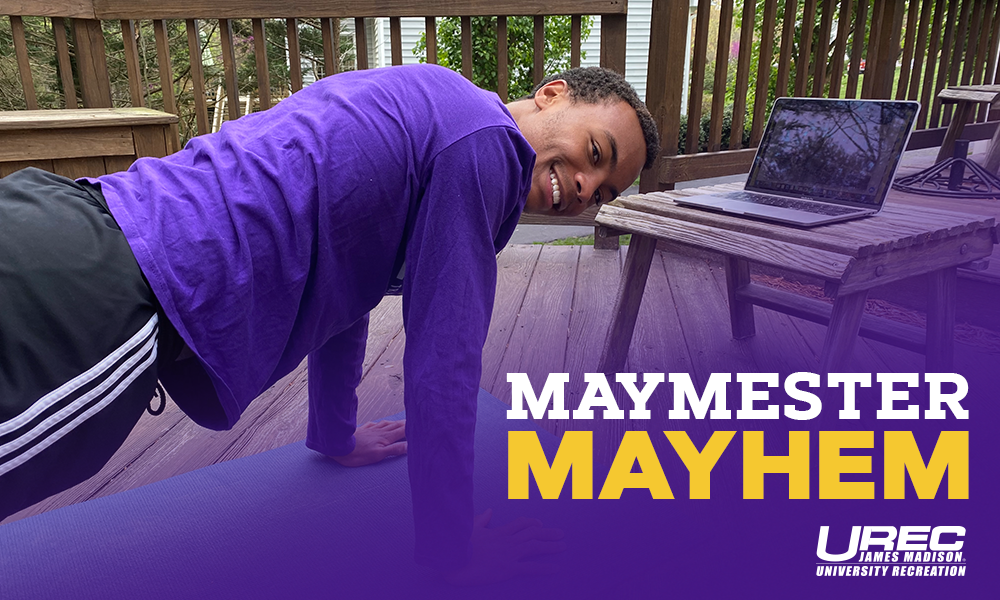 Join UREC for a series of programs and classes this Maymester to stay active and learn new skills from home! 
---
Live Group Exercise Classes & Workouts
UREC will be offering two Live Group Exercise classes per day Monday through Thursday starting May 18th. Check the weekly schedule here and subscribe to UREC's YouTube channel to watch all the recorded classes. Follow UREC on Instagram for more Workouts of the Day and instructional Fitness videos as well!
---
Cyber Maymester Mayhem on YouTube
Tune into the UREC YouTube Channel at 4:00 PM (EST) Monday through Thursday for live premieres of the following programs. Save the dates!
---
UREC's Assistant Director for Adventure Programs, Guy deBrun, will be your guide for video tours of some great local spots and give you some tips for making the most of your adventures!
May 18: George Washington National Forest - Hone Quarry Recreation Area
May 25: Bridgewater's Wildwood Park
June 1: South Fork of the Shenandoah River Access – Island Ford
June 8: Massanutten Resort Trails at the Western Slope 
---
Try a new taco recipe each Tuesday as the UREC chefs share some favorite recipes and tips with you.
May 19: Ground Turkey Tacos with Homemade Taco Seasoning
May 26: Breakfast Tacos
June 2: Classic Tacos
June 9: Veggie Tacos with Homemade Guacamole
---
Chris Jones, UREC's Assistant Director for Sport Clubs and Inclusive Recreation, and the resident Disc Golf "pro"-fessor, will give you all the tips and tricks on getting outside for this fun and easy to learn sport!
May 20: History and Rules
May 27: Equipment
June 3: Throws
June 10: Putting
---
Join one of UREC's Inclusive Recreation Managers, Clair, for a weekly dose of creativity and fun!
May 21: Tie Dye Shirts
May 28: Rock Painting
June 4: Toilet Paper Roll Wreaths
June 11: Painting the Blue Ridge
---
Additional UREC Virtual Offerings:
Bookmark UREC's Virtual Resources page to stay Motivated into Motion this summer.
---
UREC Strava Club
Join the UREC Strava Club on the fitness app to keep up with your fellow Dukes' activities and for weekly group challenges to stay active. 
May 18: 1,000 Mile Challenge
May 25: 250 Hours of Activity Challenge
June 1: 500 Activities Challenge
June 8: Virtual Run and Virtual Bike Events
---
Intramural Sports Free Throw Contest
UREC will be hosting a virtual Free Throw Competition on social media from May 25th to June 8th.
Rules:
1. Must be an active student, faculty, or staff member at JMU
2. Must follow @jmuUREC on Twitter
3. Each participant is allowed 20 attempts/shots
4. Place an object (ex. Cone) 15 feet from backboard
5. Must stand behind object while shooting free throw shots
6. In order to be considered, keep photos/videos clean and maintain social distance

How to submit your entry:
1. First submission is a picture of participant
2. Post the number of free throws player made out of 20 with the picture
3. Picture must be posted with the hashtag #URECFTContest and tag @jmuUREC

Competition Format:
1. After submissions are reviewed, staff will draw 8 participants and contact them to submit video of next 20 attempts. These videos should be submitted via twitter or emailed to urec-intramurals@jmu.edu.
2. Videos will then be reviewed, and top 4 participants will compete in a live zoom competition for the free throw contest.

Submissions can be posted starting Monday, May 25th at 12:00PM ET, and will close Friday, May 29th at 11:59 PM ET.
Follow @jmuUREC on social media for details!
---
TEAM Challenge Course
Does your team or organization want to get a jump start on connecting during this period of physical distancing? UREC is now offering FREE virtual team building services for JMU groups! Fill out the request form at https://bit.ly/VirtualTEAMbuilding and members of UREC's staff will join your calls and facilitate programs!
---
Questions? Contact UREC at urec@jmu.edu or visit www.jmu.edu/urec.