University Recreation
UREC Hosts 24th Annual Warm a Winter Wish
UREC gives back to the Harrisonburg community by fulfilling wish lists from individuals and families.
---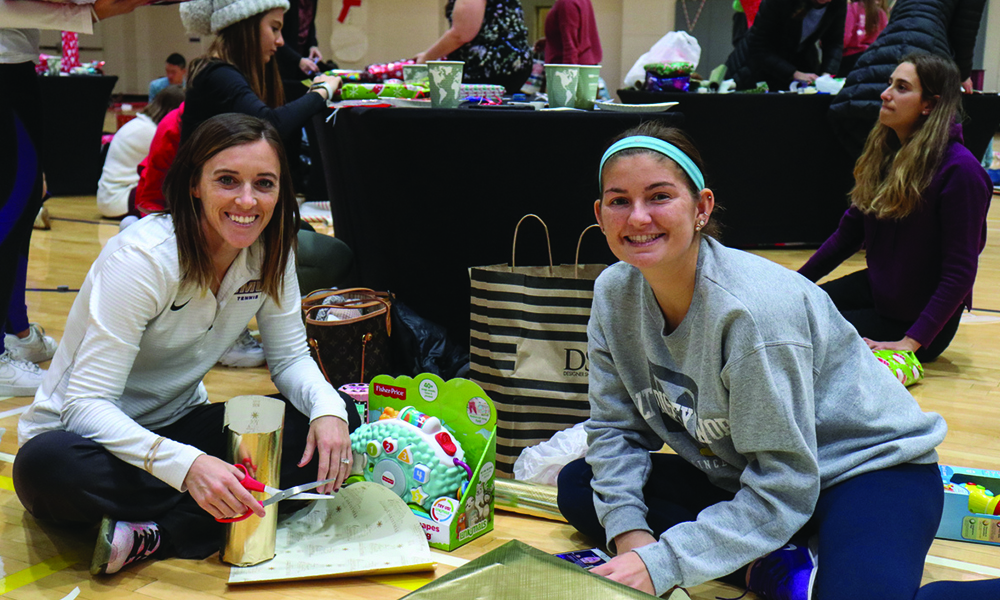 Written by: Samantha Linczyc ('20)

Every year, UREC gives back to the Harrisonburg community by collecting wish lists from individuals and families to be hung on a tree for staff, students and faculty to fulfill.

Lorie Miller, UREC's Senior Assistant Director for Reservations and Events, oversees all facility reservations and special operations. She has been helping create Warm a Winter Wish for over 20 years and has seen the event grow from just the group exercise employees to the entirety of the UREC staff.

Every year, Warm a Winter Wish sponsors three agencies; First Step, Mercy House, and Brain Injury Connections of the Shenandoah Valley. The event is planned entirely by the UREC graduate assistant team, who coordinate entertainment, food, marketing, and communicate with the agencies. They all put their heads together to create a genuine event that will show UREC's appreciation for the great impact that these agencies do for those in need.

Miller says, "This is my favorite part, seeing everyone come together and wrap all the gifts." This year, UREC received 563 tags, which means over 2,000 gifts will be wrapped and donated to the Harrisonburg community.

Brian Tran is the Graduate Assistant for Fitness and Group Exercise who is participating in his third Warm a Winter Wish. Being the agency liaison this year, he had the opportunity to work closely with First Step, Mercy House, and Brain Injury Connections of the Shenandoah Valley to ensure that the event ran smoothly and successfully.

Tran understands that students do not have a lot of money and may not be thinking of gift giving during the busy finals season, but despite this he says, "Every single year we are able to get more gifts than we think we are ever going to get." From fishing poles to tricycles, the JMU community exceeds expectations by providing wonderful gifts to those who may not otherwise be able to afford to buy or get presents for the holidays.

Kylie Moulin is a junior kinesiology major who volunteered her time to wrap presents at the event alongside her teammates on the tennis team. As a team, they went out to buy clothes and gifts to donate for Warm a Winter Wish. Moulin emphasizes what a great time she had and says "I think it's so much fun for everyone to come together to wrap gifts for people that are less fortunate."

Manuela Vazquez is the Outreach Coordinator for First Step and advocates for survivors of domestic violence. Her job responsibilities include being immersed in the community and sharing First Step's mission about domestic violence to make a change for the better of the Harrisonburg community.

This is her second year at Warm a Winter Wish and she finds it really heartwarming to see everyone come together for the community. Vazquez says, "It's honestly one of my favorite events of the season, I look forward to it and block out my calendar to make sure I'm here." This event shows survivors that the community cares about them and they are not alone. She is thankful to everyone for their dedication during her favorite time of the year and looks forward to future partnerships with JMU.
Published: Thursday, December 12, 2019
Last Updated: Thursday, December 12, 2019