University Recreation
UREC's Dr. Julie Wallace Carr wins Horace Moody Award
Dr. Wallace Carr recognized for outstanding development of students throughout 26-year campus recreation career
---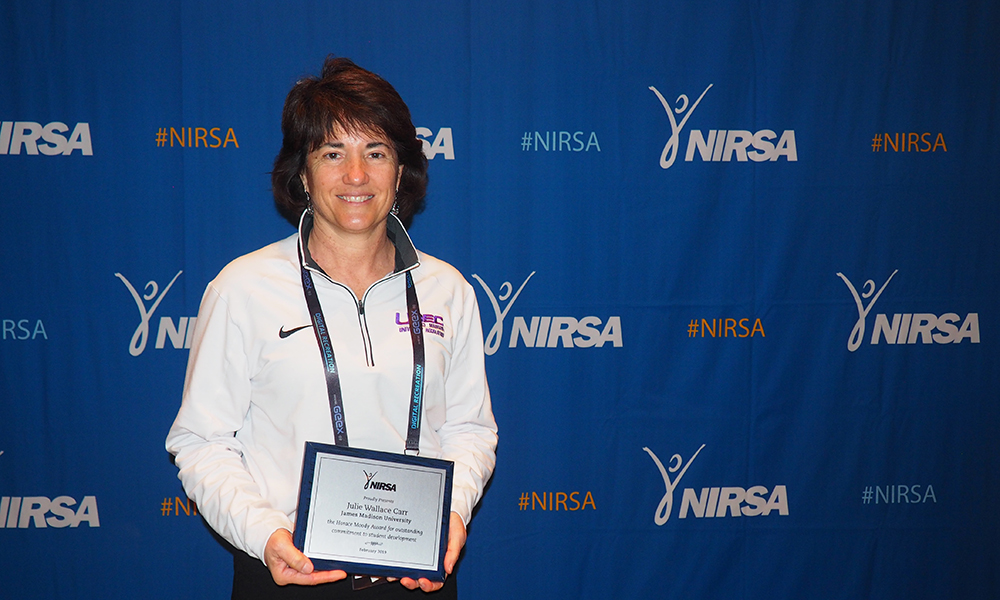 Written by Natalie Lavery ('19)

UREC's Senior Associate Director, Dr. Julie Wallace Carr, has won the 2019 Horace Moody Award at the NIRSA (Leaders in Collegiate Recreation) National Conference. This award acknowledges professionals whose encouragement, support, and commitment to excellence has directly impacted students and their professional development.

"No one is more committed to developing the next generation of campus recreation leaders than Dr. Julie Wallace Carr," Eric Nickel, JMU's Director of University Recreation, said. "She has mentored and inspired hundreds of undergraduate and graduate students in her twenty-six-year career in Campus Recreation, greatly impacting the field."

At JMU, Julie has made her mark in multiple positions. She is currently serving a joint academic tenure line appointment as the Senior Associate Director of University Recreation and as an Associate Professor in the Hart School of Hospitality, Sport and Recreation Management. Through her career at UREC, Julie has also served as the Senior Associate Director for Programming, Associate Director for Programming, Assistant Director for Programming, the Interim Director of the University Health Center, Interim Sport Club Coordinator, and Fitness and Wellness Coordinator.

In her current role at UREC, Julie maintains partnerships with the Division of Academic Affairs and supports student learning initiatives, including facilitating the UREC Graduate Assistant experience and the internship and practicum program. She advises 12-15 graduate students annually, personally, professionally and helps them with their post-graduation job search. Since 1996, Julie has mentored 107 campus recreation graduate assistants at JMU.

"For her, it is simply about changing her world," Will Trent, JMU UREC Graduate Assistant for Marketing and Social Media ('18), said. "Selflessly serving the students around her, shaping young minds, and helping people reach a pinnacle of success that they could not reach on their own. That's what this award is all about, and that's what makes Julie the perfect candidate."

Julie created and is currently coordinating the Campus Recreation concentration in the Sport and Recreation Leadership master's program, which is the only one of its kind in the nation. She has taught over 33 different courses in the graduate Sport and Recreation Leadership program and the undergraduate Sport Management program.

While Julie has made tremendous impacts on NIRSA and campus recreation as a whole, what makes her an outstanding candidate for this award is her dedication to seeing her students succeed.

"More than anything, Julie is deserving of this student development award because of her approach to influencing every student's individual growth and development," Nickel said. "She pushes students to be their best and creates a thriving learning environment where average is not an option."