University Recreation
Transformative Tunes
Former UREC employee ('14) turns love for music and the environment into nonprofit in Southern Africa.
---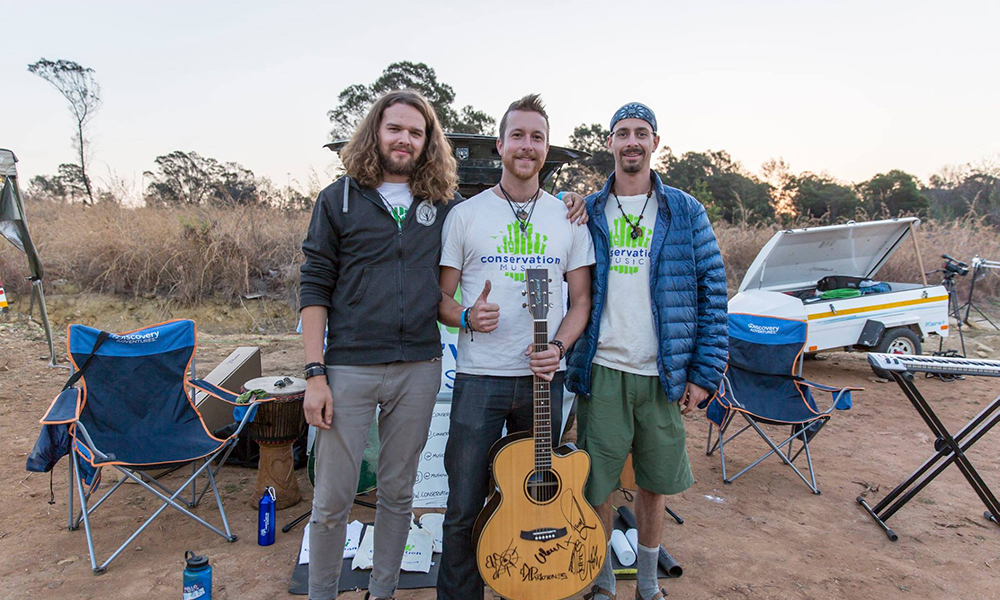 Written by Natalie Lavery ('19)

The time clock on the Conservation Music website flashes 3,990 days, 7 hours, 18 minutes, and the seconds decrease continuously. Bold white lettering directly underneath the clock reads "To Reverse Climate Change."

Alex Paullin, a JMU alumnus ('14) and former UREC Adventure student employee, started Conservation Music, a nonprofit that advocates for the environment through using music as an educational tool. Paullin, originally from Richmond, VA, moved to Southern Africa soon after graduation and has continued to grow his nonprofit throughout the continent in countries such as: Angola, Botswana, Lesotho, and many more.  

Paullin and his team believe Earth is home for everyone and the power of music finds the balance between humankind, society, and nature. The nonprofit creates nature-minded music and hosts live events and workshops, with the goal of instilling political will, fostering environmental knowledge, and mobilizing the music industry.

Paullin has always had a strong will to be outside and a deep connection with the natural world. He believes contact with nature is essential to building a conservation mentality and that it is very hard to breed environmental-conscious attitudes in people who never had direct experience with the outdoors.

"Taking people out into wilderness areas and sharing an alternative view of nature, as something that is more than a resource but also a source of inspiration, is basically crucial," Paullin said. "Through connection you can instill a passion for nature and inspire them to want to learn more through a sense of longing."

Paullin started climbing as a child and fell off the bandwagon until his freshman year at JMU, when the Atrium Climbing Wall at UREC brought him back to the sport. At UREC, Paullin worked with Guy deBrun, the Assistant Director for Adventure and TEAM Programs, as an Adventure Service Specialist and an Adventure Trip Leader.

He said that his job at the UREC Adventure Center took a lot of passions and budding interests that he had in the past and gave him the opportunity to explore them further and intensify them.

"I think some of his experiences here helped him see how outdoor adventure, how sustainability, and how music can all be rolled into one," deBrun said. "He may not have experienced that here but as he got out there and got some more experiences he was able to roll that all together. 

Similar to a hands-on connection, Paullin believes music works to bridge that same gap for the people who cannot make it to pristine natural places. He says that music makes people aware of the environmental issues and in turn, challenges them to change their behavior.

"Through music you can still create a sense of conviction, a sense of yearning or a desire to learn more, you can pass on the message in a way that has an emotional connection that might get close to the rush you feel when you first come over the crest of that mountain and see what is on the other side," Paullin said.

Right after graduation, Paullin moved to the small country of Lesotho in Southern Africa to aid deBrun's father on a climbing expedition. After the expedition, Paullin connected with a colleague from his internship at National Geographic and joined another expedition to complete a wildlife survey, as part of the Okavango Wilderness Project.

"It was that expedition that sealed everything together that had ever defined who I was in every way, everything I knew about, everything I had skills for, and everything I cared about sort of turned into Conservation Music," Paullin said.  

After the expedition ended, Paullin started collaborating with musicians to spread ecological awareness and headed back to Lesotho.

"It was such an extensive experience that really just peeled off every layer of who I was," Paullin said. "I found a way to leverage everything that I am, everything that I know, and everything that I am able to do to benefit the Earth we are living on." 

Three years later, Conservation Music is a thriving nonprofit organization, with a small team, a growing portfolio, and a large network of partner musicians and partner organizations both in Africa and the United States. Paullin claims his JMU experience contributed in a very big way to him finding his purpose at an early age.

He is grateful to have stumbled into what he believes to be his lifelong purpose before entering his 30s. He states that deBrun helped plant the seed that led to everything else.

"Part of the reason that I fell into this channel that has been such an experience of discovery and collaboration is the result of every sort of seemingly disconnected part of my JMU experience," Paullin said.


To learn more about Conservation Music, please visit:
Published: Monday, February 11, 2019
Last Updated: Monday, July 22, 2019