University Recreation
Serve with UREC this spring break
Travel with UREC for the 16th annual service trip in the Bahamas
---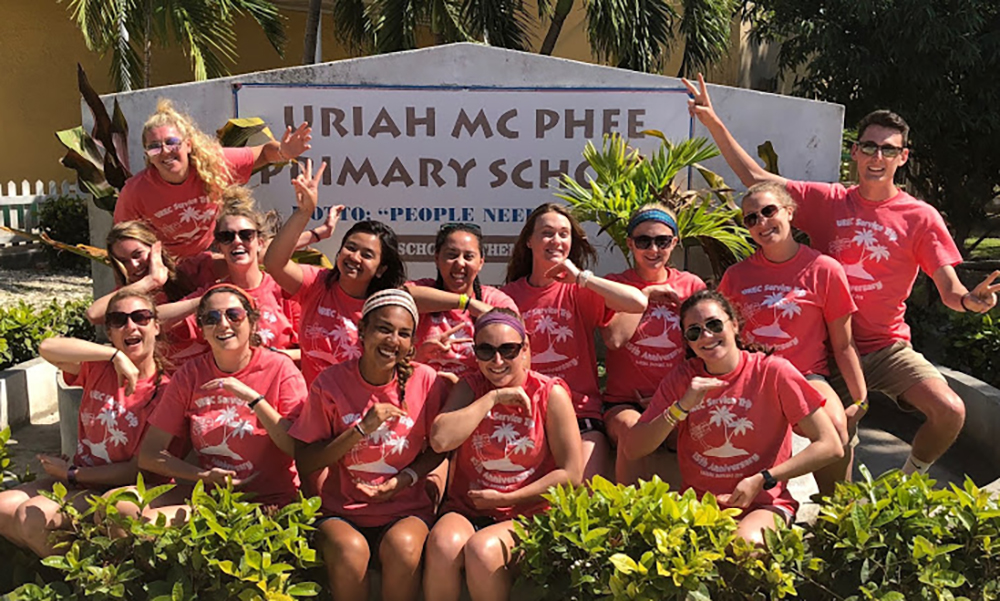 Are you looking to make a difference this spring break?
Do you love working with youth? Are you looking to spend the week in an exotic location? Want to challenge yourself and create new friendships? Then join this year's UREC Spring Break Service Trip to Nassau, Bahamas! For the 16th straight year, UREC will travel to the Bahamas for Spring Break to continuing a long-standing global community service partnership. 
While in the Bahamas, we will work with a local elementary school, Uriah McPhee Primary School, to provide the children life skills, teambuilding activities, fitness education, and a lot of FUN! You will strengthen your own skills in facilitation, teamwork, and leadership while serving the Bahamian children and having the time of your life.
Here are a few details:
The trip dates will be from March 1-8, 2019 (Friday-Friday)
The approximate cost of the trip will be $1000. This is to cover the cost of flights, stay, meal, etc.
You will also need a valid passport!
We will work to FUN-draise so that the cost of the trip is lessened as much as possible.
16 spots are available! Don't miss out!
How do you sign up? Follow this link to the lottery system! The lottery will be active beginning Wednesday, 09/26 at 8am and go offline on Monday, 10/01 at 11:59pm. Don't miss out!
If you are selected, you will be notified by Wednesday, 10/03. You will be required to pay for a $500 deposit by 10/10.
Immerse yourself in service and escape from the cold this spring break with UREC!
Learn more about last year's trip:
In March 2018, 14 UREC undergraduate employees (along with 2 professional and graduate staff) continued the tradition of UREC staff traveling to Nassau, Bahamas, to the Uriah McPhee Primary School to volunteer working with Bahamian school students pre-school through 6th grade, providing physical education, and service at the Adventure Learning Center.
Nora Osei, a UREC Graduate Assistant and one of the trip leaders, shares her experience on this trip:
"The group stayed at the Adventure Learning Camp (ALC). The ALC houses local church groups, organizations, and mission teams coming from abroad to serve the Bahamian people. They also have an Adventure Learning Center down the street which has farm animals for local Bahamian students to take field trips to for their science classes. Earlier this year, the Bahamas was hit by Hurricane Matthew. The hurricane did a lot of damage to the whole island of New Providence, and people are still trying to recover from it. The stone wall and fence which protected the Adventure Learning Center was damaged, so time was dedicated that week for the UREC group to help repaint it.
Uriah McPhee Primary School's Motto is: People Need People. They truly understand the importance of community. Every morning before school, the UREC group would come about 30 minutes early to hang out and play with the kids before class. Normally for their PE class once a week, the kids just run laps around their school because their classes are very big and it's easier for one PE teacher to facilitate that. This week is special. For the past 14 years, these students look forward to JMU students coming to facilitate P.E. games and activities for different grade levels. The kids remember the names of the JMU students from last year, and by the end of the week, they had all 20 of our names memorized. The kids were sad to see the UREC group leave, but it's rewarding to know the UREC staff will return and hold a special place in their hearts, just as they have in ours.
Throughout the week, the group became very close. We laughed from 6am during morning yoga, to 11:30pm in the cabins giggling for hours over the silliest things. Friendships were created and strengthen during the airplane rides, when we took turns cooking scrumptious meals for each other such as 18 boxes of macaroni and cheese, cleaning, riding the bus, riding the jitney, at the beach, during our 8 mile hike round trip to a beautiful secluded lagoon, holding a snake at a national park, and allowing ourselves to open up our hearts and grow from each other during reflection each night. The sense of community, compassion, support, and care that we experience throughout the week was immense. The amount of smiles, bear hugs, deep-hearty laughs, tears of joy, excitement, passion, and hope was overwhelming. Pictures and videos cannot fully capture all the love that was shared and felt. The impact this trip has had on the group and the children at Uriah McPhee is profound. Thank you for this unforgettable experience."
Questions? Contact the Coordinator for Informal Recreation & Youth Programs.
UREC Homepage / Facebook / Twitter
Published: Monday, September 24, 2018
Last Updated: Monday, September 24, 2018