University Recreation
UREC students recognized with national awards at NIRSA 2018
Student employees recognized for leadership, staff present best practices
---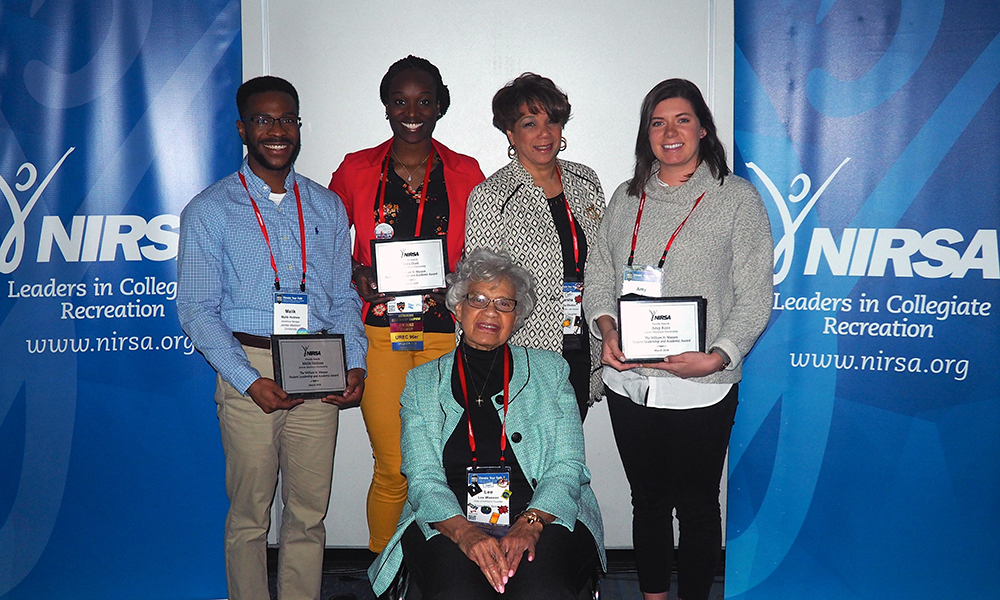 More than 3,000 collegiate recreation students, professionals, and exhibitors gathered at the 2018 NIRSA Annual Conference March 4-7, 2018 in Denver, Colorado. NIRSA comprises and supports leaders in collegiate recreation.
Undergraduates, graduate assistants, and professional staff represented James Madison University at the conference, and were proud to accept several student leadership awards, along with facilitating several conference presentations.
Awards

William N. Wasson Student Leadership & Academic Awards
This national award recognizes outstanding students who are actively involved with the Department of Recreational Sports on their university or college campus.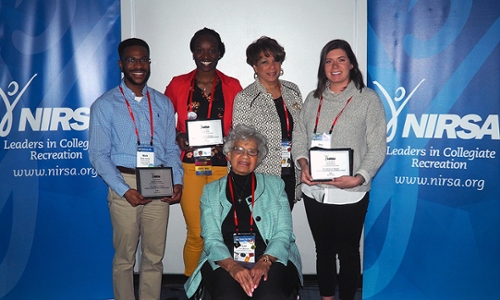 (photo above with members of the Wasson family)
Malik Holmes, UREC Student Employee (Adventure)
Nora Osei, UREC Graduate Assistant for Sport Clubs and Youth Programs
Amy Ross, UREC Student Employee (Operations)
NIRSA Region II Student Excellence Scholarship
This regional award scholarship recognizes outstanding collegiate recreation student members for their service and dedication to the region. These members continually "set the standard" or "epitomize leadership" on campuses across the region.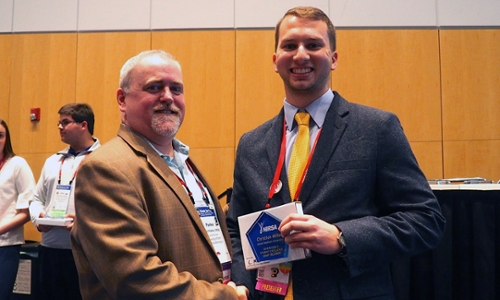 Christian Miller, UREC Graduate Assistant for Member Services (photo above)
NIRSA 2018 National Conference Presentations
Moving On Up: Executive Education for Aspiring Directors
Panel of Directors, including Eric Nickel, JMU, Director of University Recreation
Building Strong Contractual Service Partnerships
Kristin Gibson, JMU, Associate Director for UREC Services
Steven Bobbitt, JMU, Associate Director for Programming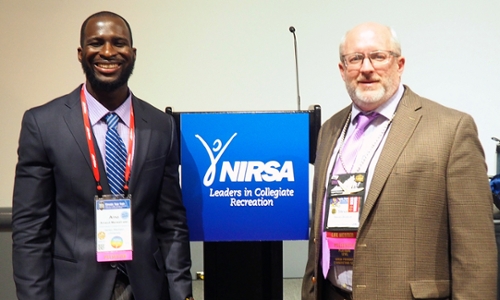 All Along the Watchtower: Developing a Program Monitoring System
(photo above)
Steven Bobbitt, JMU, Associate Director for Programming
Arnaud Mensah Etsi, JMU, Graduate Student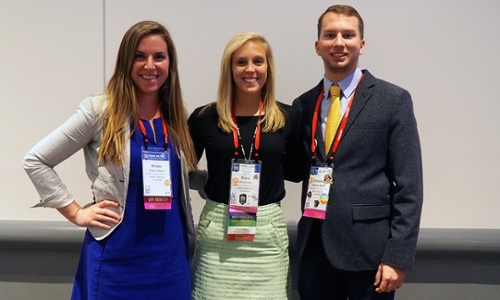 The Customer Experience Expedition: A Service Ethic Trail Map
(photo above)
Erica Foltz, JMU, Assistant Director for Member Services
Kristin Gibson, JMU, Associate Director for UREC Services
Christian Miller, JMU, Graduate Assistant for Member Services