University Recreation
The Outdoor Nation Campus Challenge is back at JMU
Join the challenge. Enjoy the outdoors. Win cool prizes.
---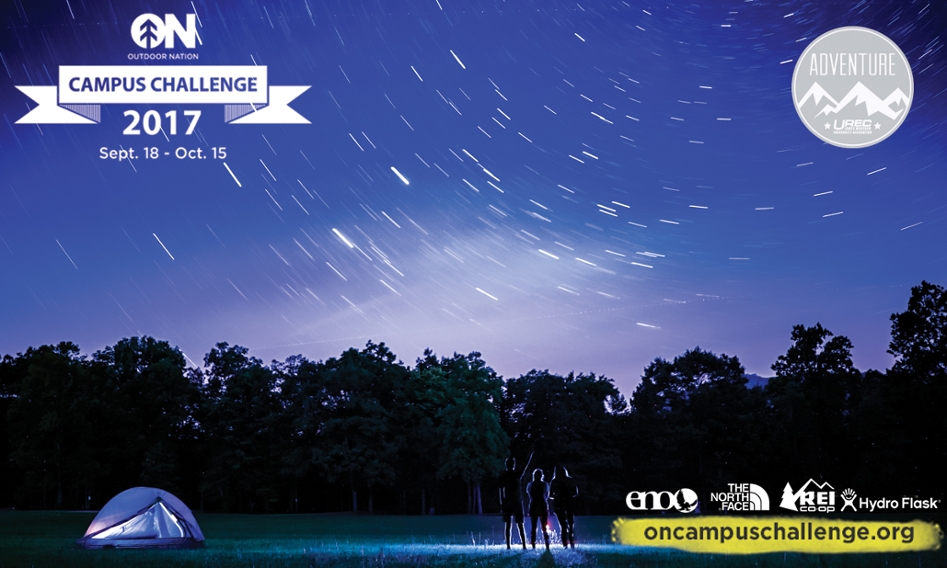 Written by Caroline Henry ('19)

If you ever wander through our campus, it's obvious that the Dukes are always ready for a competition and we've certainly proved our greatness more than a few times! So, when the chance to compete in the 4th annual Outdoor Nation Campus Challenge was presented to us, UREC couldn't resist.
The Outdoor Foundation, a nonprofit organization that aims to connect millennials with the outdoors, hosts the Campus Challenge in hopes of motivating students across the country to explore the wilderness. Starting on September 18th and up through October 15th students who register to be part of James Madison University's team will be participating in various outdoor activities (think: hiking, kayaking, backpacking, and bird-watching) and competing against over 90 other colleges nationwide in hopes of earning the National Outdoor Champion title.

This fall will be JMU's third year participating in the Campus Challenge and team leader, Guy DeBrun, University Recreation's Assistant Director for Adventure and TEAM Programs, is especially excited! Speaking from experience, DeBrun shares, "The Outdoor Nation Campus Challenge is a wonderful opportunity to create excitement at JMU for spending time outdoors. Unplugging and spending time outside is important for the many health benefits it provides in all the dimensions of wellness."

JMU graduate student, Stevie Lee, builds on DeBrun's comments adding, "I really enjoy the Outdoor Nation Campus Challenge because it motivates me to get outside and be active. The free gear is also a plus! Spending time outside helps me relieve stress, maintain a healthy lifestyle, and enjoy all that the beautiful Shenandoah Valley has to offer."

Wait…did she say prizes? Yes! The Challenge is sponsored by REI, The North Face, Hydro Flask, and ENO who have generously donated a stock of outdoor gear and cash prizes waiting to be claimed by participants.

So what are you waiting for? Here's how you join the team:
Step 1. Download the Outdoor Nation Campus Challenge App on your smartphone
Step 2. Create an account
Step 3. Join JMU's team
Step 4. Log all outdoor activities from September 18th – October 15th
Yes, it's that easy!

For more information about the Outdoor Nation Campus Challenge, visit oncampuschallenge.org and OutdoorFoundation.org. 

UREC Homepage / Facebook / Twitter
Published: Tuesday, August 1, 2017
Last Updated: Wednesday, January 2, 2019