University Recreation
Stand up paddle boarding
What's SUP?
---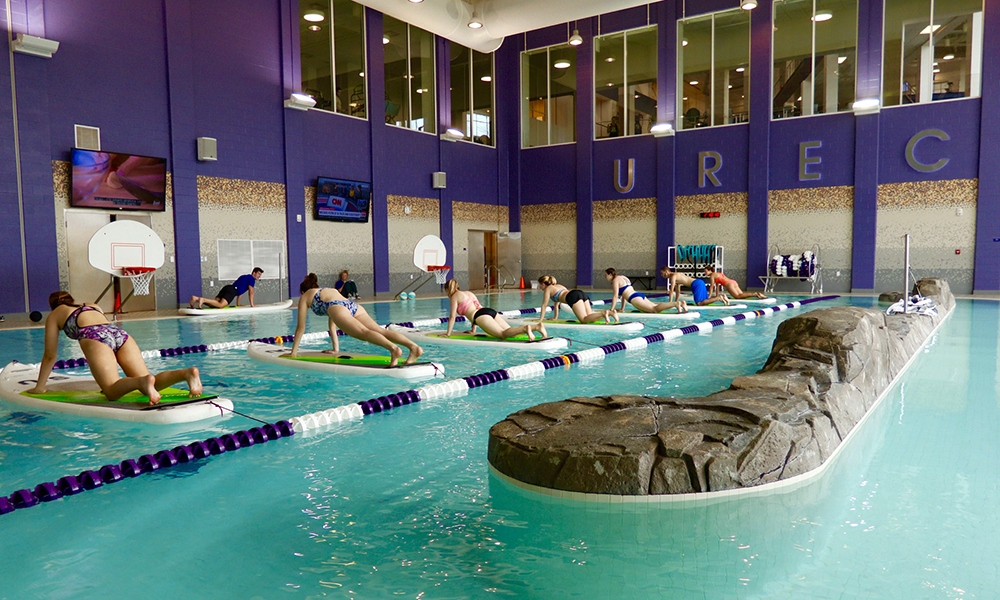 Challenge yourself to try something new: Stand up paddle boarding (commonly called "SUP")! 
SUP is the fastest growing watersport in the world, and you can try it here at UREC! It's a great full body core workout, and people of all ages, skill levels, and experience can be up and riding in no time.
Jake Lodge, UREC Graduate Assistant for Aquatics and Safety, says "This is a great class because regardless if we are targeting upper body or lower body with our workouts, you're always working your core and proprioception. It's core like never before. It offers a refreshing change in environment while working through some familiar exercises."
Each of our instructors teach their class differently. From low impact sculpting to HIIT training. All involve lots of core work, we incorporate yoga movements into each class to challenge your balance. Participants are often surprised as to how much your core is working, without realizing it. 
In each class we use resistance bands and lots of body weight. We make sure everyone is comfortable standing, and teach proper standing techniques, then move to high impact movements when participants are ready. We encourage folks to not be afraid of falling in and to challenge themselves to try new things on the board! 
All you'll need to bring is a swim suit and towel! 
Every class is different. We shut the doors, bump the music. It's a party!
Register now for Stand Up Paddleboard classes at UREC!
UREC Homepage / Facebook / Twitter
Published: Saturday, September 2, 2017
Last Updated: Wednesday, January 2, 2019