News
Cast a giant shadow
---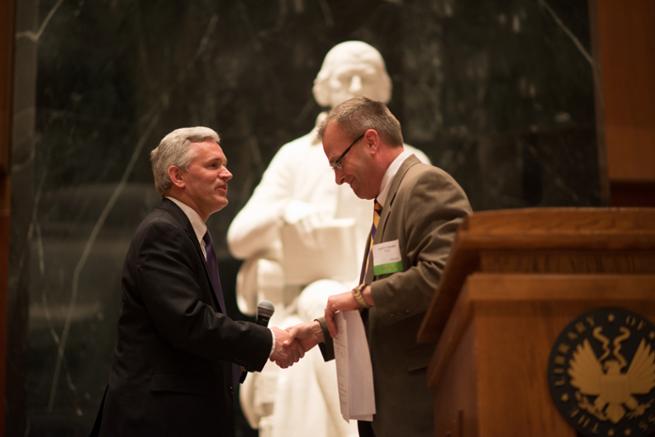 Living up to James Madison's Legacy
President Alger's Speech in Madison Hall at the Library of Congress
April 24, 2014
Welcome everyone to this glorious and fitting venue! Take a moment to look around – this is a special moment we should savor.
I want to reflect a bit on the legacy of James Madison the man.  He was our shortest and smallest president, but he cast a big shadow over the history of the US and the world.
When I was a child, I had a set of small ceramic presidents in my bedroom.  I have always been fascinated with the American experiment in democracy – which we so often take for granted today. Those little statues reminded me that these were all real people – and that individuals can make a difference in the world. I've always liked underdogs (maybe because I'm such a bad athlete!), so I've always been partial to that small James Madison statue. As a lawyer who has worked on constitutional issues over the years, you can imagine how excited I was to come to a university named for the Father of the Constitution! Our university is a microcosm of society (with its rich diversity of people and perspectives) – and we can also be a model for our society of how people can help each other to discover and achieve their full potential!
Many people today are asking (especially right here in Washington, DC) – Is higher education worth the investment? We have a strategic plan in place that builds on that legacy of Madison – and that provides powerful answers to that question! We start with a bold new VISION:  to be the national model of the engaged university:  engaged with ideas and the world.
What do we mean by engagement?   It has several different facets.
The first is Engaged Learning, which includes high-impact practices that provide deep interactions among faculty and students and help transform people's lives (and that prepare our graduates to be lifelong learners). James Madison the man was one of our nation's first great students.  He had a close relationship with teachers who discussed and debated with him. And he kept studying long after his formal education was over (in his study at Montpelier, he read every work of political philosophy he could find).  He discovered his passion for governance through service – just as many of our students discover their passions through service learning.
Other high-impact learning experiences include:
Undergraduate research (JMU combines strengths of liberal arts colleges with those of large research universities)
Study abroad (we're #2 among comprehensive universities, and looking to expand on that front)
Internships (in places like DC) – alumni are crucial to our efforts here.
Teamwork and collaboration – Was there ever a better example in American history of teamwork and collaboration than what we saw in the summer of 1787?  Let's help our students rediscover that magic.
As we build and renovate our facilities, we are seeking to create spaces that foster collaboration and teamwork.  (Come visit the Student Success Center, Duke Hall, or the Biosciences Building to name a few!)
Next is Community Engagement at all levels, which means applying knowledge to real-world problems. The Founding Fathers were heavily invested in their communities.  Indeed, Madison and his colleagues knew that a healthy democracy required citizens who were actively engaged with non-profit organizations. Community engagement reminds us that we are part of something larger than ourselves – that our lives are interconnected. We are being very intentional about expanding opportunities to partner and collaborate with other organizations locally and regionally – and across the state, nation and world.
I cite just a few examples
The JMU Big Event was a great success. Just a few weeks ago, service projects happened around the area, the nation and the world, all on the same day.
Alternative Spring Break occurs annually, with 45 trips bound for destinations near and far, where students help others.
Students in our Florence Study Abroad program teach English in the public schools.
Not least is Civic Engagement. Madison taught us how to use the levers of government and public policy to "be the change" in the world – that should sound familiar! This is a key component of our strategic plan:  We are focused not just on the RIGHTS of educated and enlightened citizens, but also on our RESPONSIBILITIES. We are fostering civic engagement through a variety of means:
The new Madison Vision Series brings distinguished lecturers to campus to help students in all disciplines engage with the big societal questions and challenges of their time.
Collaborations with Montpelier and the National Constitution Center on civics education are rich opportunities to mine the lessons of citizenship from our nation's founding for contemporary society.
We are a leader in the Franklin Project, a national effort focused on promoting public service.
And a new university-wide initiative ties all these themes together:  The Madison Collaborative: Ethical Reasoning in Action (look at impact on others as you make decisions; across all disciplines) – employers see it as an advantage.
JMU is on the move!
In just a couple of weeks, we will be graduating around 4,000 students (bringing our total number of alumni to approximately 119,000 worldwide)! Many will come to D.C., so I encourage you to reach out to them as mentors and friends!
And speaking of these themes of citizenship, at the university-wide ceremony, our commencement speaker will be Dr. Matt Wasniewski, Historian of the US House of Representatives, who earned undergraduate and master's degrees from JMU and is here with us today.
JMU is ready to take the stage as a national university, but we need your help!  Our endowment and our giving are the area that needs to grow the most.
We cannot achieve our lofty goals without creating a strong culture of philanthropy that mirrors the strong sense of JMU as a community.
Over 40 percent of our employees donate to the university, as do over 10 percent of the current students. The alumni giving rate is closer to 8 percent, so we have much more work to do!
The people who make up the extended JMU family are our greatest asset.  We have BIG DREAMS, but we also have a BIG FAMILY.  Let's make Jemmy proud of his family – and let's show the world what we can do together!
Thank you.
Published: Thursday, April 24, 2014
Last Updated: Tuesday, June 7, 2016