News
Why Madison Presidential Listening Tour: Student Athlete Advisory Council and Business Students
---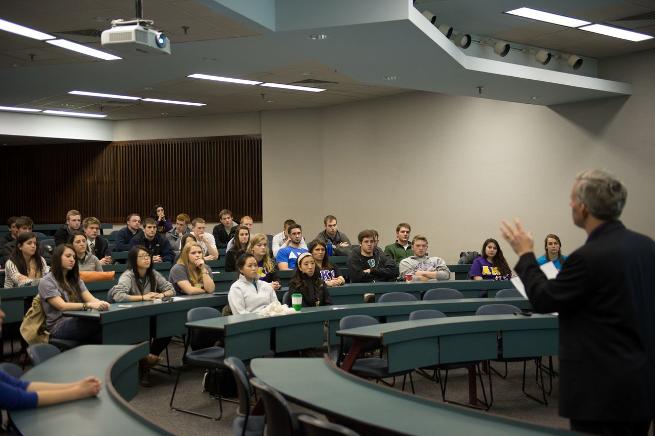 President's Journal —
Student-Athlete Advisory Council at the Convocation Center
Business students at Showker Hall
January 2013
January was chockful of listening tour events with students
January was chockful of "Why Madison?" Listening Tour events with student groups. First, I met with the Student-Athlete Advisory Council at the Convocation Center. And a few days later, the business fraternity hosted a session in Showker Hall for business students. Both groups were terrifically engaged and involved. They talked about their Madison experiences and perceptions. It is so important to make a special effort to obtain their thoughts and insights, because it is the student experience that we seek to enhance through this process of listening and strategic planning. It was also quite enjoyable to spend time with enthusiastic JMU students.
 
Student-Athletes open up in a "Why Madison?" session
I met one evening in January with the Student-Athlete Advisory Council. We had a great, open session with several members from each of our intercollegiate athletics teams. This was a room full of seasoned and thoughtful competitors. They shared opportunities and challenges about being a student-athlete at JMU, and it was clear that these students exemplify a winning spirit.
 
Academic program was the top draw for our athletes
Our student-athletes told me that they chose to come to JMU because of our academic program—that JMU's academic reputation influenced their decision to attend. It is reassuring how much Madison student-athletes truly want to excel as students—in academics and organizations outside of their sport—despite the challenges of a rigorous athletics schedule. Their priorities are in the right place and align with the JMU philosophy—that intercollegiate athletics are integrated into the overall educational mission at JMU. That's just so impressive.
 
JMU's hallmark educational culture even permeates intercollegiate athletics
We talked quite a bit about the holistic environment of our athletics culture. Student-athletes mentioned the support they get from coaches and teammates, that they are encouraged to grow as whole people and be successful on the field and in the classroom. Like so many of the alumni, faculty and other students I have spoken with along the "Why Madison?" Listening Tour, these student-athletes also mentioned how much they appreciate Madison's welcoming and happy community. To me. it was just striking how JMU's hallmark culture permeates all aspects of the university, including intercollegiate athletics. Some universities' athletics departments can have a very different mindset that is set apart from the rest of the institution. We don't have that here, and it shows in our student-athletes. Yes, they learn teamwork, overcoming challenges and resiliency—and they learn it in both the classroom and in athletics.
 
Rigorous team schedules emerge as top challenge
There are challenges and stresses too—and these student-athletes didn't hold back—most notably stemming from their rigorous team schedules. Games. Practices. Road trips. The stigma of absences. Getting those one-time upper-level course offerings. Doing their part in group projects for class. For the most part, these student-athletes are aware they must go the extra mile to reach out to professors and classmates and work around their athletics schedules to meet all of their obligations. They are serious about their sport and about winning. As I mentioned earlier, I believe these student-athletes are true winners.
 
College of Business students also turned out for "Why Madison?"
Later in January, I had the opportunity to meet with a group of College of Business students. The room in Showker was packed and their energy was reflective of students who are serious about becoming successful business leaders, entrepreneurs and executives.
 
Students appreciate the quality and commitment of their professors
One of the most remarkable things during the "Why Madison?" Listening Tour is how consistently certain themes emerge. One of the strongest themes I am hearing—from alumni and from students—is appreciation for our faculty and their instrumental role in student success. It was reassuring that it is holding true in my visit with College of Business students. They were full of praise for their faculty. They said professors are available outside of the classroom, they are accessible and approachable and they care about students as individuals. Students also said they appreciate that their business professors keep up to date on trends and new ideas in business and industry and bring concepts from the marketplace into the classroom. That is our hallmark real-world approach to education in action, and it doesn't happen by magic. It takes faculty commitment.
 
Hands-on educational opportunities a highlight of business education
In that same vein, business students also said they appreciate the hands-on opportunities a business education provides—CoB300 is pretty renowned for its team-oriented business plan creation, but there are also opportunities for students to take on real-world business projects in the community. They told me they appreciate collaborations with other parts of the university; for example, the College of Business and the College of Integrated Science and Engineering often collaborate.
 
Students identify lack of space and the need for more diversity
Business students also brought up some challenges. They were unanimous in their hope for additional space and facilities for business on campus. The college has grown so much since Showker Hall was built, and students wished to extend that professional environment to give them more time to work and collaborate. The students were echoing a theme voiced earlier by the business faculty when I visited with them last fall. Diversity—or rather a need for additional diversity—came up again in our discussions with the business students. They realize that becoming a more inclusive family is critical for the competitiveness of not only our business students but for all of our students at JMU. I have appointed a task force that will be coming up with action items to address ways to increase the diversity of our students and of our faculty and staff. Our graduates will be competing in a global marketplace and working with colleagues from many cultures and will quite likely live abroad.
Published: Tuesday, February 12, 2013
Last Updated: Wednesday, May 24, 2017