News
Why Madison Presidential Listening Tour: Student Ambassadors
---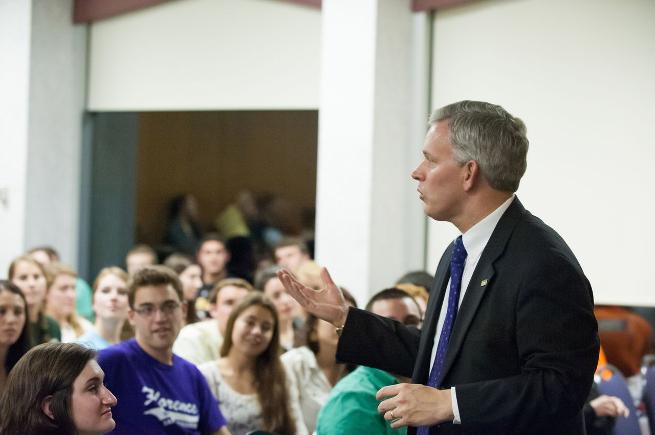 President's Journal —
Student Ambassadors, Taylor Hall, Jan. 27, 2013
The Student Ambassadors are an informed and energetic group
It was terrific to spend an hour with the Student Ambassadors in Taylor Hall tonight. Here we were here on a rainy night on campus and still we had a fabulous and enthusiastic turnout. These student ambassadors are superstars here at JMU and they really live up to their name as ambassadors for the university. They care so much about JMU, and they're really well informed about JMU and really well engaged in the life of the university, so it was a terrific and energizing conversation.
 
I heard mature perspectives on our faculty, GenEd and community-service
I know what that finger-snapping means now, and it was very reassuring to receive several rounds in response to some of the issues we were discussing tonight—the JMU public service ethos and programming that matches that of a private college; the quality and personal dedication of the faculty; and the mind-expanding value of the GenEd program. It was refreshing to hear students reflecting in a very mature way on the educational benefits they receive here, starting with those faculty interactions. Students recognize the quality of the faculty and the fact that the faculty who come here want to teach. They want to engage with students. They want to get to know them as individuals. I was delighted to hear from a student perspective that they recognize and value their professors. They didn't view GenEd as a chore but as the core education that is helping to prepare them for the working world and to develop communication skills and critical thinking skills.
 
The quality of the Madison education wins over labels of prestige
It was nice to hear the Student Ambassadors articulate that they chose JMU because of the quality of education they would receive here and that quality is about much more than labels, or rankings or perceptions or elitism or schools that have been around for hundreds of years. JMU really does stand for something special and something academically substantive, and they get that. One of the things we heard was that this is not a place where everyone has to take the same path or have the same educational journey. We offer flexibility. We are an innovative school where if a student wants to do something a little different with their education—which might include undergraduate research, it might include community engagement, it might include something like participating in JMU Teach—they can do those things here. We welcome and value that. We welcome their suggestions too. We got some suggestions tonight about majors and pathways here and that feedback is very valuable because we want this to be a meaningful experience for students. We don't expect students to ascribe to a cookie cutter approach to their education.
 
Ambassadors value sense of community, faculty quality and attention
It was very clear from these students that the Madison sense of community is very important. So they expressed concern that additional growth might mean losing that sense of community, that sense of belonging, along with the ability of the faculty to take that special time with students. That's something that is really, really important to the JMU experience. I think we've been very intentional about maintaining and trying to enhance that sense of community. It takes effort, especially as the university grows bigger. We talked about how there will be some growth in the near term in some key areas where there is demand: STEMH [Science, Technology, Engineering, Math and Health] disciplines—areas like nursing or engineering where there are a lot of jobs and there's a lot of market demand right now, and where the state is asking us to provide additional opportunities. But we're being very intentional and strategic about those growth opportunities; it's not just growth for the sake of growth. If we do increase the numbers in certain disciplines, that means we will have to hire more faculty members and get more support so those students can have the same quality of experience and that same personal touch that we're so well known for.
 
Students want to know how to take Madison with them after they graduate
There was some trepidation in the room tonight. These students say they have had a great experience here at JMU. They feel very comfortable in this community. They love it here so much that they are concerned about what comes next and how they prepare themselves for becoming alumni of James Madison University. They wanted to know how they can take that sense of Madison community and belonging with them after they graduate. These Student Ambassadors indicated they are more than willing to do their part—to remain engaged in JMU, to give back, to extend the Madison network among fellow alumni and future students. I have spoken often on the "Why Madison?" Listening Tour about intergenerational learning—which means alumni engaging with current students, talking to them about job opportunities in different fields, and helping them make contacts in different professions and fields. There's a lot that today's alumni can do for each other and for the students that are about to graduate. The Student Ambassadors in the room tonight will also be able to help after they graduate. That's the conversation I want to continue. I want to hear from the students as well as the alumni about what kind of meaningful engagement would be most helpful as they think about their transition to becoming alumni. These students tonight recognized that they are the alumni of the future, and that they will figure largely in increasing our alumni giving participation rate to achieve our hopes and dreams for the future of Madison. They also noted that they must start now and not let the beautiful campus and recent new buildings lull them into believing that JMU has all its needs met.
 
Student-Athletes open up in a "Why Madison?" session
I met one evening in January with the Student-Athletes Advisory Council. We had a great, open session with several members from each of our intercollegiate athletics teams. This was a room full of seasoned and thoughtful competitors. They shared opportunities and challenges about being a student-athlete at JMU, and it was clear that these students exemplify a winning spirit.
 
Academic program was the top draw for our athletes
Our student-athletes told me that they chose to come to JMU because of our academic program—that JMU's academic reputation influenced their decision to attend. It is reassuring how much Madison student-athletes truly want to excel as students—in academics and organizations outside of their sport—despite the challenges of a rigorous athletics schedule. Their priorities are in the right place and align with the JMU philosophy—that intercollegiate athletics are integrated into the overall educational mission at JMU. That's just so impressive.
 
JMU's hallmark educational culture even permeates intercollegiate athletics
We talked quite a bit about the holistic environment of our athletics culture. Student-athletes mentioned the support they get from coaches and teammates, that they are encouraged to grow as whole people and be successful on the field and in the classroom. Like so many of the alumni, faculty and other students I have spoken with along the "Why Madison?" Listening Tour, these student-athletes also mentioned how much they appreciate Madison's welcoming and happy community. To me. it was just striking how JMU's hallmark culture permeates all aspects of the university, including intercollegiate athletics. Some universities' athletics departments can have a very different mindset that is set apart from the rest of the institution. We don't have that here, and it shows in our student-athletes. Yes, they learn teamwork, overcoming challenges and resiliency—and they learn it in both the classroom and in athletics.
 
Rigorous team schedules emerge as top challenge
There are challenges and stresses too—and these student-athletes didn't hold back—most notably stemming from their rigorous team schedules. Games. Practices. Road trips. The stigma of absences. Getting those one-time upper-level course offerings. Doing their part in group projects for class. For the most part, these student-athletes are aware they must go the extra mile to reach out to professors and classmates and work around their athletics schedules to meet all of their obligations. They are serious about their sport and about winning. As I mentioned earlier, I believe these student-athletes are true winners.