News
2013 March Thank You Email
---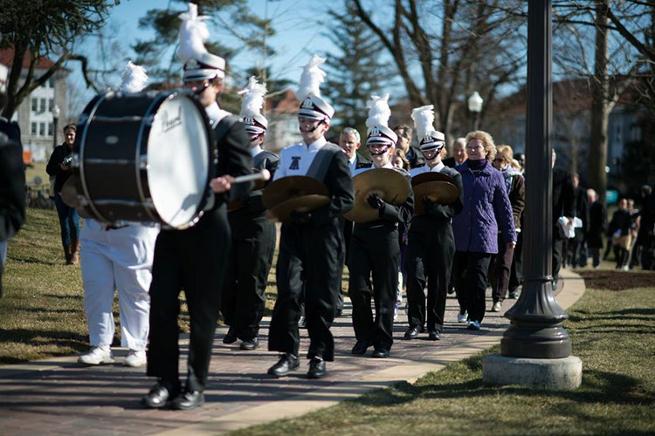 Thank You Madison Community Email
Thursday, March 28, 2013
Dear James Madison University Community:
It is with tremendous gratitude that I write this message of thanks to the Madison community. This spring is a momentous time for the university and I want to acknowledge the efforts of several groups working to help take us into a new era.
Madison Week
Thank you to everyone who organized and participated in the many events of Madison Week.  It was a wonderful and inclusive celebration that brought the university and the local community closer together, drew alumni back to campus, engaged students and faculty and staff in thought-provoking and fun events and celebrated our heritage. You can see photos from the week at: http://www.jmu.edu/inauguration/
Reaffirmation of Accreditation
Thank you to all involved in preparing for the arrival of the team from Southern Association of Colleges and Schools Commission on Colleges is coming to campus April 2-4. It is only once every 10 years this happens, and you all have risen to the challenge. Thanks also to the many staff and faculty involved in preparing our QEP, The Madison Collaborative: Ethical Reasoning in Action. For more information, please visit: http://www.jmu.edu/sacscoc/
"Why Madison?" Listening Tour
Thank you to everyone who worked on the presidential listening tour, as well as those who participated in the events on and off campus. Even though there are just a handful of listening tour events still to come, I want you to know that I will never stop listening, and all of us should never stop asking, "Why Madison?" Every tour stop is reviewed at: http://www.jmu.edu/whymadison/
Class of 2013
You will be graduating in just a few weeks! As you begin the next exciting phase in your life, take what you have learned at Madison and be the change wherever you go. Thank you for your contributions to the university and please stay connected with us. To answer any questions you might have about commencement, please visit: http://www.jmu.edu/commencement/
Madison Future Commission
Thank you to the 150-strong team for your ongoing work preparing the university's next strategic plan. This is important work and I know you are up to the task. A major portion of the commission's work is to gather as much input as possible. To that end, several town hall meetings are still to be held:
Students
Apr. 10, 7-8pm Highlands (Festival)
Community Neighbors
Apr. 11, 6pm Harrisonburg City Council Chambers
Community Businesses/Civic Partners
Apr. 4, 6pm JMU Memorial Hall Auditorium
Apr. 17, 6pm JMU Memorial Hall Auditorium
For more information on the Madison Future Commission, please visit: http://www.jmu.edu/madisonfuture/
Again, I appreciate all your efforts during this exciting time for James Madison University. And thanks to our student-athletes for helping to add to the excitement. Go Dukes!
Jon Alger
President