News
Why Madison Presidential Listening Tour: Madison Society Breakfast
---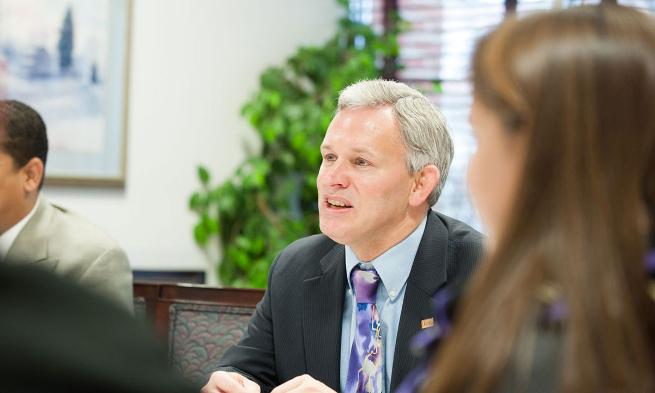 "Why Madison?"
President's Journal
Madison Society Breakfast
Feb. 5, 2013
D-Hall Conference Room
Intimate, round-table discussion
This morning I had the privilege of engaging in an intimate, round-table "Why Madison?" discussion with students from many organizational affiliations. I appreciate the Madison Society's assistance in thinking about how we can connect with students through leadership and student organizations, but also from a wide spectrum of classes, places, and majors across campus. By randomly choosing three students from each class, the Madison Society achieved a great cross-section of students in our discussion this morning. It was an intimate gathering, and we were able to have a real conversation in which students listened and responded to one another. I greatly appreciate the students coming out at 7:30 a.m. for this listening tour event.
Changing your major doesn't mean you have to change schools
We heard from the students today that JMU offers a variety of options and opportunities regarding major and minor selection. As some students described it, JMU is able to balance a large range of majors with the professor-student interaction necessary to make these majors accessible and meaningful. In other words, JMU has the benefit of a "large school feel" when it comes to selecting an academic discipline, yet a "small school" sense when it comes to building relationships with professors and students. After all, we know that some students come to JMU not knowing what they want to major in. Many students will change their minds as they are exposed to new disciplines, and that is OK. One student commented that when she wanted to change majors, she "didn't have to change schools." We encourage students to learn more about themselves and different areas of study. Therefore, we want to create an environment in which they can make changes without having to leave the institution. That is something that we work hard on here, and I was glad to see the students' positive responses to the many academic opportunities offered at JMU.
Living off campus becomes a valuable learning experience
Because we had such a diverse mix of students this morning, I was curious to hear about their perspective on the transition to off-campus housing. From time to time, we hear from parents that they are concerned about students moving off campus to live. At many small colleges, students live on campus all four years. Having lived on campus for my entire undergraduate experience, I can relate to these concerns. What we have heard from the students, however, is that moving off campus impresses a great sense of responsibility onto them. Whether it is worrying about cooking, cleaning, planning your day in ways that are different from living on campus, working around the bus schedule, or a variety of other new experiences, students expressed that these are all great growing experiences and they recognize them as life skills. I think the students appreciate the fact that these are skills with which they need to be familiar as they prepare for life after college. Living off campus still provides students with a sense of the JMU community—it is close enough that they are still very much engaged in the university community, yet they experience a sense of independence that they can take with them after they graduate.
Preventative on-campus safety measures
In addition to discussing off-campus living, we talked quite a bit about the campus itself. As the university has grown and expanded, the city of Harrisonburg has grown and expanded as well. Campus safety is important to all of us and needs to be a continuing dialogue to keep it that way. We were reminded today that about 60 percent of the students here at JMU are women, and we want those students to feel safe as they walk across campus at night. Part of this means there has to be a continuing dialogue about safety, including preventive rather than just reactive measures, and about our collective responsibility for the well-being of our students. We do not want to simply deal with incidents after the fact, but try to ensure campus safety before anything occurs. That is a conversation we have been having at the leadership level, particularly with officials in the city and the county. It remains a collective responsibility to keep our community safe. We know that our students learn better when they feel safe and secure.
Celebrating our differences and what brings us together
Today we had a rich conversation about diversity at JMU, what "diversity" means, and what we need to be thinking about as we go forward. I appreciated the fact that some students said, "Look, when I first visited JMU, I didn't see the same level of diversity as I have seen where I am from." Particularly for students who come from urban environments or parts of the state or country where diversity is more visibly prominent, JMU is perhaps a slightly different experience. The reality is that JMU has made some significant strides in recent years to increase diversity on campus, but we know that we have much more work to do. We have appointed a Diversity Task Force to look at faculty, staff and student diversity and what efforts we can make to increase our diversity. One student mentioned that while it is great that we discuss diversity of thought, diversity is more than that. We have to think about providing access and opportunities for students of all backgrounds. Diversity includes race, gender, socioeconomic status, geographic differences, LGBT and many other facets. We also discussed and celebrated the fact that there are student organizations on campus that focus on these different aspects of diversity. We want students to feel that they have a community within a larger community, other people they can relate to, and people who share similar concerns. At the same time, we want all of these groups to feel as though they are part of the larger JMU family and community. We talked about celebrating our differences and also what brings us together. According to the students we heard from today, doing both is what will make the JMU community stronger.