News
Why Madison Presidential Listening Tour: Leadership U
---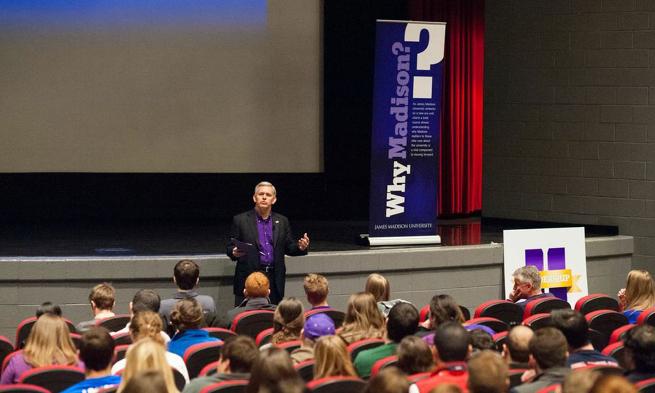 "Why Madison?"
President's Journal
Leadership U
Feb. 2, 2013
Students spend a Saturday reflecting on leadership
Today, we're at Grafton-Stovall Theatre for Leadership U, where student organization leaders come together for an all-day event to learn about leadership together. We spent an hour together for another great "Why Madison?" We couldn't ask for a more engaged group than these student leaders who are involved in Leadership U. I just wish I could have spent another two hours with them. They had so many good ideas and are so enthusiastic. This whole idea of Leadership U reflects what JMU does best in terms of the student experience. These students are the leaders of our student organizations across campus. They're here on a Saturday—all day—to think and reflect about leadership. It's great preparation for them, not just while they're here serving in these organizations, but for the rest of their lives. We hear from a lot of our alumni and from employers that they love how JMU graduates come out with these leadership and teamwork skills, in part developed through programs exactly like this.
Activities are such an important part of the Madison education
JMU's curriculum and co-curriculum are so complementary. I think it's really important when we talk about the educational experience to think holistically, about what happens inside the classroom and also what happens outside the classroom. Both of those things are valuable and important and they do fit together. With an event like today, you have people here working together and working on issues that they might also discuss in class, but today makes it real. Student organizations give them great experience in terms of being actual leaders, making decisions, solving problems, and dealing with ethical dilemmas. A lot of them raised their hands when I asked how many volunteer in the community. Many of these student organizations have a community engagement component. These are real life skills that these students are going to need to succeed, so I think those pieces fit together. It's all a part of the education we provide.
Students were appreciative of research opportunities
It was really terrific to hear from a number of students about their personal experiences working directly with the faculty on research—who have published papers and been to conferences with faculty members—and these are undergraduates at JMU. Some of them spoke of the fact that they had friends at other schools who really were somewhat jealous and wished they could have had those sorts of opportunities. Those friends might be at big research universities, but there research opportunities are closed off to a lot of undergraduates. Here at JMU, students have the best of both worlds in a very real sense because it's a small enough school that we offer that faculty-student interaction and engagement, but big enough that we have these cutting-edge, world-class researchers who are solving real-world problems, who are nationally and internationally recognized, and who work directly with our students. Those are the types of faculty members we attract. We're very proud of those professors, and it's great to hear these affirmations. I told the students, "Please thank your faculty members because we want them to realize how important that is to us and how valuable that service is."
Our liberal arts-research hybrid engages with ideas and with the world
Having come from a small liberal arts college (Swarthmore, which had about 1300 students at the time), I loved the faculty-student interaction. I loved the sense of community. As an educator, I have been looking for a place that offered that family feeling. At the same time, JMU also provides the tremendous array of opportunities of different majors, different disciplines, and professional programs that you'd only typically find at a research-intensive university. And yet, we're neither a liberals arts college nor a research-intensive university. We're not trying to be the next Swarthmore or the next William & Mary or the next University of Virginia or Virginia Tech. We take elements that you see at those schools, but then we combine them into something unique and special of our own. When we think about the Engaged University—the idea of being engaged with ideas and the world--that's a combination going forward that can be a real hallmark for JMU and a distinctive niche in American higher education.
Transfers bring a variety of perspectives to our student body
We often hear about the experiences of our students who came to JMU as freshmen. It was terrific to hear several transfer students speak up today and talk about why they chose JMU, what mattered to them, and how they got acclimated into this community. I am very curious always to hear about the experience of transfer students. Some of them mentioned, for example, that they came from small liberal arts colleges and transferred into JMU. We have a lot of other transfer students from community colleges. The question we need to ask ourselves is, "How do we make JMU a welcoming environment and experience for them?" What I heard today is that we've been doing pretty well on this front because we're intentional about it. We try to make sure that the transfers are brought into the community from Day 1. They have an orientation. They meet people. They jump with both feet into the campus community and student organizations. Some of them mentioned that they could get involved here. Their Madison Experience has  been more than just coming and going from campus without interacting with people. They can spend a lot of time interacting with their peers. That's part of what made it a great experience for them. It's always important for us to hear from transfer students because—having been at other types of institutions—they bring a special lens to JMU.
Students are asking what they can do to encourage diversity on campus
I think is important to recognize that our alumni and faculty and students are asking questions about and desiring a greater diversity at JMU. We heard it here again today. They recognize the educational value of diversity and its importance when you're preparing students for the global economy. I was especially struck when the students asked, "What can we do to help as we think of diversity going forward?" That's a great question for all of us to be asking. We have a Diversity Task Force that I've appointed that's actively working on these issues now. I'm hoping that these student leaders will give us feedback about how they can serve as ambassadors for us—for example, about how they might go back into high schools and middle schools around the state or the country to encourage younger students to think about college in general and JMU in particular, and to help these younger students know what it will take to come to a place like JMU. Our own students can help make sure that students of all backgrounds recognize that Madison is a welcoming environment for them. I think our students can be great assets in this work and I was delighted to hear them raise it today.
GenEd is giving students different perspectives
I was delighted to hear how open and receptive these students leaders are to GenEd. We hear that as some students are going through GenEd, they ask, "Why do I have to spend my time taking these General Education courses?"  This is especially true when students believe that they are fairly focused already on a particular career, major or discipline. But what we hear from alumni is that when they look back, they realize how valuable those GenEd courses were, even if they didn't realize it at the time. Why? They are developing critical thinking skills. They're seeing issues from different perspectives and are encouraged to analyze problems from different lenses. They develop written and oral communication skills, all of which are incredibly valuable no matter what field they pursue. What we hear from employers is how much more valuable our graduates are because of  this experience. JMU produces leaders in different fields with a broad background that goes beyond technical expertise in any one field. They know how to solve problems. They know how to work in teams with people who have different perspectives and different strengths. It turns out that GenEd is great preparation for life. And it was great to hear these students so open to it now.
Professors come to JMU to teach, and students appreciate it
It's also a rare opportunity to be taking those kinds of courses with doctoral faculty at this level. It's a great experience here to know that you're learning from the best, and not just having graduate students or TAs the way you might at other schools where you never interact with the full-time faculty member. At JMU, faculty want to teach. They want to interact directly with students, and particularly with undergraduates. It is a great experience. I'm not sure students fully appreciate it sometimes until after they graduate, when they can look back at the accomplishments of those faculty and what they've learned from them. It is one of our core strengths.
Nearly every student in the room had a one-on-one with a faculty member
I asked for a show of hands today to learn how many students have had a one-on-one encounter with a faculty member this semester, and it was nearly universal. Nearly every hand went up. And the semester is just four weeks old. I like to see that. It's a good reality check. We talk a lot about the fact that we value faculty-student interaction. We try to keep the faculty-student ratio at a level that makes it possible, but it's always good to confirm that it's happening as we've gotten bigger. Our faculty and our students are working together, and those interactions are changing lives.
Students ask how to take that Madison feeling with them when they graduate
Lastly, we heard from students who described the community and family feeling that we've heard others talk about, and the difference it makes to them. It was one of those things I had certainly read about—that JMU had a sense of family and community, that people opened doors for each other—but you're always a little skeptical until you actually experience it for yourself. I'm always interested in hearing students confirm that as well. It makes for a community where people feel valued and respected, and part of something larger than themselves. That sense of a true learning community enriches the educational experience. When you're part of a community, you realize you're all interconnected. The great thing we heard today is that our students are thinking, "How do I take that with me as I leave JMU, as I go out into the "real world?" That's what I hope our alumni and our students will do—to demonstrate and personify that "JMU way" out in the world. That's how we can make a difference. That's how we can make an impact in our communities. There is a better way, I think, for us to treat each other in society. I think our students can be great role models in that respect.