News
Broad reach of U.S. Constitution
---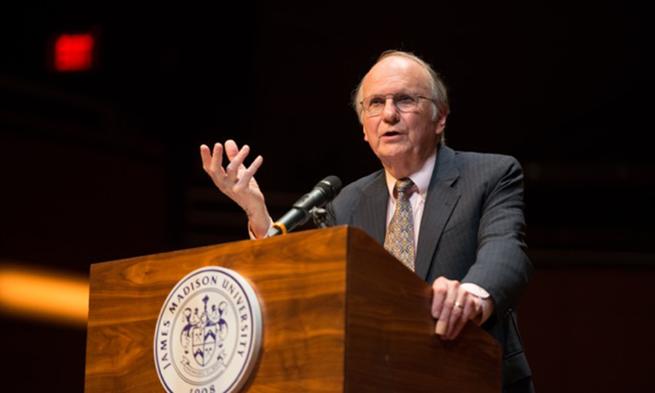 By Rosemary Girard ('15) and Janet Smith ('81)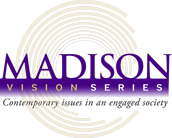 Constitutional law expert Dr. A.E. Dick Howard took a James Madison University audience around the world on Constitution Day 2013 to illustrate the influence of America's foundational document on the crafting of national constitutions of many European countries, the Philippines and Japan.
Howard presented "James Madison's Long Shadow: What Have Other Nations Gleaned from the American Constitutional Experience?" on Sept. 17, the 226th anniversary of the U.S. Constitution's signing. His lecture was the inaugural presentation in the Madison Vision Series: Contemporary Issues in an Engaged Society. JMU President Jonathan Alger described the series as "a new tradition" at JMU, one that further encourages the university's values of public discourse and an engaged citizenry and honors the contributions of James Madison, the father of the U.S. Constitution.
Howard, the White Burkett Miller Professor of Law and Public Affairs at the University of Virginia, was executive director of the commission that wrote Virginia's current constitution and directed the successful referendum campaign for its ratification. His widely acknowledged expertise in constitutional law has resulted in many consultations with constitutional draftsmen in other states and abroad. Howard has worked with revisers at work on new constitutions in Brazil, Hong Kong, the Philippines, Hungary, Czechoslovakia, Poland, Romania, Russia, Albania, Malawi and South Africa.
When Howard took the stage, he admitted that, as an American, he never expected to "rub elbows with other nations in drafting their constitutions." It surprised him that his expertise in American law would translate into the much larger scope of drafting international constitutions.
This realization led him to a sizable question: "What is it that the United States Constitution has to say to the world?" As it turns out, the answer is, "A lot."
Howard led the audience through "snapshots" of history, and the U.S. Constitution's role in it. During America's beginnings, French governmental thought differed drastically from the ideals of our founding fathers. France saw principles like equality and civic discourse play out in America – self-government by free people was, in fact, possible.
Another snapshot encompassed America's presence in the Philippines further down the historical line. Some felt it necessary to lead the Philippines to self-governing. Likewise, during World War I, President Woodrow Wilson claimed that declaring war was necessary to "make the world safe for democracy." After World War II, similarly, there was a call for Japan to establish a democratic government with respect for human rights. The U.S. actually played a major role in drafting a new Japanese constitution – a constitution that still stands and has remained unchanged.
So again, Howard asked, where does the American experience belong in this? "Some people say it doesn't," he answered. But what Howard asserted was that "the relevance of our Constitution does not lie in the text; it exists when you put on the hat of James Madison and understand the fundamentals behind it."
Other nations' courts "don't have to look like ours," Howard said. But recognizing the underlying principles – separation of powers, checks and balances or judicial review – gets to the heart of what our framers intended.
"This brings us back to civic education and what you all stand for here at JMU," Howard said. What does it mean to be a citizen of a constitutional democracy? "It means voting in an election, and maybe losing that election, but stepping aside knowing you can continue to fight for your beliefs."
These fundamental principles and values, Howard asserted, are what carry our constitutional legacy into the cultures of other nations.
Howard pointed to the eloquent words of George Mason, found in the Virginia Declaration of Rights, to encourage today's citizens to take seriously their responsibility for continuing education to preserve our republican democracy. "That no free government, or the blessings of liberty, can be preserved to any people but by a firm adherence to justice, moderation, temperance, frugality, and virtue and by frequent recurrence to fundamental principles," words that influenced the U.S. Constitution, should influence people in contemporary times, Howard said.
Howard's presentation was well received by JMU students in the audience. David DiSilvestro ('16) said that he learned a great deal throughout Howard's presentation, especially "that so many different countries have adopted our principles." Howard's "snapshots" of various countries drawing from the U.S. constitutional experience was particularly effective in helping him visualize the visiting professor's points.
"I thought it was interesting," Reid Shandrick ('16) said. "I didn't know that much about all the history of constitutions and how much we affected other countries. The lecture makes me interested in reading more about how we affected the constitutions of Germany and Japan in particular."
The next Madison Vision Series presentation will feature Carol Geary Schneider, president of the American Association of Colleges and Universities. She will speak Oct. 16 at 5 p.m. in the Concert Hall of the Forbes Center for the Performing Arts.
The series is supported by the Madison Forever Vision Fund to bring prominent speakers, thinkers and leaders to JMU as a means to help students and the greater JMU community gain some mastery of the current civic landscape.
More information about the series is available at http://www.jmu.edu/president/mvs.