News
Fall Email Update
---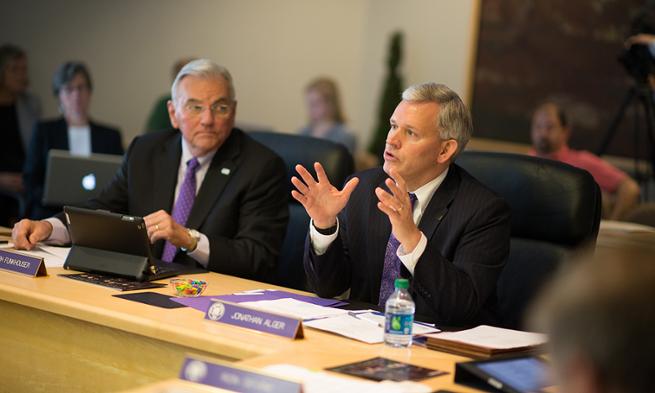 It has been an exciting and busy fall at JMU. At this midpoint in the semester, I want to share an update regarding some of our programs, initiatives and accomplishments.
Family Weekend was a huge success this year with record numbers participating. It was the biggest revenue-producing event ever for the bookstore and dining services. Activities included "Back to School" class visits for parents on Friday, the Phil Vassar concert, the General Education Student Conference, many academic receptions, a 5K race and UREC programs, just to name a few. The football game was sold out with 25,201 in attendance. The fall meeting of the Parents Council (PC) welcomed 43 new first-year members. Thanks to all who participated and provided hospitality for our JMU families.Board of Visitors and Strategic Planning
The Board of Visitors met on October 4. The Board approved the University's Six-Year Plan as required by the state, which includes projections regarding finances, facilities, and enrollment. The Board also discussed the University's position within the national higher education landscape, and received the draft strategic planning documents from the Madison Future Commission process along with the FBS Athletics Feasibility Study. As reported previously, those documents are all available for public review and comment at www.jmu.edu/madisonfuture/. Our strategic planning process reflects our commitments to transparency and inclusion, and indeed we have heard from thousands of constituents over the course of the past year as we prepare for our future together. While we know that there will be many different voices and perspectives in a university community of our size and complexity, we are confident that this thorough process will help us to produce a bold and thoughtful plan. The strategic plan will be submitted to the Board of Visitors for approval at its January meeting, and all units across the University will be asked to develop objectives that are consistent with the overall University plan.

Madison Vision Series
The Madison Vision lecture series continued with a presentation this week from Dr. Carol Geary Schneider, president of the Association of American Colleges and Universities (AAC&U). Carol is one of the nation's leading spokespersons on the importance and relevance of liberal arts and sciences education, and is also a champion of engaged learning through high-impact educational practices. Our next speaker in this series will be Cynthia Cooper, WorldCom whistleblower, who on November 13 will discuss her experiences and share thoughts on ethical reasoning in the workplace. You can keep up to date with the Madison Vision Series at www.jmu.edu/president/mvs.

Events on and off Campus
JMU continues to host many successful events that bring people to our campus, and to engage with the world off campus around the region, state, nation and world. This semester, for example, I have had the privilege of speaking to scholarly conferences at JMU on Undergraduate Mathematics and Statistics (SUMS) and Logic Across the Disciplines, as well as a regional Bike-Walk Summit aimed at making the campus and area more bike and pedestrian friendly. I want to acknowledge all of our faculty, staff and students who contribute to making these events successful and which raise the profile of our institution. This semester I'm also addressing groups off campus such as the Shenandoah Valley Human Resource Managers, Association of Graduate Schools, and International Council of Fine Arts Deans to name just a few. We also hosted students at JMU from the University of the Free State in South Africa, who participated in an intercultural exchange on diversity and leadership.

Homecoming Weekend is quickly approaching. We look forward to welcoming alumni back to campus November 1-3. Visit the website for news on homecoming activities http://www.jmu.edu/homecoming.

The Marching Royal Dukes will be representing JMU on national television as they kick off the Macy's Thanksgiving Day Parade in New York City. This is a significant honor and the third appearance for the band in the parade. Many of us will join the band in person to cheer them on, and we know many others will want to catch them on TV.

The winter commencement will be held on Saturday, December 14 at the Convocation Center, and we are pleased to announce that JMU's own GJ Hart (CEO of California Pizza Kitchen) will be the featured speaker.

Facilities Update
We continue to make good progress on a variety of facilities projects that will enrich our educational environment. The renovation and expansion of Duke Hall (at the corner of Grace and Main Streets) is expected to be completed in December of this year, and we are now planning departmental moves. This building for the visual and fine arts will further strengthen and highlight the presence of the arts at JMU. The Student Success Center and Health Center, located on the North Campus (the old hospital site), are on track for phased completion in 2014. Site work has begun for an apartment-style residential facility on Grace Street (west of Main Street) that will house 507 students, with an anticipated completion date of summer 2015.

Additional capital projects that are in the design stages include the development of a new Health & Human Services Building, the renovation of Madison Hall (part of the old hospital complex), the expansion of UREC, repair of the Newman Lake Dam, and the construction of new steam lines. All of this construction signals a campus that is vibrant and seeking to meet the evolving needs of our institution in the 21st Century.

Combined Virginia Campaign
Although it is hard to believe, the holiday season is quickly approaching—which for many is a time of giving back. The Combined Virginia Campaign (CVC) is upon us, and soon you will receive a large red envelope outlining the many ways that you can give back to the community. It also includes information about a state program, Holiday Hoops, which will support food banks across the Commonwealth—as well as provide some friendly competition between universities. Please read through your CVC packet carefully, and consider giving to help those in need.

_____________________

As autumn enfolds the Shenandoah Valley and our campus in its beauty, I encourage each of you to take the time to reflect on the good work we accomplish together. Your efforts make a difference in the lives of our students, and I am grateful to all of you for sharing your time and talents in this noble enterprise. It is a privilege to work with all of you.

With gratitude,
Jon Alger
President