News
Why Madison Presidential Listening Tour: Charlottesville
---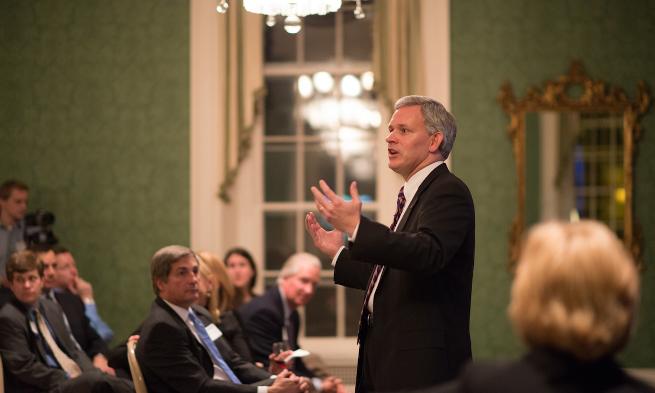 "Why Madison?"
President's Journal
Farmington Country Club
Charlottesville
Feb. 26, 2013

Gilliams host an event "just over the mountain"
Tonight we had a wonderful event hosted by Leslie and Richard Gilliam at the Farmington Country Club in Charlottesville—just over the mountain from Harrisonburg. Leslie is an alumna, of course, and also a member of our Board of Visitors and the chair of our BOV development committee as well. Even in the rain and in the cold, we had a great turnout and a wonderful conversation.

Faculty-student relationships at the core of a Madison education
Yet again tonight we heard from alumni about the importance of that faculty-student relationship that is at the core of the JMU educational experience and how there's nothing that can replace it. People talked about the importance of faculty members who really care about teaching and who want to engage with students, especially with undergraduates. When somebody made that point tonight, there was actually a round of applause, which indicated that a lot of other people here tonight felt the same way about JMU's faculty. By the way, some of those JMU faculty members were here in the audience tonight. I'm glad they got a chance to hear that.
 
International experiences rising in importance in global economy
Tonight it was interesting to hear about the importance of the international aspects of our education at a time when we're preparing students for a global economy. We heard from an alum who is getting ready to move overseas and who said, "I want to stay connected with JMU, but I'm not quite sure how to do it." We talked about that. We talked about the fact that JMU faculty and students are now traveling all over the world and we want to connect alumni living overseas with JMU faculty members or students who might be coming to a program or an institution near them. We must make sure to involve our Office of International Programs to help facilitate those interactions. It's great for our students and our faculty as they go abroad, and it's great for our alumni if we can create that JMU sense of family far away from home. We also heard from a nursing faculty member tonight who is preparing to take a group of students to Kenya to provide basic health care and training in Kenya. What a great life-changing opportunity that's going to be—not just for our students, but for the lives they're going to touch in Kenya. We're very excited when we hear examples like that. Again, it was the initiative of an individual faculty member who is getting that program off the ground. Those international experiences are important. We're trying to facilitate those wherever and however we can and it's happening in every discipline and every college across the campus.

Reaching out and connecting back is a collective responsibility
It was very helpful tonight when we were talking about alumni giving and participation in the life of JMU to actually have an alum who stood up and was very honest and said, "I don't feel that affinity for JMU, but I want to. I want to reconnect. I want to know how to do that." We talked some about the responsibilities of the university and our greater community, including our alumni, to connect with each other and the ways we can foster that. How could we facilitate interactions among alumni to continue to learn and talk to people who have similar jobs, similar positions, who might be in their area, or even across the country? We talked about fostering those intergenerational connections where alumni can engage with our new students as they're graduating and entering the workforce—students who want to know: "How do I get that first job? Who do I talk to? What should my resume look like? How do I learn to live in this new community?" Those types of connections make a difference and make people feel a part of the extended JMU family. I think that's a collective responsibility all of us have, those of us on campus as well as our alumni. We need to keep talking about how we keep everybody engaged.

Donors can make an immediate impact on JMU
It was good to hear tonight that there are alumni who give back to JMU at the level they can afford and feel valued and respected as donors and as members of the JMU community—no matter the size of their gift. They understand—because we share with them—that their gifts really do make a difference and every gift counts. Every gift matters at JMU. We don't have the largest endowment in the country, but the good news is you can make an immediate difference no matter what size your gift may be. That was good to hear from alumni tonight, as compared to other institutions. We need to continue to reach out and thank people, and learn new ways to make them see and feel how their gifts matter to us. That's something we'll continue to pay attention to as we go forward with the planning for our next campaign.
Published: Wednesday, March 20, 2013
Last Updated: Wednesday, May 24, 2017