News
Why Madison Presidential Listening Tour: Abingdon
---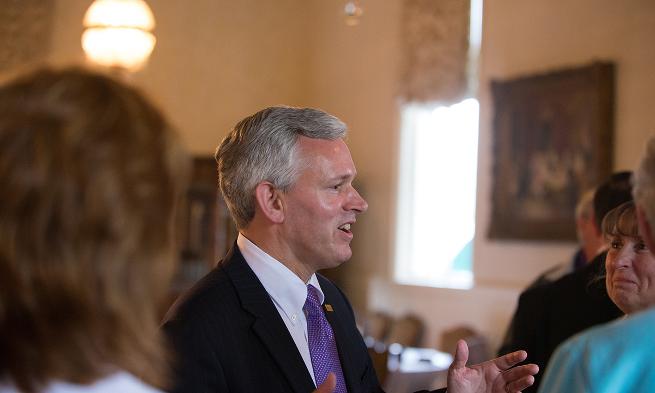 "Why Madison?"
President's Journal
Martha Washington Hotel and Spa
Abingdon, Va.
April 24, 2013

Purple pride in Abingdon
Tonight we spent the evening at the Martha Washington Hotel with a group of alumni and supporters  in Abingdon, Va., down in the southwest of the Commonwealth, where there is an extraordinary pocket of purple pride. The crowd was warm and welcoming and very interested in the developments at JMU.

Faculty-student interaction
We heard again tonight about the importance of faculty-student interactions and the sense of community created at JMU.  Alumni want to make sure that we don't lose sight of that focus even as the university grows and evolves, and parents reiterated that it continues to be an important part of the JMU experience.

Citizenship and ethics in JMU's curriculum are among the themes that intrigue our supporters
We spent some time discussing citizenship and ethics, which are a natural fit for JMU as the institution named for the Father of the Constitution. We particularly focused on the new university initiative, which we are calling the Madison Collaborative: Ethical Reasoning and Action. It is a major new initiative for the university that will be a part of all the curriculum across the disciplines as we go forward. I think that the crowd here was encouraged by the fact that ethics and ethical decision-making was going to be a key part of the educational process going forward and that it would not just focus on the individual and individuals' rights in society, but also on our collective responsibilities to each other—the idea of service to other people, and of relationships in and with the larger community. There was a real sense tonight that we need to focus on the common good and that higher education has a critical role to play in society in fostering that focus. The crowd tonight was really responsive to that initiative and interested in how perhaps they can help us get alumni and other constituencies involved as well.

Educating alumni that small gifts add up to make a big difference
Tonight we had a very good conversation about the importance of giving and the 7 percent alumni giving rate that we all want to increase. We asked alumni for their thoughts and they shared with us that there are perceptions that small gifts won't make a difference and that "I" as an individual won't make a difference. They said that for many years, the common understanding among alumni was that the state will take care of everything because JMU is a public university. That was our experience perhaps 20 or 30 or 40 years ago. Today that is clearly no longer the case. While certainly state support is still an important part of our budget, in order for us to reach our hopes and dreams as we addressed tonight, we have to develop a culture of philanthropy among the JMU "family."

State support doesn't do it all anymore
We've got to develop other revenue streams, and that includes private support for the university. Alumni told us tonight that we've got to get over those perceptions. We have to educate people to understand that our budget now comes from other sources—it can't come just from state support. It will also require that our alumni are informed about the impact and importance of individual gifts of all levels. We want those big gifts that will allow us to achieve big dreams, to build new buildings, and to develop new programs, of course, but a lot of smaller and modest gifts can add up in a hurry and make a real difference in ways that will allow us to do things that we couldn't otherwise do. For instance, we could provide support for faculty in their research and teaching or scholarships for students. We could sponsor outside speakers or special educational programs. As we've discussed, our people are our greatest resource, and providing opportunities for further research and mentoring opportunities can make an immediate and profound impact on people's lives. These are some of the areas are where small gifts can matter and make a tangible difference. That's what we talked about tonight: How do we go forward and educate all of our constituencies about the importance of giving and how they individually really can make a difference? It needs to start with our current students and those young alumni right after they graduate. With a lifelong commitment to Madison, there is nothing we can't achieve together.