News
Why Madison Presidential Listening Tour: College of Education EAC
---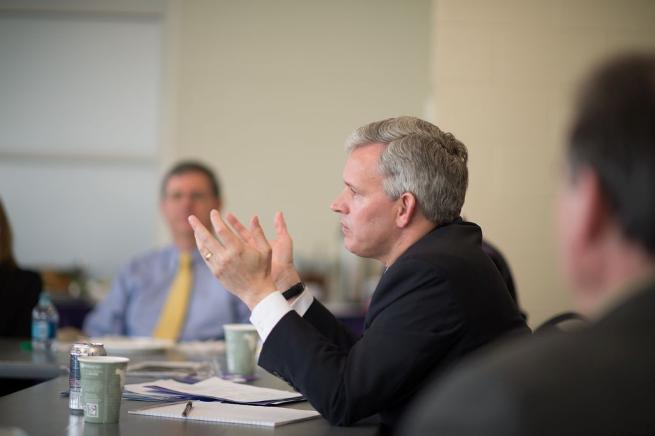 "Why Madison?"
President's Journal
College of Education Executive Advisory Council
JMU Festival Conference Center
March 21, 2013

Education advisory council members represent the heart of our mission
Today we spent a very rewarding lunch hour with the College of Education Executive Advisory Council. Our "Why Madison?" Listening Tour session with this group was so enjoyable. These educators represent, of course, the heart of our JMU mission. They take us back to our roots and also, just as importantly, they help us to think about our future and our central role as educators of the next generations of students. It was great to hear from people who are engaged in lifelong learning and who are always thinking about education.

JMU teacher education graduates are highly sought after
It was wonderful to hear directly from professionals who are responsible for hiring in their school systems that our alumni who become teachers are highly sought after across the state of Virginia and beyond because they are so well prepared. They not only know how to teach, they have great interpersonal skills and very practical and analytical abilities. For example, we heard about new assessment practices that teachers need to understand, and that JMU graduates are good at understanding and adapting to that kind of assessment—which is, after all, a strength right here at JMU. As an institution we talk a lot about assessment of student learning, so our students are used to that conversation at JMU. But our graduates also help the schools implement these practices by assisting veteran teachers, their colleagues, in adapting to changing standards. So our graduates are having a real impact in school districts all around the state and the country.

Alumni educators would like JMU advanced degree offerings around the state
I thought it was interesting to hear these educators express a real longing for a JMU presence—even perhaps a physical presence—beyond Harrisonburg. The alumni on the EAC are from school systems around the state.  In many cases they are several hours away from this campus. When they talk about getting advanced degrees or certificates or other education after they leave JMU, they said, "Gosh, if we were closer to Harrisonburg or JMU had more of a presence in other locations around the state, we  would really opt for JMU rather than some of the other programs in which we have to enroll." So we talked a lot about this idea of JMU's having a physical presence and making educational programs available in other parts of the state and perhaps beyond the state as well. So clearly this is something we need to continue to consider. Certainly we can use technology—and we have online courses and programs already that are available for people—to offer extended educational opportunities. We also heard that we need to do much more to let people know about those opportunities, and still that there may be occasions when having an actual physical presence in other locations might be helpful. This is clearly a topic we need to discuss further going forward as we strive to meet the lifelong learning needs of our educators.

Getting the word out that every gift counts
We discussed the need to increase the level of alumni giving to JMU in order for us to do the big things JMU must accomplish. When you think about giving back to Madison and and cultivating a sense of philanthropy among alumni, these educators were very enthusiastic about wanting to give back financially. The group today was a real eye opener too in many ways. These are teachers, after all. They didn't go into their profession to make a lot of money. They were very helpful in reminding us that we need to get out the message that every gift counts. There are alumni who can't necessarily give at the level to get a building named after them. But, as these teachers pointed out, if we raise awareness, there are people who can help us to develop some of the very important programs that JMU conducts all the time. They asked us to tell them about some of these programs and how a modest gift can combine with the modest gifts of others and add up to make a great impact. We must send the message that all gifts matter, that everyone's participation counts. So hearing specific examples of events and activities and programs would be very helpful to these alumni and motivate them to give. This is how we can connect with alumni who want to make a difference. The question for us is, how can we get the message out? Clearly there is work to be done on that front.

We must retain the personal touch that is at the core of a Madison education
Today's time with the EAC was a great reminder about the personal touch for which JMU is known. These educators stressed how important it is for Madison to have balanced, careful and managed growth in order to maintain that core integrity of who we are and sustain those personal connections between faculty members and students. Students who come here say they feel known, valued and respected.  That's been important throughout our history and it needs to continue. Our discussion was a good reminder of this core strength of JMU:  the emphasis on relationships and face-to-face personal connections.  Even as we use new technologies and new ways of teaching and learning, we don't ever want to forget about that personal touch.

We can't thank teachers enough
This is a group we can't thank enough for their service to society. When I think about the people who made a great difference in my life, the first people who come to mind, in addition to my own family, are my teachers. In fact, one of my high school teachers was here for the inauguration last week—over 30 years after I had graduated from high school. To this day I remember what a difference he made in my life, encouraging me to be an exchange student in Japan and opening my eyes to a whole new world. That's what teachers do. They change lives. That's what these EAC members are doing. They are making a difference in the lives of the next generations of students, so we can't say thank you enough.
Published: Monday, November 11, 2013
Last Updated: Wednesday, May 24, 2017