News
President emphasizes intergenerational learning
---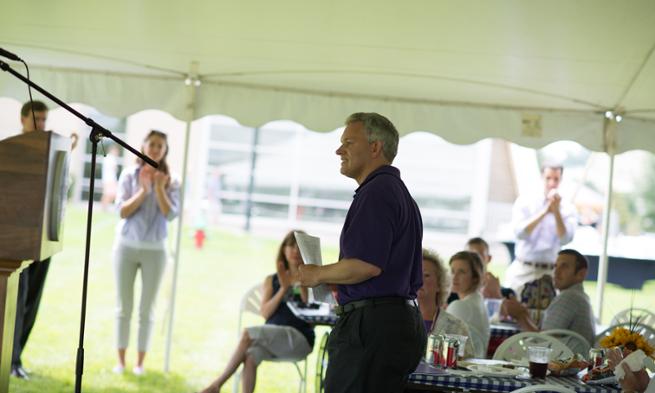 President Jonathan Alger delivered keynote remarks at the JMU Alumni Association's annual legacy picnic on Aug. 21.
More than 300 freshmen students, alumni and parents attended the lunch, which recognizes legacy students (parent or grandparent graduated from JMU) and scholarship recipients. Alger was joined by JMU Alumni Association President Jamie Jones Miller ('99) and JMU Student Alumni Association President Pratt Templeton ('14).
"Intergenerational learning is such an important part of the JMU experience," Alger said. "And you are wonderful examples of that intergenerational connection, because you've been living it all your lives."
Alger led students and their alumni parents in a pinning ceremony, symbolic of JMU traditions passing from one generation to the next. He also encouraged students to join the newly-created Student Alumni Association and begin "a lifetime of involvement in the university."
Miller, who provided welcoming remarks, touched on her own freshman move-in experience and recognized legacy scholarship winners. In 2013 the alumni association awarded more than $67,000 to 63 students. She and Templeton cited numerous ways students and alumni shape JMU's culture, though their involvement, advocacy and giving.
"Alumni and students hold the key to the university's future," Miller said.
Visit the online photo album of the legacy picnic.