Madison Vision Series
Dr. A.E. Dick Howard and President Alger launch Madison Vision Series
---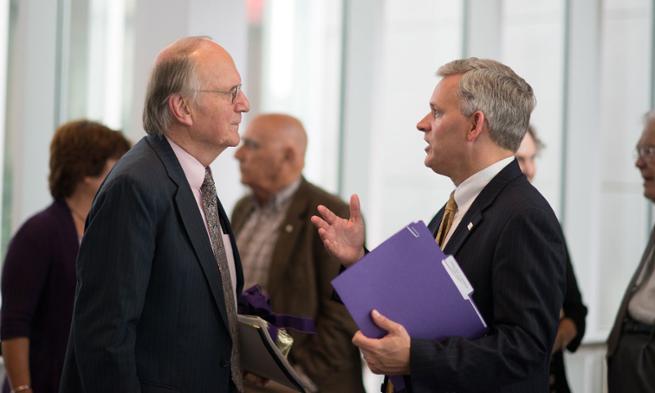 On the 226th anniversary of the U.S. Constitution's signing, the Madison Vision Series presented the first of several lectures to be given on "Contemporary Issues in an Engaged Society." As an institution that values civic discourse and an engaged citizenry, JMU presents this lecture series as an opportunity to revisit and continue studying many of James Madison's principles and apply them to our modern world.
First in the lecture series was Dr. A.E. Dick Howard, a professor of law at the University of Virginia. Among countless other credentials, Howard has played a role in drafting other nations' constitutions, has been counsel to the General Assembly of Virginia, served as a consultant to the U.S. Senate Judiciary Committee, and worked as the executive director of the commission that wrote the state of Virginia's current constitution.
In introducing Dr. Howard, President Alger marked the event as a new tradition in the JMU community. The inauguration of this lecture series supports JMU's mission in "preparing students to be engaged citizens who lead productive and meaningful lives." And yet, President Alger also described the initiative as an adherence to tradition as well. The lecture series seeks to highlight the values and fundamental principles of "Madison the man."
"Public discourse is a long-standing tradition here at Madison," Alger reminded the audience. "It plays a key role in shaping us as individuals and as an institution of higher learning."
Dr. Howard spoke extensively about the U.S. Constitution's influence on international law, and provided "snapshots" of history in order for audiences to visualize American law's role worldwide.
After the lecture, both President Alger and Dr. Howard attended a reception that hosted donors to the Madison Vision Fund—the people who made the lecture, as well as countless other Madison experiences, possible. President Alger was able to speak to many of these donors in attendance and express his gratitude for their support of the university. Attendees were also able to discuss their thoughts on the first presentation in the lecture series. One guest remarked to his colleague, "I had no idea that the Japanese constitution that the U.S. assisted with still stands. I learned a lot of things about our Constitution's global influence."
President Alger made a toast to those in attendance for their generosity toward the Vision Fund, and said: "Here's to Dr. Howard, to the Constitution, and to JMU and its future."
The next Madison Vision Series presentation will feature Carol Geary Schneider, president of the Association of American Colleges and Universities. She will speak Oct. 16 at 5 p.m. in the Concert Hall of the Forbes Center for the Performing Arts.