News
President Jonathan R. Alger's inaugural address
---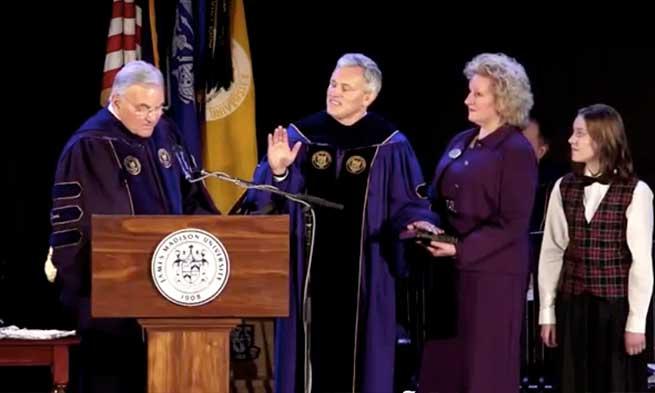 President Jonathan R. Alger
James Madison University
Inaugural Address
March 15, 2013
Convocation Center
Introduction and Thanks  
Governor McDonnell, Lt. Governor Bolling, public servants from state and local government, Rector Funkhouser, members of the Board of Visitors, special greeters, presidents and delegates from other institutions, faculty, faculty emeriti, staff, students, alumni, parents, community members, and special friends and family – good afternoon!  What a wonderful moment for the entire, extended JMU family to come together to celebrate our past, present, and future.  Some friends are joining us via the Internet today and wearing purple to show their solidarity—you all look good in purple!  Let me offer a special word of thanks to the Inaugural Committee, to our speakers and musicians, and to everyone who has helped organize or participated in the many activities of this special Madison Week.   
As only the sixth person to be installed as President in the 105-year history of James Madison University, I am especially grateful to those who have come before me and opened the doors of opportunity for future generations.  Indeed, opening doors has been a theme at this institution ever since our founding.  Julian Burruss, our first president, and his fellow educational pioneers literally opened the doors of this new institution to future teachers.  Samuel Duke and his compatriates opened the doors of many new buildings and facilities.  G. Tyler Miller and his collaborators opened the doors to male students.  And two of my predecessors are here today, both of whom worked with the JMU community to open the doors of the University wider than ever as a small teacher's college became a nationally renowned university.  Guided by a vision focused on students and learning, Ron Carrier and his colleagues built a campus that spanned the great continental divide—otherwise known as Interstate 81—and Lin Rose expanded the vision further by growing the institution with new programs and technology to meet the needs of a new century.  Please join me in saluting these two extraordinary leaders, Dr. Carrier and Dr. Rose, along with all of the people with whom they worked over the course of many decades of leadership.  Our great thanks to all of you!  
While James Madison University has changed significantly over time, its strong foundation of educational excellence and engaged learning has remained remarkably constant.  In reflecting on the University's centennial just a few years ago in a book called The Madison Century, Dr. Sidney Bland, Professor of History at Madison who will deliver our benediction today, observed that the State Normal and Industrial School (as we were first known) came into being in 1908 with the ideal that in education, "the individual could still take charge of his or her destiny and effect personal and societal change."  
Does that ideal sound familiar?  All these years later, at JMU we review essays from applicants who want to come here because they desire to Be the Change.  As Dr. Rose observed in his 1999 inaugural address, "[t]he character of this university has remained a constant, an anchor, in our institutional evolution."          
Listening Tour  
Out of respect for these founding principles and traditions of leadership at Madison, I decided to make it a priority to listen and learn when I first joined this remarkable community.  Thus, I embarked on a Listening Tour to hear first-hand from students, faculty, staff, alumni, parents, donors, legislators, and community members about their hopes, dreams, and aspirations for this university.  Framed around the simple question, "Why Madison?", our goal has been to focus on what makes JMU a special place to learn, work, and live, and on the difference this institution has made in people's lives.  We've held dozens of these events on campus, in the community, throughout Virginia, and across the United States.  In person, in writing, and over the Internet, people have shared profound joys, suggestions for improvement, and sometimes deep concerns about the future.   
As of this week, the tour has shifted into a new phase.  Through this rich and thoughtful series of conversations, key themes have emerged that allow us to answer the question, "Why Madison?"—and to chart the course and priorities for the next phase of our history by building upon our identity, strengths, and mission.  So let me turn to these themes that illustrate, "That's Why Madison" —through a few examples of the many voices that have captured the essence of this institution and its impact.  
That's Why Madison  
First, at every stop along the way people have described the welcoming culture and family feel of Madison.  It is a big, diverse, and constantly evolving family to be sure—but this culture has remained remarkably constant even as the university has grown from a teacher's college into a major university.  When I started in this position last summer, I had the privilege of welcoming incoming freshmen and their families at the Summer Springboard orientation sessions.  As a JMU freshman myself, I decided to bring my own parents (along with my wife and daughter) to one of the sessions.  By the time we were finished that morning, I think all of us were ready to enroll at JMU—and my parents were getting nervous that they might have to start writing tuition checks again.   
As we heard that morning, the magic of Madison can be found in the close interactions of faculty members and students — moments that can be inspiring and life-changing.  At a "Why Madison?" event with Parents Council members, alumna Robin Goodman (who was there with her husband Clem, also an alum), spoke of their strong family connection to JMU.  Not only are they alumni and parents, they also are donors who give to support and retain top faculty because, as Robin said, "They sustain JMU's vibrant academic culture and support student success."  That's Why Madison.  
At a listening tour event in Portola Valley, California, I met alumnus Michael Szymanski.  He has described with passion how important his experience was with Lee Congdon, now Emeritus Professor of History. Michael believes that were it not for Dr. Congdon's world history class his freshman year, he might not have made it through Madison.  A widely published and internationally respected scholar, Dr. Congdon took personal interest in Michael as a student, and became a mentor to him.  That's Why Madison.
When alumnus Jeff Gammage won the 2012 Pulitzer Prize for a series appearing in the Philadelphia Inquirer, the newsroom broke into chaos with hugs and champagne. Jeff described this moment as he thought of Flip De Luca and Dave Wendelken, his faculty advisors at The Breeze.  He wrote, "It wasn't just that they were smart journalists and good teachers.  It was that they gave enormously of their time and insight.  That's a rare and important thing, but it's also a fragile thing, and needs to be nurtured."  That's Why Madison.
Throughout the Listening Tour, people have talked not just about these close relationships between faculty and students, but also about the high caliber of these special professors who love to teach.  English Professor Joanne Gabbin puts JMU in the national spotlight as founder and executive director of the Furious Flower Poetry Center.  Last fall I witnessed firsthand the national respect Dr. Gabbin commands when I traveled with her to the "Sheer Good Fortune" event she organized with renowned poet Nikki Giovanni to honor novelist Toni Morrison, with Maya Angelou as honored guest.  That's Why Madison.
It's not just our own students and alumni who recognize the quality of our faculty.  When the State Council of Higher Education of Virginia presented its Outstanding Faculty Awards this year, not just one but two JMU faculty members were honored:  Associate Professor of Engineering Olga Pierrakos and Professor of Mathematics Laura Taalman.  Upon receiving the award, Dr. Taalman said, "I'm really proud of JMU, especially the growing excellence in undergraduate research as a vehicle for student learning."  And Dr. Pierrakos noted that the award "… is recognition of JMU as an innovative institution that fosters true scholars, not just in teaching, but across many domains."  That's Why Madison.
As we have heard often on the Listening Tour, the JMU learning experience is special in part because much of the JMU curriculum and co-curriculum is based on problem solving and applied learning.  Current graduate student Eric Imbrescia exemplifies this approach.  As a third-grade mathematics teacher at Peak View Elementary in Rockingham County, last week Eric was presented the 2013 Mathematics Educator of the Year Award in Virginia.  Eric says, "I teach math through a problem-solving-based approach, meaning that simply writing 27 + 5 on a piece of paper and doing traditional addition is out the window."  JMU educators go on to motivate and inspire future generations of students.  That's Why Madison.
Last semester I witnessed a faculty team critiquing a student team in COB 300, the full semester 12-credit course required of all business students.  The students go through the experience in teams and are taught by a team of faculty from several disciplines in the College of Business. This is a rare experience for undergraduates.  We collaborate within and across disciplines—and we understand the values of innovation and teamwork.  That's Why Madison.
Another critical element of JMU's identity that has come through loud and clear on the Listening Tour is our passion for public service and civic engagement.  Junior psychology major Krysten Yee calls the University's Office of Community Service Learning her home base.  Krysten writes, "The people I work with have inspired and pushed me into leadership positions I never would have thought I was capable of pursuing when I first entered JMU.  These hands-on experiences and invaluable connections made are why Madison matters to me."  That's Why Madison.
At the "Why Madison?" event held last fall with the College of Business Executive Advisory Council, I heard many perspectives on how well JMU prepares students for the new economy.  Alumni in senior leadership positions in successful organizations praise our graduates for their collaborative spirit, interpersonal skills, creativity, and resilience.  But we also heard a constructive comment from Steve Boehm, who spoke of a need for greater diversity on our campus—echoing comments we have often heard from our own students.  Steve is now Senior Vice President for Global Customer Services at eBay.  He is sending his team to manage operations all over the world where they have to do more than just understand other cultures—they have to lead and collaborate with people in those cultures to advance complex operations. That requires not just cultural sensitivity, but cultural knowledge and skill.
We are making strides in this area.  The story of Tania Rodriguez is one example.  Tania was born in Cuba, came to the United States, graduated from JMU, and is now an attorney at a local law firm.  Hers is a great American story.  Access to JMU for students of great potential such as Tania is an essential component of our mission.
Increasing the diversity of our campus is only one way to broaden the experiences of our students.  International experiences provide another. Senior honors student Mary Ta heads to South Africa in 2014 to embark on a lifelong dream of studying abroad.  As a recipient of a $27,000 Rotary Foundation scholarship, Mary (a double major in history and justice studies) will study conflict resolution.  Mary said, "I became passionate in humanitarian issues in Africa as I learned more and more about global issues and gained knowledge through classes, books and, of course, the amazing professors at JMU."  That's Why Madison.
During the Listening Tour, I heard from alumni as well as current students about the value of staying connected to Madison throughout one's life.  We have heard about the power of intergenerational connections in sharing and enhancing the Madison experience.  Alpha Kiflu graduated in 2004 and is a vice president at Goldman Sachs in New York.  Alpha remained connected and mentored Justin Quaglia, class of 2010, who is now an analyst at Goldman Sachs and who sits just seven trading desks away from Alpha. Justin continues the tradition and is now mentoring J.P. Kril, class of 2013.  J.P. spent much of this summer working at Goldman and sleeping on Justin's couch for the duration of an internship.  Connecting all of this activity is finance professor Elias Semaan.  One of our top priorities will be to keep alumni engaged with Madison who can share their experiences with each other and with subsequent generations of students.  That's Why Madison.  
Speaking of alumni who remain connected, one of the first JMU people I had the pleasure to meet was Warren Coleman, who served on the presidential search committee.  As a former football player and dedicated student-scholar, Warren exemplifies the student-athlete ideal.  He's an ambassador for the University, a longtime supporter of JMU Athletics, and now a member of the JMU Foundation Board of Directors.  
Athletics plays an important role as a front porch for the University—and as another aspect of the educational experience in which students learn how to work in teams, provide leadership, and persevere to achieve high goals.  During the Listening Tour I learned that eight of our student-athletes are in the Honors program.  Participating in such a rigorous academic experience—while managing the schedule of an intercollegiate athlete —is nothing short of heroic.  These academic achievements are an important part of the character of our JMU athletics program.  That's Why Madison.  
As in everything we do at JMU, our athletes push themselves to reach the highest levels of achievement.  One such athlete is alumnus DJ Bryant, who was a linebacker for the Dukes and had some fun recently in New Orleans as a member of the Super Bowl Champion Baltimore Ravens.  Unless JMU alumni Charles Haley and Gary Clark have sneaked in today, I am fairly confident that DJ is the only person in this room to have earned a Super Bowl ring!  
A National Model in Higher Education  
If there were a Super Bowl for colleges and universities that exemplify the best elements in American higher education, however, we might all be in the running to wear those big rings.  As we put our values into practice, James Madison University can be the model of what I have often called "the engaged university"—one that is engaged with ideas and the world.  In other words, we are a community committed to learning, with a conviction that all people are interconnected.  Our mission statement captures this combination of learning and engagement:  "We are a community committed to preparing students to be educated and enlightened citizens who lead productive and meaningful lives."  So how do we go forward to build this national model of the engaged university?   
We begin by understanding our core strengths and identity.  Throughout the Listening Tour, we have discussed how James Madison University combines the intense faculty-student interaction and sense of community fostered by smaller liberal arts colleges with the breadth and opportunities of larger research-intensive universities—including strong professional and graduate programs.  We seek to provide students with the skills needed to get that first job and to earn a living—but we also believe in preparing them to develop habits of mind and character so that they will be active citizens.  Our General Education program develops lifelong learning skills in critical thinking and communications, while also helping people view issues and challenges from different perspectives.   
We take seriously our obligation to keep improving and to be accountable to our students and the public for the quality of education we provide.  Our Center for Assessment and Research Studies is a nationally recognized model in evaluation of academic programs, and this strong culture of institutional effectiveness allows us to be innovative in how we teach and in how students learn.   
JMU has also embraced a holistic, well-rounded approach to education, recognizing that students learn outside as well as inside the classroom.  Student organizations create outlets for students to explore their interests and passions.  Vibrant visual and performing arts programs help us to see the world in new ways and contemplate timeless questions of truth and beauty.  Athletics, and club and recreational sports promote wellness and a strong work ethic.  Public service opportunities extend the learning environment beyond the boundaries of the campus, and allow students to apply their knowledge to address real-world problems.  
This is who we are.  So where do we go from here?  Let me highlight six focal points in which we can invest our energy as we seek to exemplify what it means to be the engaged university.           
The Madison Future Commission  
First, we can model our values in the process we use to develop and implement our strategic plan and goals for the future.  That inclusive process is well underway.  The Madison Future Commission is already at work—a group of more than 150 faculty, staff, students, former faculty, alumni, former Board of Visitors members, and community members who have studied the higher education landscape and will help us to shape the University's new strategic plan.  This process will include a hard look at the serious realities we face—including new educational technologies, changing demographics, our funding model, and issues of access and affordability.  The Commission is also receiving feedback from our entire community, including reviewing ideas and recommendations shared with us during the Listening Tour.  The Madison Future Commission will complete its work this fall, which will result in a new strategic plan that will guide us through the year 2020.  We can use our own planning processes to model and reinforce our values.  That's Why Madison.   
The Madison Collaborative:  Ethical Reasoning in Action  
Second, as we seek to live out our mission, another major initiative we are launching is The Madison Collaborative: Ethical Reasoning in Action.  This initiative has been born out of our ten-year review as we reaffirm our university-wide accreditation.  As part of this process, the University is required to prepare a Quality Enhancement Plan to enhance student learning.  For this purpose, we selected a topic that goes right to the heart of our mission and of what it means to be a citizen.  Beginning this summer at freshman orientation, every incoming student will be taught a set of ethical reasoning skills designed to help them become more deliberative about situations and issues that include ethical dimensions.  And then, the rest of the student body will encounter this same set of reasoning skills in General Education courses and in their majors, in programs in the residence halls and in other co-curricular experiences.  Students will learn how to apply these skills in their personal, professional, and civic lives.  And we will carefully assess how students are learning and engaging with these issues.  Just imagine the effect over time of 4,000+ James Madison students graduating annually and taking with them the power to understand how to confront issues and situations where right and wrong are not clear-cut, or where moral principles provide only a general guide when specific action must be taken.  That's what it means to be a model of the engaged university.  That's Why Madison.
Reflecting our Heritage as James Madison's Namesake  
Third, given our special heritage as the university named for James Madison, a Founding Father who had a profound impact in shaping our Constitution and our civil society, we have a unique opportunity to reflect the meaning and relevance today of the core principles to which Madison dedicated his life.  As a model for how to produce educated and enlightened citizens, we can make a significant impact on our nation at a time when our public dialogue has deteriorated.  As a society, too often we seem unable to have thoughtful discussions on the major challenges we face.  This must change.  If we create an atmosphere of mutual respect in which everyone can feel valued and share their ideas and perspectives, JMU can model the kind of civil discourse desperately needed for a well-functioning democratic republic.  How fitting that our Debate Team is one of the strongest teams representing Madison—they epitomize how to discuss and debate important issues while recognizing that we are all interconnected. 
One of the tangible ways in which we are already highlighting these principles is to reinvigorate our relationship with Montpelier, the nearby home of James Madison.  Tomorrow, I will have the honor of delivering the annual address at James Madison's gravesite, commemorating his birthday. With us today is Kat Imhoff, the new president of Montpelier, as well as her senior leadership.  Our two institutions are elevating our relationship to bring more attention to James Madison and his wife, Dolley.  The Montpelier Foundation has created the Center for the Constitution—where in-person and online courses on the Constitution and our founding principles are being offered to the public.  Faculty from our two institutions are designing a course on Madison that every student of James Madison University can eventually take.
In his State of the Union address on December 5, 1810, Madison pitched Congress on the idea of creating a national university in Washington, D.C.  He proclaimed,  
 "Such an institution, though local in its legal character, would be universal in its beneficial effects.  By enlightening the opinions, by expanding the patriotism, and by assimilating the principles, the sentiments, and the manners of those who might resort to this temple of science, to be redistributed in due time through every part of the community, sources of jealousy and prejudice would be diminished, the features of national character would be multiplied, and greater extent given to social harmony."
Imagine the societal effect of graduating over 4,000 enlightened citizens annually who possess ethical reasoning skills and understand the founding principles of Madison.  We can be that institution.  That's Why Madison.   
Diversity Task Force
Fourth, as we seek to nurture diversity of thought and perspectives, we must also meet the needs of our students and society in preparing graduates who can function effectively in a diverse democracy and global economy.  Our greatest strategic asset in this changing world is our diverse human capital.  If we are to harness the power of this great asset, we must ensure that we provide opportunities for students from all backgrounds to fully develop their potential—and to learn from and with each other.  Accordingly, I recently charged a task force to take a comprehensive look at how we can strengthen our campus diversity.  That diversity includes a rich tapestry of many facets—not just race, ethnicity and gender but also many other factors such as socioeconomic and family backgrounds, age, religion, disabilities, and veteran status among others.  We understand that diversity and excellence go hand in hand in education.  That's Why Madison.  
Community Relationships  
Fifth, as a university engaged with ideas and the world, we should model our collaborative approach in our own backyard.  In celebrating the history and character of the University this week, we highlighted our relationships with our local communities.  Yesterday, for example, many of us walked from campus to Court Square downtown for a ceremony in which we presented the keys to the University to Mayor Ted Byrd of Harrisonburg and Supervisor Fred Eberly of Rockingham County.  With this symbolic gesture we hope to usher in an era of even greater partnership with our neighbors.  As we move forward, we will try to ensure that we participate actively in the community on many levels—and that our doors are open wide to welcome the community to our campus and programs.  That's Why Madison.           
Resources  
Finally, in order to meet our hopes and dreams for the years ahead, we know that we will need to strengthen our own culture of philanthropy.  We must develop new revenue sources if we are to succeed on the national and international level to which we aspire.  Thus, as we set our strategic plans and priorities for the years to come, we will need to gear up for a next comprehensive fundraising campaign.  You heard earlier that we have established a new Vision Fund to support initiatives to meet the needs of the 21st Century.  Special thanks to the Alumni Association for their very generous $100,000 challenge gift!  JMU has made an indelible impact on the lives of many people, and we embrace the challenge to cultivate resources so we can continue to make a difference in the lives of future students and in the world.  That's Why Madison.  
Conclusion
We have amazing opportunities before us, even as we face daunting challenges.  We are in the midst of an era in higher education marked by major fiscal limitations, along with heightened domestic and international competition.  So-called "disruptive" technologies are raising questions about traditional models of higher education.  Increased regulation and pushes for strict accountability measures are testing our ability to demonstrate the value of what we provide.  These issues might seem unique to our time, but JMU has faced the winds of change throughout its history.  In his 1971 inaugural address, Dr. Carrier observed that "[h]igher education, like all institutions today, is caught up in the whirlwind of re-examination, change, and re-valuation."  
The James Madison University of the future will not be identical to what we see today.  We must be prepared to understand and adapt to a rapidly changing world.  But we should also recognize that we are positioned well for this moment.  We provide high-quality education at lower cost than peer institutions.  Our graduation rates are strong.  Our faculty are top-notch.  We offer many courses online and use technology to enhance the learning experience.  We take assessment seriously.  We have a mission that is relevant, clear, and much-needed in society.  And most of all, we have a phenomenal team of people who care deeply about this institution —just look around you in this room today.  Last week, I was reminded of this fact when I witnessed the work of facilities staff all around the campus—clearing the streets, parking lots and sidewalks after a major snowstorm that reminded me of my childhood in Rochester, New York.  Our talented and committed people are our most important resource and have a can-do spirit.  And more than any other single thing, That's Why Madison. 
So let's go forward from here confident with the knowledge that we can accomplish great things together.  We have an awesome privilege and responsibility as part of the JMU family.  As I say to the entering freshmen, now is a time to "DREAM BIG."  Let's take this moment to reflect on what is most important in our lives, and let's DREAM BIG TOGETHER.  Thank you very much!