News
Keys to the University at Court Square
---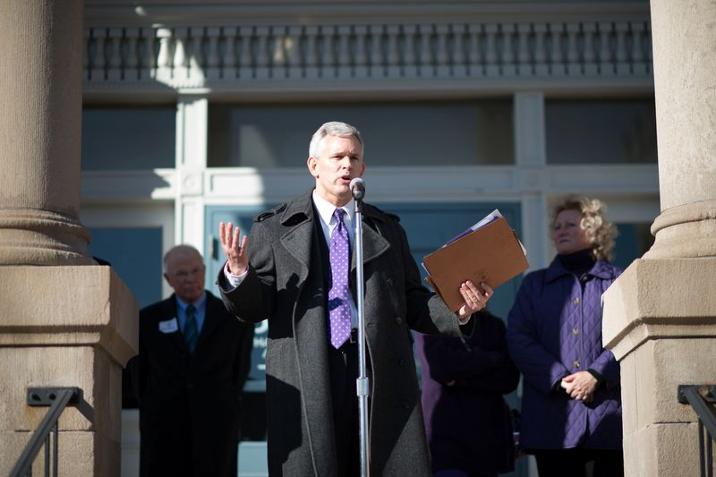 Keys to the University at Court Square
Steps of Rockingham County Courthouse
Court Square, Harrisonburg, Va.
Inaugural Week
Jonathan R. Alger
March 14, 2013
Welcome. I want to thank everyone who participated in the walk from JMU to downtown today. I hope you all enjoyed it as much as I did. This walk during Madison Week symbolizes the solidarity between James Madison University and the community. Downtown Harrisonburg represents the heart of our community. And because Harrisonburg is the county seat, downtown also represents the heart of the county. In fact, not everyone knows that Court Square is actually county property.
I want to take this moment to reflect on the relationship between JMU, Harrisonburg, and Rockingham County. The university's founding was welcomed as an important milestone in the town's history. A group of local citizens lobbied the General Assembly with the same gusto that is still evident in our community's work ethic today. That group included members whose family names can still be found in the local phone book: Hulvey, Sipe, Good, Keister, Neff and others.
Our connections run deep, but they can become even closer. We are here today so that I may present the keys of the university to Harrisonburg Mayor Ted Byrd and to County Supervisor Fred Eberly. The tradition of presenting keys dates back to medieval times, and symbolized welcome and free entry to dignitaries when cities had high walls and locked gates. We hope this gesture encourages everyone in the community to feel welcome on campus and a part of our JMU family.
JMU has been nationally recognized for its community engagement—this is a high priority for us. Still, we know we can do even more, and research shows that the more we work together, the better our relationship will be.
So with these keys, we acknowledge our friendship and welcome you to James Madison University. We look forward to working with you to make our community even better for all who live and work here.
Published: Thursday, March 14, 2013
Last Updated: Tuesday, June 7, 2016