News
Greater Madison Inauguration Week Breakfast
---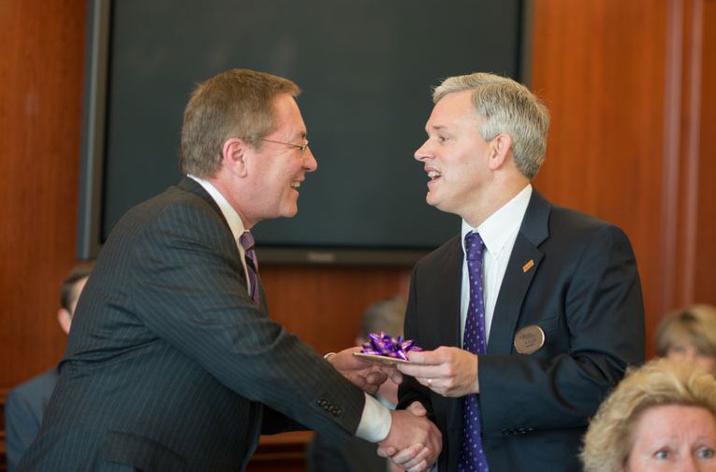 Remarks to Greater Madison  
Inauguration Week Breakfast
Jonathan R. Alger
James Madison University
March 13, 2013
Welcome, everyone. Thank you to Jim Sipe for his continued leadership of the Greater Madison board and organization. The signature on the original 1970 agreement between Greater Madison and Madison College is by none other than Jim Sipe Senior—Jim's father. In addition, a group of city fathers led an effort in 1907 to lobby the General Assembly to locate a new college in Harrisonburg. A member of that group was George Sipe. Thank you also to the board members, and members at large, of Greater Madison.
Greater Madison has undergone a metamorphosis over the last few years, and those changes continue. Just before my arrival, the university elevated the status of Greater Madison to a "strategic partnership." Now the role of Greater Madison will grow even more central to many of our efforts moving forward.
JMU is an institution that can become a model for the Engaged University. This idea of "engaged" means that we connect with ideas and the world, including our community. The Carnegie Foundation recognizes James Madison University in its Community Engagement classification, which includes only 8 percent of all colleges and universities nationally. This is quite an honor. As others have clearly recognized, we are doing a lot together, but we can still do much more.
Tomorrow, I will be leading a walk from campus to downtown Harrisonburg. The walk will serve as a symbol of our solidarity with the community and our dedication to it. I will be presenting the keys to the university to Harrisonburg Mayor Ted Byrd and County Supervisor Fred Eberly. This tradition of presenting keys dates back to medieval times and symbolized welcome and free entry to dignitaries when cities had high walls and locked gates. I hope this gesture will usher in a new era of closeness between the university and our community.
There is much more for us to accomplish together and I look forward to working with all of you in Greater Madison. It is an exciting time to be at the university, and it is certainly wonderful to be a member of Greater Madison.