News
Why Madison Presidential Listening Tour: Baltimore
---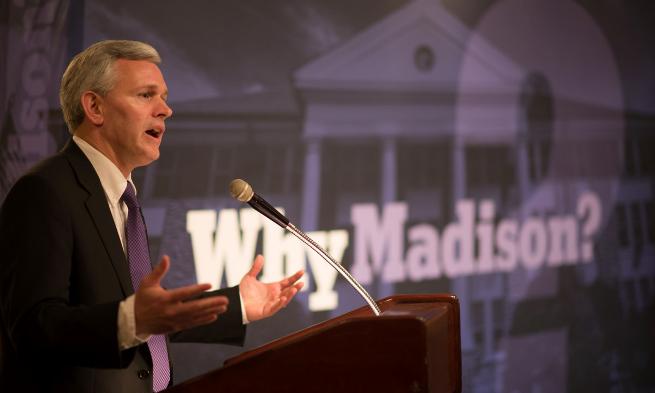 "Why Madison?"
President's Journal
Baltimore
Feb. 12, 2013
We are here tonight at the beautiful Center Club, literally at the heart of downtown Baltimore, with a beautiful view behind us of the city. It's been a great backdrop for a wonderful "Why Madison?" conversation with our JMU family here in Baltimore. It is our 13th off-campus listening tour event.
JMU professors have changed lives
I loved the comment tonight from an alum who said, "I love JMU because it loved me." What we heard tonight were some very personal experiences and stories about faculty-student interactions. We heard about some faculty members, some of whom are still teaching at JMU today, who changed the course of somebody's life because they took the time to get to know them, to listen to their hopes and dreams, and to spend time with them. It made a real difference in these individuals' lives. To this day, people remember that, and they're grateful for it. They are grateful to those individual professors in their lives. Again our alumni have reminded us that people are our greatest resource and of the importance of those personal interactions.
Extracurricular activities give opportunities for leadership
We heard a lot tonight about leadership development, both interestingly in the classroom and outside the classroom in student organizations. People mentioned Dr. [Mark] Warner's leadership class, which is one of our great signature classes at JMU, where students learn about leadership from some of the very best. They also talked about student organizations; we now have more than 350, and they provide opportunities to develop those teamwork and leadership skills in a very hands-on way. Those are skills that become very valuable as graduates enter the workforce. We heard from people reflecting on their time at JMU who realized how important that leadership development was. I think leadership development is actually one of the real hallmarks at JMU. We just had an outstanding all-Saturday leadership development conference for leaders of student organizations. The students came out to learn about leadership, to reflect on that theme with each other and with the university leadership. It was a great experience, and that's something we want to continue to make one of our signature strengths at JMU.
Teacher education grads are inspiring future generations
An alum stood up and talked about the five-year program that leads to a master's degree in education. Teacher education, of course, goes right to the heart of what JMU has done historically. We started as a teacher's college. Today, we produce many of the finest teachers across the state of Virginia and the country. It was important to remind ourselves of the strategic importance of offering innovative educational approaches in which we can provide flexibility and creativity, shortening the overall amount of time in students' coursework while maintaining high quality and making programs and degrees more accessible. We're really grateful to hear from people that JMU's teacher education program made a difference in their lives. That can be a drawing card to bring great students to JMU and to prepare them in unique ways for the working world. We know that we're doing something right because we hear time and time again that teachers from JMU are inspiring future generations of students and, by the way, inspiring students to come to JMU because of those teachers.
Alumni reflect on lifelong learning and lifelong university engagement
Lifelong learning came up in a couple of different ways tonight. First, it is the idea that we want to prepare students not just for that first job after they graduate, not just to give them the skills to succeed at the very beginning, but to have learning skills for the rest of their lives—for what happens throughout their lives and careers. People must continue to learn, so as people have gotten into their careers they have recognized and reflected on those critical thinking and communication skills that we teach in GenEd. Those are skills that are really valuable and help graduates keep adapting as their jobs change and as different industries change all around us. The second thing we heard tonight about lifelong learning is that people, when they think about relating to JMU, are at different stages of their lives and careers and want to continue to feel connected in a way that relates to the stage of life they are in right now. For instance, they talked about the importance of networking in their respective fields and thus continuing to develop in their professions and careers. The question came up: "How can JMU help them help themselves in their own careers and career development?" As we discussed this evening, a lot of that has to do with our alumni engaging with each other and continuing to engage with and through the university—not just as they first graduate, but also when they are 10 years out and 20 years out and 30 years out. That's something I think the Baltimore chapter will reflect on, and certainly we as a university community will reflect on, as we go forward.  This conversation was really thoughtful, and I know it will pave the way to greater engagement with our alumni in Baltimore.