News
Why Madison Presidential Listening Tour: DC
---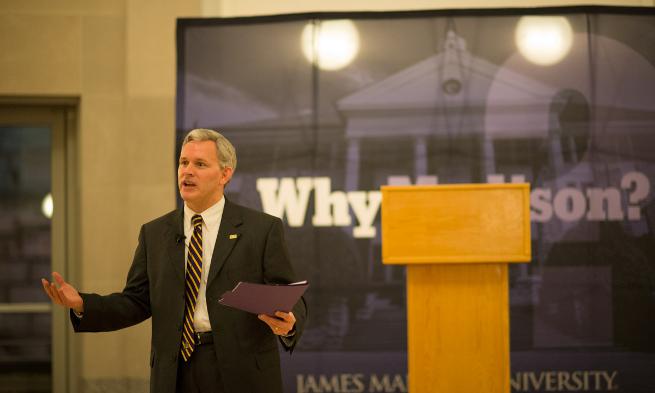 "Why Madison?"
President's Journal
Washington, D.C.
Feb. 11, 2013
Back in the nation's capital
It is such a treat for me to back in the nation's capital here at the Ronald Reagan Building and International Trade Center. One of our own JMU alumni helped us to secure this space for our "Why Madison?" Listening Tour reception, so we are grateful. That gesture shows the power of our alumni. Tonight I had a wonderful conversation with JMU alumni and parents who are very involved in politics, the government, and several different sectors of the economy. A very good mix of alumni, parents, students, and staff attended this evening. They were a wonderful representation of the JMU family.
Holding on to that family feeling for life
Tonight, we had a lot of conversations about how people are part of the JMU family not only as students, but for a lifetime. We listened to some concerns as to how we will maintain that sense of family as our institution grows in size and significance. Due to JMU growing and evolving over the years, many of our participants tonight expressed concern that the university not lose that sense of respect and family values for which JMU is known. I believe that people came away from our discussion tonight knowing that we still very much have that family focus on campus—now, it is just a larger family. It is a broad, increasingly diverse, inclusive and constantly changing family, but it is a family that includes our students, their parents, our alumni, and our faculty and staff. It is our goal to make sure we maintain that sense in how we treat each other and in how we value each other in our community. Our participants tonight wanted to make sure that we understood how important a part of their experience the JMU "family" was, and we certainly do.
Giving back and seeing impact
Family was also a theme when we discussed giving back and the importance of private support for Madison. A central question we aimed to answer was, "What role does private support have and why is it something that we need to focus on?" We talked about how gifts to the university can help support other students who are part of the JMU family. These alumni were surprised—as others have been—to hear that 97 percent of our alumni say that they loved their Madison experience, yet only 7 percent give back financially to the university. What we heard tonight is that people want to make sure their giving actually makes a difference in the lives of students, that it is noticed, and that they can personally see its impact. We heard, for example, that when people learned about individual students who might not be able to finish their careers at JMU without financial support, it affected them. When scholarship donors get to know the students they are supporting, those personal connections make a tremendous difference. We heard about other universities that do this very well and we can certainly learn from them. To see the impact that we are having with our donations both increases giving as well as makes it more meaningful. This concept is something we would like to pursue as we go forward.
Connecting with each other and the world
We discussed tonight how we can bring the world to JMU, but also how JMU needs to go out into the world. This can be accomplished through our many Study Abroad programs, or even bringing international faculty and students to JMU. Considering our discussion tonight took place in Washington, D.C., a city made up of people from all over the world, this particular audience truly understood the importance of these connections in their jobs and in their lives. In addition, the media through which JMU is communicating was a topic of interest. With the rise of so many different social media outlets, there are many different ways that people want to be engaged with the university. Some use Twitter, some use email, and some are on Facebook or LinkedIn. What we kept hearing is that they want to know what is going on at JMU. Therefore, we want to bring our story to them in ways that reach them and matter to them, and also in ways that encourage them to share this information with their colleagues and friends. We were reminded tonight that we need to constantly be thinking about ways to reach out to our alumni, our students, and our supporters to tell the JMU story. I can't wait to see how our alumni and supporters will respond to these gestures and give back to Madison.