News
Why Madison Presidential Listening Tour: Virginia Beach
---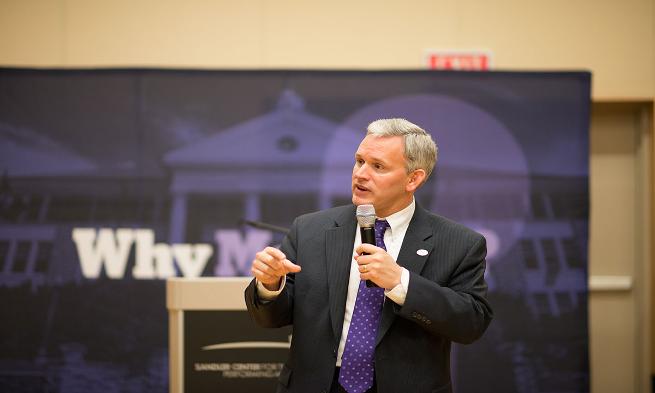 President's Journal
Virginia Beach
Jan. 23, 2013
Active alumni turn out for 12th off-campus event
Our Virginia Beach alumni braved the cold tonight to come together at our 12th off-campus listening tour reception to help answer the question, "Why Madison?" Our Duke Club and Alumni Association hosts mentioned how active the alumni are in this area. They come out for golf tournaments, a fishing tournament and game-viewing events. Some raise funds. One alum mentioned that he has a Madison group that has been getting together annually for 30 years.
Collaborating and cooperating is part of the culture
We heard again tonight about Madison's supportive educational environment. I had read and heard about it before becoming president and wondered, "Is this going to be for real?" And I've found it absolutely to be true. Over and over again, I've heard the faculty and the staff talk about that. We want all of our students to succeed. It's a badge of pride for us that we have such high graduation and retention rates. And it's because we have a certain attitude. At some schools the attitude is, "Oh, you're lucky to be here. Oh well, a third of the students are going to flunk out, and we'll weed them out." But at Madison we think all of you can succeed, and we want you to. And if you're not succeeding, then we look at ourselves and say, "What more can we do?" Madison's special attitude is also exemplified by how many courses require students to work in teams and by the courses that are team-taught. In most universities, this kind of collaboration would have been really difficult for a lot of the faculty and a lot of the students. When I was in law school, many people were so hyper-competitive that the thought of actually cooperating and collaborating with classmates would have been difficult, but at JMU it's very much a part of the culture.
Football player boasts of his well-rounded education
We also heard from alumni who feel connected to their academic programs for giving them a firm foundation to launch a career. One of our scholarship football alumni-athletes spoke about how well-rounded his educational experience had been. Yes, he played football at the scholarship level; but he also had strong academic, organizational and social experiences. "Balance" and "teamwork" were the words he used. Several other alumni echoed his views and added that their Madison experiences prepared them well for life and careers, offering the critical thinking, analytical and communication skills, and resilience to meet challenges. They offered strong testaments to the value of a JMU education.
Alumni said they feel an instantaneous connection
Another alumna spoke about the instantaneous connection alumni feel when they meet one another—even if they have never met before. And this is a good time to encourage alumni and students to wear their purple and gold. It's one of the things that will help support Madison. On a recent trip to Florida and the Carolinas over the holiday break, I decided to pack JMU shirts and jackets for just about every day. I figured it would be a good way to advertise the institution, and also to see who we might run into.  Sure enough, at every stop along the way we met members of the JMU family. It was a lot of fun to connect with people in surprising and unexpected places.
Non-alum throws down the giving gauntlet to Madison alumni
We also had a passionate testimony from a non-alum who is married to a JMU alum about the importance of giving back financially. He mentioned that we will have to find a way to overcome the perception that JMU has all of the resources it needs. New buildings and facilities sometimes work against us in the fundraising department. He said he would be in the seats at the JMU-George Mason game because he felt strongly in JMU's warm sense of family and wanted to support JMU personally and financially. It is spirit and commitment like this that will allow us to begin go raise our alumni giving participation rate.
Alumni and students will mobilize for a cause like Madison Forever
Alumni encouraged JMU to start educating today's students to give back when they become alumni. They also said to give students a tangible need for their giving. I think Madison Forever is an example of that. When the economy took a turn for the worse, there were students who were hit really hard and were in danger of not coming back to JMU. So the alumni responded with funds to keep as many as we could. We spent a lot of time talking about how to mobilize more alumni to advocate for JMU among one another, to explain that it's not just the football stadium, it's the Hurricane Sandy victim who gets to return to Madison if we all give back. I thoroughly enjoyed our time with these alumni tonight in Virginia Beach. They feel strongly in JMU and want to be involved and invested.