News
Why Madison Presidential Listening Tour: Interim Update
---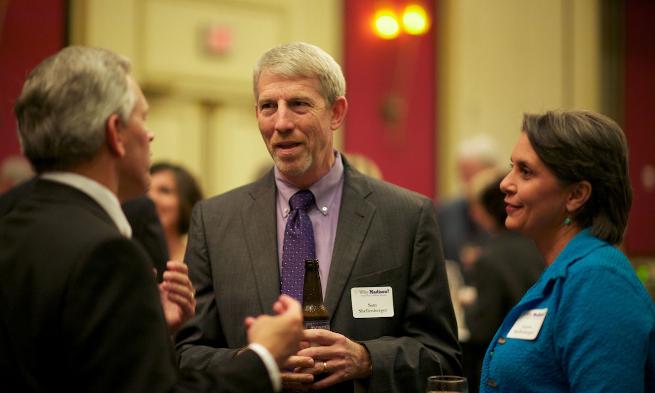 President's Journal —
Interim Update, Jan. 14, 2013
Celebrating your ideas, your energy and your overriding spirit of hope and optimism
This is an exciting and busy time in the life of James Madison University. I can say definitively that Madison has exceeded first impressions and that my family and I remain enthralled with the unique educational culture of this institution. We are happy to be part of the Madison family.  I am gratified that you have played a significant role in the life of JMU by attending a "Why Madison?" Listening Tour reception or by submitting your thoughts on why Madison matters.

Highlighting themes that have emerged from the "Why Madison?" tour
We have held 33 "Why Madison?" receptions and meetings—both on and off campus—for students, faculty, staff, alumni, parents, donors and friends to come together and reflect collectively on our hopes, dreams and aspirations for JMU. Throughout, there has been an overriding spirit of hope and optimism. Please offer your answer to the question "Why Madison?" and learn what the Madison community has been saying. While the tour continues this semester, I offer an interim update here on some of the themes that have emerged from our discussions together.

The "Why Madison?" Listening Tour has been a wonderful collective moment for our university community to come together and reflect on what this institution has meant to all of us. We have been talking about the signature strengths that we want to preserve and enhance as we chart our course for the future. The input that has been emerging from our "Why Madison?" receptions and academic sessions is being considered by the Madison Future Commission. This commission of 150 administrators, professors, staff, administrators, alumni, students, donors and friends will lead us through a systematic process of strategic planning, which is just beginning in earnest.

Enabling student experiences with top-notch faculty members
All along the "Why Madison?" Listening Tour, alumni have been telling me that the most critical factor in their JMU education was their relationships with our faculty. The message has been the same, whether these alumni have been out two, 10 or 30 years. Many alumni still keep in touch with those influential professors and credit their current success to that faculty mentor who inspired them to think critically, to delve more deeply, to follow their passion.

Today at Madison we continue to pride ourselves on those close faculty-student relationships as the cornerstone of our educational culture. As our reputation has increased, we are recruiting world-class professors, individuals who could go anywhere, but who are choosing to come to Madison because of our distinct focus on the student. As I have heard in my listening tour visits with academic units, our faculty believes deeply in this student-centered mission and—even in the face of JMU's recent, rapid growth—are committed to provide that level of personal attention to as many of our students as possible.

Going forward we must find ways to ensure that our faculty can continue in this noble mission—to teach those core competencies, to encourage collaboration with others across disciplines, to offer the liberal arts context, to provide research and hands-on learning experiences, and to mentor and focus on student success.

Establishing JMU as the national model of the Engaged University
At every listening tour stop, we have heard alumni and parents talk about Madison's distinct educational environment. We have many qualities of a small liberal arts college and many opportunities associated with a research-intensive university. Technically, we are a comprehensive university. Yet outside of higher education, no one knows what that means. When we look at our peers in our classification, many look nothing like us. So where does our future lie? I don't want us to try to become another U.Va. or a Virginia Tech, or even to emulate a Swarthmore, the small liberal arts institution where I went to college. I want us to recognize and follow our natural trajectory and become the best James Madison University that we can be.
 
It will be important to find a way to talk about ourselves meaningfully and intentionally. How do we communicate the totality of the Madison Experience in a way that is clear and inspiring? I have begun talking about James Madison University in new terms: We have the opportunity to establish JMU as the national model of the Engaged University. I believe it has the potential to describe all of our signature strengths, leave room for a bright and inspiring future and include the entire Madison Experience—from our outreach to young children, through our undergraduate, graduate and doctoral programs to lifelong learning.

Focusing on civic engagement, public service and the 21st-century relevance of James Madison, the man
Having a background in constitutional law as well as American history, I have been excited to hear insights about our being a university named for James Madison, who is known as the Father of the Constitution. I want us to look deliberately at how we cultivate that heritage and its relevance for citizenship and civic engagement in the 21st century for our students and for our alumni. I think we can be a model for producing citizens who will be engaged actively in their communities around the world. Already JMU is known for its unprecedented level of community involvement, from the impact of our academic programs to the volunteerism our students show to the impact we have in public service through our Alternative Break program. Our Quality Enhancement Program focusing on ethical decision-making will enhance Madison's impact still further. We have the opportunity to model the kind of civic discourse that we think is so important for our society and that's often in short supply in the public sphere today. We want people to debate, to discuss, to bring forth different points of view. That's what higher education is all about—to do that in an environment where people respect each other and where they understand it's important to have different points of view. A group of faculty members and administrators traveled to Montpelier last semester to explore with the leaders there how we can lift our decades-long partnership to the next level. I look forward to collaborating closely with Montpelier as we move forward in cultivating the wonderful legacy of James Madison, the man and the statesman.

Becoming a national place of convening
We can enhance the university's national reputation by doing even more to convene national and regional gatherings on important issues of the day on our own campus.  As we draw more scholars to JMU to learn together, we can spread the word about the exciting learning environment that is being created here while also providing opportunities for people on our campus to be exposed to the greatest thinkers in a wide variety of disciplines.

Our welcoming Madison family is a hallmark strength
The welcoming, family atmosphere at JMU is striking. People here greet one another and hold doors open for one another, even if they must wait a few paces for someone to catch up. There's a happiness factor at work on this campus that I have not seen anywhere else. All along the listening tour, our students, faculty, alumni, donors and friends have commented consistently on our friendly campus and our collegial atmosphere. It is a critical catalyst for our enthusiastic and incredibly productive interdisciplinary collaboration and an incubator for the kind of civility we need to foster in society. I think people can learn better when they feel part of a community, when they feel valued, when they feel respected. While there is an organic and grass roots quality to this unique aspect of our educational culture, I want us to be proactive about taking the concrete steps necessary to preserve and nurture it.

Expanding the diversity of our Madison family on campus
We must also work quite intentionally on expanding our Madison family to be inclusive of individuals of all backgrounds, talents and aspirations. To me it's very important that when we think about James Madison University as an outstanding public university, we provide access and opportunity to promising students. When we talk about diversity, we're not just talking about race, ethnicity and gender—we're also talking about socioeconomic circumstances, students who are the first generation of their families to have the opportunity to go to college, students of different ages, students with disabilities, veterans and families of veterans, and students who come from different geographical or family backgrounds, or from different cultures and experiences.

While we have made significant strides, JMU has some serious work to do on this front, and yet I have no doubt that we can leverage that "door opening" culture literally to provide access and opportunity to the distinct Madison education for students from an even wider array of backgrounds. A campus with a wide variety of perspectives and experiences better prepares all of us to understand the breadth and depth of our world, to collaborate effectively on solutions to societal issues, to be citizens in a democratic society who can advance a common agenda, and to compete effectively in a global economy.

I have appointed a task force on diversity and charged it with taking a comprehensive look at our current diversity efforts and making suggestions for the future. The task force will comprise two subgroups, one focusing on diversity among the student body and the other among our faculty and staff.  I hope and expect that this undertaking will lead to new initiatives as well as suggestions for augmenting current programs.

Further enhancing international experiences for faculty, staff and students
In the 21st Century and its global economy, we must prepare students for a world in which they are familiar with other cultures.  We have tremendous academic offerings abroad in a wide variety of locations across the globe already, but I believe it will be a strategic advantage for us if it is possible for every student to have at least one international experience while at JMU.  I also believe we must consider how we make such experiences available and accessible to faculty and staff members as we seek to learn from and about educational institutions elsewhere.  Similarly, we know that we can enrich the learning environment at JMU by drawing even more international students and faculty members to our campus.

Fostering lifelong learning and intergenerational relationships
We have an increasingly robust and successful base of alumni who have knowledge, connections and insights to share with the next generation. If we can find ways to foster more intergenerational relationships among alumni and students both on and off campus, it can become even more of a recruiting tool and advantage for the university. Furthermore, we must continue to look at how we encourage lifelong learning and serve the needs of "non-traditional" students who can continue to benefit from JMU educational programs. 

Creating a culture of philanthropy among alumni
A critical topic that we have discussed at every event on the "Why Madison?" Listening Tour is the increasing role fundraising will play in the life of JMU. Madison's needs are great—from scholarships for deserving students to sustaining that faculty-student culture that our alumni say was so crucial to them. In fact, 97 percent of our alumni have said they had a great experience at JMU. That's astoundingly high. I've never seen that kind of number in another institution. And, yet, only 7 percent of our alumni give back financially to the university. We will have to work together to overcome this disconnect to bring our talented and successful alumni to bear on the visionary ideas that will move JMU forward.

Working together to achieve our hopes and dreams
In our "Why Madison?" conversations, alumni appear to be receptive of this message and understand that the world of higher education has changed. No longer can we look to the Commonwealth of Virginia to fund all of our needs. Nor can we expect students and their families to pay constantly rising tuition and graduate with overwhelming student debt. Alumni have indicated a willingness to step forward with their time, their talents and their finances and are embracing the message that when you join the Madison family, you also have a responsibility to share with the generations that will come after you. JMU will be working intentionally and proactively to bring alumni more deeply into the life of the university, through taking events on the road, to inviting alumni back to work with students and serve as volunteers and ambassadors and to make a significant financial impact on James Madison University. The "Why Madison?" Listening Tour has revealed some of our hopes and dreams for the future, and getting there will be a collective effort. We will be counting on our alumni to follow through on these important initiatives.

Providing competitive compensation for faculty and staff
The most urgent immediate priority in terms of budget challenges is the need for competitive compensation for our faculty and staff, as we compete increasingly in a national market with public and private institutions for the best talent.  The lack of base salary increases in recent years has had an impact on morale and threatened our competitive position in the marketplace.  For this reason, I have commissioned a task force to develop short, medium, and long-term strategies to address this pressing concern.  In order to strengthen further JMU's position as a premier place to work and live, we must also focus on work-life balance issues.

Charting the course for athletics within JMU's educational mission
During the listening tour, the Madison community has shown a great deal of interest in the future of our intercollegiate athletics program. I understand and appreciate that this is an era of rapid change in higher education and athletics, particularly with regard to issues like conference alignments and television contracts. My senior leadership team is monitoring and analyzing the national athletics landscape and its impact on JMU.

While our considerations cannot always be discussed publicly in real time, alumni and fans have offered their ideas during our receptions. They are continuing to submit ideas through the "Why Madison?" website, where much of the input is posted. As I have been emphasizing throughout the "Why Madison?" Listening Tour, all of the input we receive is being captured and considered by the Madison Future Commission, which is leading the development of a university-wide strategic plan. That plan includes a strategic plan for athletics. 

Our fans have high expectations for our teams and our institution, which has invested heavily in athletics and facilities in recent years. Likewise, we set high expectations for our teams and coaches on and off the field. As we focus on our future, the Madison Future Commission will be guided by the core principles that have made JMU the unique and successful institution it is today. Athletics will continue to be part of our overall educational program, provide educational and wellness opportunities for students, and emphasize high standards and integrity. Our first priority will be the "student" in student-athlete. The finances of our athletics program must be sound and considered in the overall context of the university's budget and priorities. The success and achievements of all of our teams, including the academic achievement of our students, are important.

I am heartened to be president of a university with such an inspiring mission, well-rounded educational culture and passionate athletics supporters. It is especially meaningful to me that Madison is named for James Madison, the Father of the Constitution. I want us to be mindful of our heritage and to further the tone of civil discourse not just across the university, but also in the stands and in our social media forums.  I want and expect for us to be perceived as a "first-class act" by our peers and competitors.  We all must take responsibility for setting that tone.

Focusing on people as Madison's most valuable resource
I close by again commenting on the distinctive and significant presence in higher education that I have found James Madison University to be.  I underscore that I believe our people are our greatest resource—our faculty, staff and students on campus and our alumni, parents, donors and friends who live throughout the world. They—you—are Madison's greatest resource. If we can harness your energy, your intelligence and your enthusiasm then there's no limit to what we can do together.

Please attend the inauguration on March 15
I hope you will join us at future "Why Madison?" Listening Tour events, and I invite you to my presidential inauguration in the Convocation Center on campus on March 15, when we will celebrate the wonderful university that is Madison. Thank you.