News
Acceptance speech of JMU's sixth president
---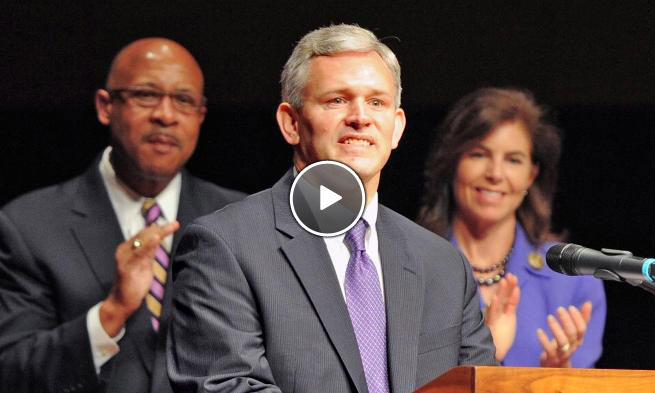 Good afternoon.  Thank you, Jim, for that very generous and thoughtful introduction.  I am deeply honored and humbled to be here today.  Let me begin by also expressing my thanks to the Board of Visitors, the search committee, and all of you here.  The history at James Madison University reflects a great relationship between the university's administration and governing board, and it will certainly be a high priority for me to nurture that vital relationship by working closely with the Board of Visitors in the years ahead.  And at every step of the way, the search committee has represented the University with class, dignity, and enthusiasm.  You have been great diplomats for the institution-James Madison the statesman would be proud!
I also want to thank President and Mrs. Rose for their gracious welcome and support.  President Rose has led the University to new heights and has set the stage for an exciting next chapter.  Indeed, JMU has had a remarkable history of successful presidents who have guided the University through tremendous growth and change.  This legacy reflects a strong institution with a clear sense of identity and purpose.  Working with the entire University community, I will strive to continue, and build upon, that powerful tradition.
James Madison University stands at the threshold of an exciting new era at the beginning of its second century.  The University has evolved into one of the nation's leading institutions of higher education with a bold vision:  to be the leading comprehensive university.  This vision combines the best of liberal arts education-emphasizing student-centered learning-with a strong complement of distinguished graduate programs aimed at meeting strategic state and national needs.
Building on this clear vision and rich history, James Madison University can serve as the national model for what it means to be the "engaged university" of the 21st Century.  This vision is not that of an isolated ivory tower, but rather of an institution that is fully engaged with ideas and the world.  JMU relishes its historic and timeless role as a place where knowledge is developed and enhanced-while also answering the call to put knowledge, creativity, and critical thinking skills to good use in addressing the most pressing challenges of our society and our world.  
So what does it mean for James Madison University to set the standard as the engaged university for the 21st Century?  As a longtime student of American history and constitutional law, I am especially excited about the University's historic ties to James Madison, the Father of the Constitution.  This University can be a model for our nation and our world, as a place where individuals learn how to become fully engaged and enlightened citizens in a democratic society.  I believe that James Madison himself would proudly embrace the University's theme, "Be the Change," reflecting how members of the Madison community are being prepared to lead meaningful and productive lives and to be agents of change in the world. 
This engaged university is a place where faculty, students, and other members of the university community can come together to pursue excellence while modeling civil discourse-where important ideas and issues can be discussed and debated by people from diverse backgrounds and points of view.  It is a place where values of civic engagement and public service play a central role, reflecting a holistic educational environment in which students learn both in and outside the classroom.  When I look back at my own life-changing liberal arts education at Swarthmore College, I am struck by how themes of public service and the public good were ingrained into every class and discipline.  At Rutgers and the University of Michigan, I have seen how great public universities can reinforce these values through active engagement and partnerships with the community at the local, national, and international levels.
The engaged university is also engaged with the world.  We need to bring the world to JMU, and JMU out into the world.  When I was a junior in high school, my own horizons were greatly broadened when I spent a summer as an exchange student in Japan.  JMU's emphasis on international education will help prepare its students to succeed in the global marketplace and to be responsible global citizens in an interdependent world.
The engaged university must be open and accessible to individuals of all backgrounds.  Throughout my career, I have fought for the principle that diversity provides educational benefits for all students.  Diversity and excellence go hand in hand, and I look forward to working with colleagues at JMU to build the pipeline of opportunity in all disciplines and to nourish diversity in all its richness.
The vision of being the leading comprehensive university includes an emphasis on the development of the whole person.  I am impressed that JMU students sustain the vitality of over 350 student organizations on campus, as such involvement is a rich component of the collegiate learning experience.  Through co-curricular activities and athletics, students can learn values of teamwork, leadership, and perseverance.  At this very moment, the JMU football team is savoring its thrilling, come-from-behind victory against Eastern Kentucky in the FCS playoffs.  We hope they can keep that momentum going against North Dakota State in the next round!  I also want to congratulate the men's soccer team, which I understand competed in the Sweet Sixteen of the NCAA tournament yesterday.  My family and I are avid sports fans of both men's and women's teams and look forward to cheering on the Dukes at every opportunity.
The visual and performing arts constitute another critical element of this holistic learning environment, providing insights into the human condition and the world around us.  As a lifelong choral singer standing on this magnificent stage, it is hard for me to resist the temptation to break out into song (but I'll leave that for another time, or my wife and daughter will never forgive me!).  Our entire family shares a deep devotion to the arts, and we are incredibly excited to be joining a community in which the arts play a vital role. 
The success of James Madison University in meeting its noble ambitions depends on many people.  In the courses I teach on higher education law and policy, I emphasize the varied constituencies that make up a university:  students; faculty; staff; governing boards; alumni; the local community; civic leaders and organizations; local, state, and federal governments; and corporate and foundation partners-among others.  To practice what I preach, I will start my presidency with a listening tour to meet all of these constituency groups and hear about their hopes and dreams for JMU and its future.
Students, you are very important to this university, to me, and to the future of our country.  I know that you are among the best and brightest, as competition for admission to this wonderful institution has intensified in recent years.  In every academic division-Arts and Letters, Business, Education, Integrated Science and Technology, Science and Mathematics, Visual and Performing Arts, and the Graduate School-you are known for your compassion, and for your desire to serve others and to be a part of improving the world around you.  I commend you for your ability to balance the rigors of learning in the classroom with your pursuit of knowledge and experience in the campus and community.  At Michigan and Rutgers I have treasured my time with students as a teacher and mentor, and I look forward to working with you to "be the change" and to make the Madison Experience the best it can possibly be.  
Faculty, you are entrusted with educating our future citizens, stretching their minds and preparing them to aspire to new heights and to take on the challenges that our future has in store.  There is no nobler profession.  Here at JMU, I know you are dedicated to student learning and undergraduate research.  You are known for your collaboration and cross-disciplinary partnerships, which I value and commit to support.  Through my work with faculty from all disciplines at Rutgers, Michigan, and on the professional staff of the American Association of University Professors, I have developed the greatest respect for your role and for principles of academic freedom and shared governance.  I am committed to a leadership model in which I will serve as your support and advocate.
Staff, I am keenly aware of the high satisfaction ratings at James Madison driven by the strong culture of service and relentless pursuit of student success.  Further, the fact that you have maintained such marks of high quality through a tremendous period of growth in the physical campus is clearly no accident.  From my reading, I see that the institution is known for its financial integrity and for being a good steward of student and state resources.  For this you are to be commended.  Most recently, it has been a pleasure to experience firsthand your handiwork in the beauty of the campus grounds and facilities-not to mention the really good food!  I look forward to rolling up my sleeves and working alongside you, as we further enhance James Madison's reputation as a university at the forefront of student engagement.
Alumni and friends, you are the lifeblood of our institution.  Your investments of time, talent, and finances will help us to achieve our ambitious goals.  I am eager to hear your stories, share in your traditions, and explore your dreams for making an impact on this incredible university.  The engaged university embraces intergenerational connections, and together we can further its reach.  Like many of you, I have benefited from the inspiration of my parents, faculty members, and alumni who encouraged me to follow my dreams, and who instilled in me a strong commitment to public service.  The JMU community is an extended and constantly growing family in which the whole, working together, is much greater than the sum of its individual parts.
Speaking of family, it is a special privilege to be here today with my wife, Mary Ann, and daughter, Eleanor.  Mary Ann was born in Florida and has an educational and professional background in business.  I was born and raised in upstate New York.  We met in the middle in Washington, DC, and lived in Virginia when we were first married.  Indeed, Eleanor was born in Virginia.  Her passions include reading, writing, and musical theater.  Eleanor is in seventh grade and recently turned 13, but as a new teenager she has assured us that we are still smart parents.  Let's hope that lasts!  We are honored and excited to be joining your community in Harrisonburg and Rockingham County in this beautiful Shenandoah Valley, a region which provides a superb quality of life.  We all look forward to getting out into the community to build new relationships, and to further our appreciation for your rich heritage.
As we look forward, there is much to do.  The next phase of the University's strategic planning must get underway, building on the current plan that ends in 2012.  We must foster a culture of philanthropy as we prepare for a far-reaching capital campaign to further the University's goals and priorities.  The carefully developed Quality Enhancement Plan called "Engaged Citizens, Ethical Lives" will take center stage as we reaffirm our institutional accreditation.  We will continue to seek new ways to foster values of diversity, opportunity, civility, sustainability, internationalization, and public service.  And we will need to work with our partners in Richmond to ensure that this precious jewel called James Madison University can continue to flourish in service to the state and the nation.
The challenges are great, but the opportunities are even greater.  I look forward to working with all of you at the dawn of this next century for James Madison University.  Thank you all very much!