News
Opening staff meeting remarks
---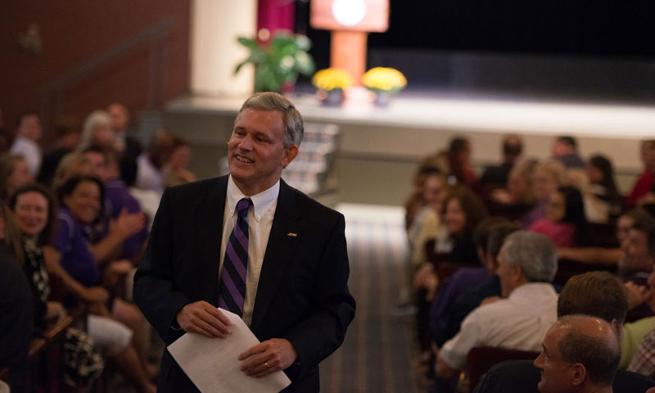 President Jonathan R. Alger's Remarks
At the Opening Staff Meeting
Aug. 17, 2012
Wilson Hall Auditorium
Greetings and Recognitions
Good morning, everybody! I want to thank the Employee Advisory Committee for hosting this event. I thought, "Oh, this will just be a small group. We'll get together and have a nice conversation." And, here we are with a full auditorium. It is great to see the enthusiasm and energy here in this room—although, I do though miss the OPAs, who are involved with Orientation.
My very first day on the job and throughout my first two weeks, I had the privilege of working with Mark Warner and his staff on Summer Springboard for incoming students and their parents. It was such a privilege to be a part of that. There was so much energy and excitement from the students. I am not sure if our speeches and welcomes added a whole lot, but boy, when the incoming students and their parents saw the excitement and the enthusiasm of the students who are here at James Madison, it made such a difference. That is what it's all about, so it is great to be back here in Wilson and to have that energy in mind.
I also want to thank the Employee Giving Campaign. That is really, really impressive. I know that it is a sacrifice that a lot of you have made and a labor of love to contribute to that kind of campaign. I want to thank each and every one of you for what you do for the university and the many ways that you contribute to the life of the institution. It really says a lot about how much you care about this place and about this community. Now, I thought I would do my own part to get started and to emphasize this idea of giving to JMU. I got a jar for my desk and put "Be the Change for JMU" on it. For those of you who come to my office—and I welcome you to do so—it is actually sitting there on my desk. After a while I thought, "Well gee, no one is coming in with change." Nick Langridge, who is here this morning, politely told me, "Well, you know, these days everybody is using their JACards for everything and nobody has change anymore." So, I felt a little bit like a dinosaur. Does anybody still have change in their pockets? Please feel free, if you want to empty your pockets, to come by the office. I promised Nick that I will dump it on his desk very ceremoniously after we get a full jar. But, thank you all very much to those of you who have contributed to the Employee Giving Campaign.
New Academic Year Transition
So, how many of you are ready for the new academic year? This summer has gone by very quickly, I'm sure, for all of you, as it has for us. In New Jersey, where we have come from, we went to school until late June. My daughter, who is now a rising eighth grader, was in school until late June. And she was looking at the calendar and saying, "Okay, now, let me get this straight. We're moving July first and then in August I have to go back to school—is that right?" when it ordinarily would not have been until after Labor Day. So it was a short summer. But I think it is great for her and great for the family to all have that routine. She will meet a lot of people that way, and certainly all of us have been meeting a lot of people these first few weeks at JMU as well. It's really great to be here. And for me, personally, and for my family, it is great to be back in Virginia.
My wife and I actually lived in Virginia when we were married, and our daughter Eleanor was born in Virginia. So, she's a native Virginian, and we're glad to be back here. We had a great experience in New Jersey. Neither of us is from there, by the way; I'm from upstate New York as you have heard, and my wife is actually from Florida. We sort of met in the middle, if you will, and that worked out well for both of us. But I have to say, coming to the valley from New Jersey has really been a breath of fresh air, both figuratively and literally so. What a great place to live and what a great community. And we have already very much sensed that warm welcome of the community.
Buildings, Grounds and Excellent Food
I have to say that the first weeks were a little more eventful than I thought they might be, certainly in terms of the weather. This was not something that I thought was going to be on our agenda in the first few weeks—to have a major windstorm and flooding on campus. But what really impressed me, and this is where all of you come in, is how quickly the university staff responded in dealing with those issues on campus. It really was impressive to me. I have to say, I came onto campus over the weekend to see how things were going and I thought, "My goodness, they've already got everything cleaned up and I'm just starting to hear about what happened on campus." It was really an example of the kind of dedication that all of you bring to your jobs here. That dedication to excellence is a real hallmark of the university.
We recently had a president of another university visit. He was brand new to his job as well and came with a team from his university to learn about how we do things here at James Madison. So you should all know that we are models for other institutions. He made a bet with one of his staff members. He said, "We're going to walk from the football stadium over to the Forbes Center." So, you know, that's a good walk. He said, "I'm going to give you 25 cents for every weed that you find." Now, I'm happy to say that his eagle-eyed assistant did not get rich on this walk; he made $1.25—so there were five weeds. Now—we're going for the gold—we want perfection, but that's pretty good. So all of you who maintain our grounds, it's noticed. We are seeing that dedication to excellence again in so many facets of life at the university already.
One of the other things that we've gotten to do quite a bit of—and my daughter has been very excited about this—is eating at the dining halls. I have to say, I had heard about the food here and the rankings and boy, have we been impressed. Hopefully the hills on campus will help me to prevent the "Freshman 15" people always talk about. You will see me walking around campus a lot, and that will be very intentional after enjoying such great food.
People Really Care
That commitment to excellence is everywhere. It's how the buildings are maintained, it's the friendliness of the people who help me with directions when I'm looking a little lost and don't know my way around quite yet. We have really noticed that people care about the university; they care about each other and they try to be helpful to each other. That makes a difference. It makes a difference in the learning environment when students can see, and parents can see, how well we try to care for our campus and care for each other. It sends a message that this is a nurturing environment where people can learn, where they can take chances, and take risks in their own education. Thank you for conveying that message to the world. It really makes a huge difference in the lives of our students and it is something that has immediately struck our family in coming here.
First Impressions
What I'd like to do is just to share a few impressions of these first few weeks on the job. So, this will not be a typical state of the university formal address. We'll do more of that certainly as time goes on. Because I'm brand new, I'm still learning—and you all could actually be up here giving that address better than I could. I do want to share some initial reflections with you. And one of the things I want to say is how great this transition has been for us. I have very big shoes to fill. Coming here, after only five other presidents, with Dr. Carrier and Dr. Rose, was somewhat daunting. I have to say that the university, and both Dr. Carrier and Dr. Rose, have been terrific in helping with my transition. The sense I've gotten is that this is a real team and we all understand that we can only succeed if we work collaboratively with one other. That has really been reassuring to me in coming to realize that this is not something that I will do on my own. All the people in this room are working together to make this a great university. My job is really to help all of you do your jobs better. And that's why I'm here—to try to help us have as much fun, get as much as we possibly can out of being here, and leave a great legacy for the future.
When you think of being at a university, one of the real privileges that we all have is that we're working at a place where what we do will affect future generations far beyond us. When you think about it, that's really a great privilege and a great responsibility—to be at a place where we're trying to make a difference, sow seeds, and prepare the way for future generations of learners. That's a really exciting reason, I think, to be working in a university community. Even though we know there is more traffic and such as the students come back, it is a great reminder of the constant regeneration of this community.
In terms of the family, by the way, I just wanted to mention that my wife and daughter wanted to be here this morning. But, we actually have a couple of other 13-year-old girls visiting us—some friends of Eleanor's—and they're probably still asleep, actually. But I do want you to know that my wife Mary Ann, who has a business background, and Eleanor will be very engaged in the life of the university along with me.
Eleanor is starting school next week at Skyline Middle School, which she is very excited about. You will see all three of us at a lot of events around campus. As you have an opportunity to meet them, please say hello and know that it means a lot to them as well. But, please remind us of your names. It takes a while, as you might imagine, when you come in and meet hundreds of people each week.
"Why Madison?" Listening Tour
Let me now turn to saying a few words about the theme of the listening tour that we are embarking upon this year. The idea of a listening tour is really very intentional; it is taking a moment of reflection as a community to say, "Let's look at where we've been and let's look at where we're going as a university." It is an opportunity for us to learn from each other about what we are doing well and where we have areas for improvement. I am hoping that we will have very constructive conversations along those lines. The first big event we had was last night here for the community of Harrisonburg. We had a couple hundred over at the Forbes Center. It was a great turnout and people were very thoughtful about sharing their ideas. I want all of you to be a part of that process, as well. I want you to share your thoughts and reflections on this question of "Why Madison?"
"Why Madison?" That is the central theme and the central question that we will be asking over the course of the next year. And the idea is to reflect on why we are here. Why does Madison make a difference and how does it make a difference in the lives of people, our faculty, staff and students? How can we do that better? What ideas do we have to share? As you have ideas and suggestions, please send them in. We have a variety of ways we will be doing that—by email, with note cards at these events, etc.—and I want all of you to be a part of that. My hope is that this tour will be helpful to all of us as we hear the conversations and reflect on the ideas. One of the things that we as an administration want to do is share that feedback with all of you. As we hear from the community and as we generate ideas, we want to make sure to reflect that back to you. What themes are we seeing? What ideas are emerging that will feed into our strategic planning process, which we also hope will be very inclusive and include our entire community for the months and years ahead. So, "Why Madison?" is the central theme.
In light of that, I wanted to share with you my own answers to that question and what attracted my family and me to come here. First is the idea of dedication to excellence in everything that we do and not being afraid to ask how we can do better. Measuring and assessing what we're doing is what leads to innovation. That is something that JMU is known for nationwide, as you probably know. Our assessment, our accountability, how we measure things, and how we study things serve as a model for other schools who look at James Madison University as a role model. That is something that we should be proud of, but it is also a great responsibility. We are at the cutting edge in a lot of ways on those issues and we need to constantly think about how we can do better.
Excellence Means Dreaming Big
You probably know that we continue to be in very high demand. The student body continues to grow—we have broken the 20,000 barrier for this fall. Right now, the projection is 20,032 students for this year. We know that this puts stresses on all of you and on our community in many ways, but it is also a reflection of the fact that people want to be here. They hear that JMU is a great place. I cannot tell you how many of our friends from around the country have been excited to hear that my family and I were coming to James Madison University. They said, "That's a great place and you are so lucky to be going there." They were absolutely right. JMU's reputation is national and international in stature. We all have that to be proud of, but also a great responsibility to help move that forward.
Another thing I would like to say in terms of excellence is that we dream big. We do not just stand pat, we do not say we are going to do the same things as we have always done, and not make any changes. Instead, we dream big and encourage each other to do so. One of the things I heard last night as people described the university was that "[JMU] is a place where people are not told 'no' all the time." Rather, the experience is generally, "Let's try to find a way to get to 'yes.'" If someone has a good idea, regardless of whether or not resources are immediately available, we think about how we can get there. That is an exciting. It is that kind of can-do attitude that makes a difference. I think it is something we can be very proud of and that we can continue to try to encourage each other to do.
Emphasis on Staff Development
I also know that we have had, in many ways, a very lean administrative and staff structure to support a university of this size and we have worked very hard at efficiency, innovation, and also at professional development. Let me just say a word about professional development, because it is something that I hope everybody in this room will have a chance to experience in their careers at James Madison. When I was at Rutgers, we were constantly dealing with budget cuts and everybody was always trying to do more with less. But, one of the things that I absolutely protected in my budget was professional development for my staff. The reason for that is that I felt, and still do, that if we are trying to do better as a university, the most important resource we have is the people. I mean, look around you. Yes, there is great technology and we want to learn from that, but the bottom line is that it is the people who make the biggest difference and that make this university what it is. We have to find ways to continually engage ourselves in lifelong learning.
Lifelong learning is something every person here is going to be engaged in. Just because we have done things in a certain way before does not mean that in two years, or ten years, we will operate in the same way. We will be talking a lot about professional development as a continuing theme here at the university; it is something that I really support. Along those lines, I know that compensation has been an issue at the university and has certainly been a concern. It is certainly one of the things I am very well aware of. They are concerns not just here, but, of course, around the country. One of the things we need to do is to look holistically at new revenue streams; where else can we get funding? That is certainly going to be a focus for me, with the help from a lot of you in this room. It will be a multi-faceted approach, I hope. This is a job that will be ongoing.
We do at least have some good news from the state. As many of you know, there was an email from the governor on Aug. 15th that indicated that the commonwealth, due in large part to the hard work of employees like all of you in this room, had achieved its budget surplus goals for this year. I am very grateful for that. This has allowed the state to set aside partial funding for the 3 percent bonus for all full-time staff and faculty to be paid on Dec. 1st of this year. As most of you probably know, James Madison University has committed the additional funding necessary to fully fund the bonus. So, in addition, the university will fund a 3 percent bonus to wage employees who will have worked at least 1,000 hours between Oct. 31st of 2011 and October 16th of 2012. This is a pat on the back for all of you, because you are the ones who have achieved this, not me. You will get more detailed information about the 3 percent bonus from HR in the coming weeks. I am aware that we have not seen significant salary increases in a while, but we do hope that the bonus this past spring along with this upcoming one will at least make a small dent in helping people as they deal with their daily living expenses. We are optimistic about the future, including the possibility of raises in 2013. So stay tuned, work with us, help us if you have any ideas, and know that this is a high priority for me.
In addition to thinking about compensation, I want to think holistically about the working environment here at James Madison University. This is a great place to work, and I say that coming in from the outside. When I see how people treat each other, how people take care of the campus, and how they take pride in their work, it makes a difference. I want to look for as many ways as we can to help appreciate and acknowledge the work that all of you do. You put a lot of your time and effort into your work here—your purple blood, sweat and tears. So, we need to find ways to continually acknowledge and appreciate each other. I really welcome your suggestions in helping me to think about how to do that.
Quality Enhancement Plan
When I talk about why I came here, I always mention that we have a commitment to academic excellence. But, it is also excellence that has a heart and a conscience. How many of you know what the Quality Enhancement Plan is? Some of you are chuckling because you are probably spending a lot of your time on this. SACS, our reaffirmation of the accreditation of the university, is a process that we are going through this coming year. As a new president, it is incredibly fun to experience your first year. Luckily, we have a great team. Hopefully I will get out of their way as much as possible and just help support them. Part of that process is something called a Quality Enhancement Plan, or QEP, and our focus is on ethical reasoning and its application in students' lives as well as their personal, professional, and civic lives. It is something that I will not just be for the students, but for everybody on campus to get involved in as we think about what it means to be ethical citizens and make ethical decisions in all of the work that we do. It affects all of us. So, be watching for that theme. That is an opportunity for all of us to share ideas about how we can model that in the months and years ahead.
When I think about what James Madison University stands for and what we can be, I refer to the "Engaged University." I am talking about being engaged—yes, with ideas—but also with the world. It means we are gathering knowledge, creating knowledge, and sharing knowledge, but that we are also trying to apply that knowledge to real-world problems. That is something you do together, with other people, with other organizations, and with your community. The Engaged University is something that I think we can model and is already something that James Madison is known for.
James Madison, Father of the U.S. Constitution
I am an American history buff. When I found out that I would be coming to JMU, I thought, "Wow, what a great thing to come to a university named for the Father of the U.S. Constitution." I have been reading a lot of books. My daughter makes fun of me and says, "Well, the story doesn't change, Dad. You've read several biographies. Isn't it still the same thing?" But I've enjoyed reading about James Madison, his life, and the founding fathers. I think about being engaged citizens in a democratic society and what that means, as well as the responsibilities that we all have for our communities. I heard some great examples in Harrisonburg about ways in which the staff are involved in the community. That is something I want to continue to foster—that spirit of civic engagement, of social responsibility, and of being involved with the community. I personally think civic engagement is a way in which all of us can enjoy our lives here and appreciate each other more. I really appreciate all of you who are involved in some sort of community service or public service all across the community. I know that people here want to make a difference and I have already seen that. As I think about that, by the way, I have realized in meeting members of the JMU community in unexpected places that we are all ambassadors for this institution wherever we go. That is an important responsibility, when we think about how we talk about the university and how we reflect upon the university. We are not perfect and we have a lot of things that we could do better. But, we also have a lot to be proud of and a lot to be thankful for. That is something that I want to continue to reflect upon—the idea that all of us are ambassadors for this university, but also what a great responsibility that is.
Welcoming and Hospitable Community
The last thing I would note here is the idea of being a very welcoming and hospitable community. Hospitality, of course, is something the valley is known for, as I am sure you have all experienced. I have to say, having recently come from a different part of the country, that New Jersey was a little different. People sometimes prided themselves on who could yell the loudest—you probably know what I mean. We had a great time there, so I am certainly not picking on New Jersey, but the culture here in Harrisonburg is something that is important to us. The culture matters. We want people to share different thoughts and opinions in a civil way. How do you bring people together from diverse backgrounds and perspectives and come together to disagree and debate respectfully? It begins with the small things. For example, the way that people hold doors for each other at JMU. I love that. It is immediately noticeable when you come here.
My parents were here the first weekend after we moved in. It was a lot of fun, and I actually brought them to the orientation. I figured all the incoming students had their parents, so why not bring my own? I will never forget that experience. My parents were so struck by how warmly they were welcomed every place at every place they went on campus—everything from the dining halls to the academic buildings. People were so welcoming to them and held doors for them; they were just so excited by that. They said, "This is such a great place. We are so happy for you and for the family." People notice these kind gestures. They make a difference in creating an atmosphere in which people can learn. This warm and welcoming spirit is something that we cannot take for granted. It is something we need to constantly work on and think about. It does not suggest that we can not disagree, or that we can not have vigorous debates and share ideas, but we can do it in a way where we show respect for each other.
Dreaming Big and Working Together
In closing, I just want to say that in terms of the coming year I do not yet have a lot of grand pronouncements to make. I am new and, like all of you have experienced, I am learning the ropes of my new job. But, one thing that I am hoping that we will not hear too much of is, "We have always done it this way so we cannot possibly think about anything else." I want us to be constantly open to new ideas, yet learn from the past as well. If we have done things in a certain way in the past, why have we done it that way? Has it worked? Has it not worked? What should we be thinking about for the future? It is refreshing to see a great mix of having people who have been here for a long time and people who are new. We can all learn from eachother.
As we think about this coming year, I have mentioned the listening tour and my goals for that experience. I will be spending a lot of time around campus, trying to get out to where all of you work and meeting as many people as I possibly can on campus. But, I will also be spending time off-campus in the community and the region, across the state, and across the country. As we have started to look at where our alumni are, they are all over the country and, indeed, all over the world. It is going to take a while to meet and talk to everyone, but this listening tour will provide feedback for all of us that I will help us do our jobs better. Please encourage others that you know to participate in this tour and to share ideas. We are trying to be intentional about collecting that information and then reflecting back to all of you. I hope at this time next year, we will have quite a bit to report on what we have heard, what the major themes are that have developed, and how they might help us in our strategic planning for the future.
With that, I would like to close by saying what I said to the incoming students: dream big. It is amazing what is possible at a place like this, especially when you look at the brainpower. Just take a quick look around the room and remind yourself of the tremendous talent that is available to us and how much more we can accomplish when we work across departmental lines and with people in the community. There is so much we can accomplish.
There are so many things I am not good at—talents that you all have instead. When I think about the fact that I am in a place where there are people that can do everything, I look forward to what we can accomplish with such amazingly talented people, by working together, and sharing ideas. There is so much more that we can accomplish than any of us can by ourselves. I want to dream big this year. Please think about that as you enter this new academic year. I very much appreciate what all of you do for JMU, and I want to learn from all of you. It is great to be here!
Published: Friday, August 17, 2012
Last Updated: Wednesday, June 8, 2016