News
Marching Royal Dukes to perform in 2018 Macy's Thanksgiving Day Parade
---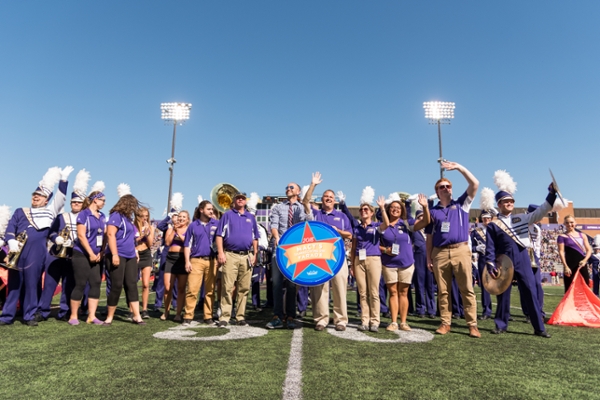 Harrisonburg, VA (September 23, 2017) - The JMU Marching Royal Dukes will be returning to New York City for their fourth appearance in the 92nd Annual Macy's Thanksgiving Day Parade.
During halftime of the JMU vs. Maine football game on Saturday, Mr. Wesley Whatley, Creative Director of the Macy's Thanksgiving Day Parade, joined the Marching Royal Dukes band staff and student leadership officially announcing that the band has been selected to perform next year in the 2018 Macy's Thanksgiving Day Parade representing James Madison University and the Commonwealth of Virginia.
For almost 90 years, more than 8,000 participants have marched the 2-mile route.  The parade has grown into a national event, featuring America's best marching bands, fabulous floats, and Macy's signature giant helium character balloons as they spread holiday cheer.
"The 450 member James Madison University Marching Royal Dukes deliver high-energy, crowd pleasing performances each week to football fans every season," said Wesley Whatley. "The Macy's Band Selection Committee is proud to welcome back the incredibly talented students of James Madison University to the Big Apple for the fourth time, and we look forward to the energy and spectacle they will bring to the 2018 Macy's Thanksgiving Day Parade!"
The Marching Royal Dukes were selected from more than 100 applicants as one of the top 10 bands to march in the 92nd edition of this holiday event next November.  In the past 40 years no other band has been selected to perform four times.
The band will spend the next 14 months planning for their parade performance.  The Marching Royal Dukes will perform for approximately 3.5 million spectators in New York City, with approximately 50 million people watching at home on television across the country.
For more information on the Macy's Parade, please visit www.macys.com/parade or call the Parade hotline at (212) 494-4495.
###