News
Two students strike up the band on and off campus
---
Both JMU musicians are proud to be serving in the Army National Guard
It is not every day that you encounter two super-motivated college students who decide to commit their weekends to the military while they are handling a class load that is comparable to their fellow peers.
But Matt Knopp and Stephanie Ashwell, two students who are both passionate towards music, decided that they would blaze a different path, which has led them to an unparalleled college story of a lifetime.
"As you can imagine, in the military, there are multiple opportunities to lead people, work with others, and collaborate, and that has helped me to work with others in the university lifestyle."The two JMU students decided they belonged in the military. But Knopp and Ashwell have the privilege of serving in an unconventional way: performing. The 29th Division Band stationed out of Clifton Forge, Virginia presented itself as their opportunity to serve in the Army National Guard. The 29th Division Band performs during numerous important events, ceremonies, memorial services, and select military affairs. And both students have been able to utilize the relevant experience that comes with also being involved in music programs at the university, such as the Marching Royal Dukes, Brass Band, University Band and Symphonic Band.
"We have a set list of music that we prepare, and we show up, warm up, tune, and we just go. Everything is already prepared, there's hardly any training time on the mission," says Knopp. "I have two separate energies that I tap into, one during the week and one during the weekend—one is school, where I build off the opportunity of learning, and on the weekends, I have the determination to do my [military] job and please others through music."
But that is not to say that the students were not trained for their missions before hand. Both Ashwell and Knopp were required to attend basic training, and both agreed that it was something that they will not soon forget. 
"It allowed me to meet people from across the country, and I even met someone from the Virgin Islands, which I think is really cool," explained Knopp. "It was a lot of hard work, and possibly one of the toughest 10 weeks I've ever done, but I would do it again."
As far as development, Knopp believes that basic training has prepared him in the form of leadership. "As you can imagine, in the military, there are multiple opportunities to lead people, work with others, and collaborate, and that has helped me to work with others in the university lifestyle."
Knopp acknowledges that he was able to use that experience as a section leader in the JMU Marching Royal Dukes. "Working with other people in the leadership business and working with the higher ups in the band allowed me to collaborate and solve problems."
"When I got back from basic, people said 'You walk taller. You look different. You present yourself totally different.' I believe that is the biggest change you make. You become more comfortable with yourself." 
Ashwell agrees that the physical and mentally intense 10-week training helped her become "stronger and more independent." She continued by emphasizing, "It made me really realize that I could do anything that I put my mind to, which was something I had really never imagined before going to basic training."
"The Army, overall, has made me a more confident person. It made me feel like if I had a task in front of me, I could do it because I had the mental and physical ability to do it."
Serving in the 29th Division Band certainly challenges both Knopp and Ashwell to grow in ways. Mental awareness, and being able to channel every bit of energy and motivation towards a mission is something that both of them did not necessarily expect out of enlisting.
"A few months ago, we were trained in combat lifesaving. So if we're in the middle of combat, I can stop bleeding and save my comrads," Knopp noted.
Ashwell concluded, "Mentally I am a little bit older now and shaped a different way.  It has a made me want to go and volunteer for things and try to put my best self forward in the sense of being involved on the campus, in the Marching Royal Dukes, and just overall being apart of something bigger than myself."
Matt Knopp and Stephanie Ashwell are both currently ranked as Specialists. And indeed, they are leading extra special lives on campus and through the military service. And music is playing a leading role.
By Chase Maszle ('17), JMU Athletic Bands
Published June 1, 2015
---
---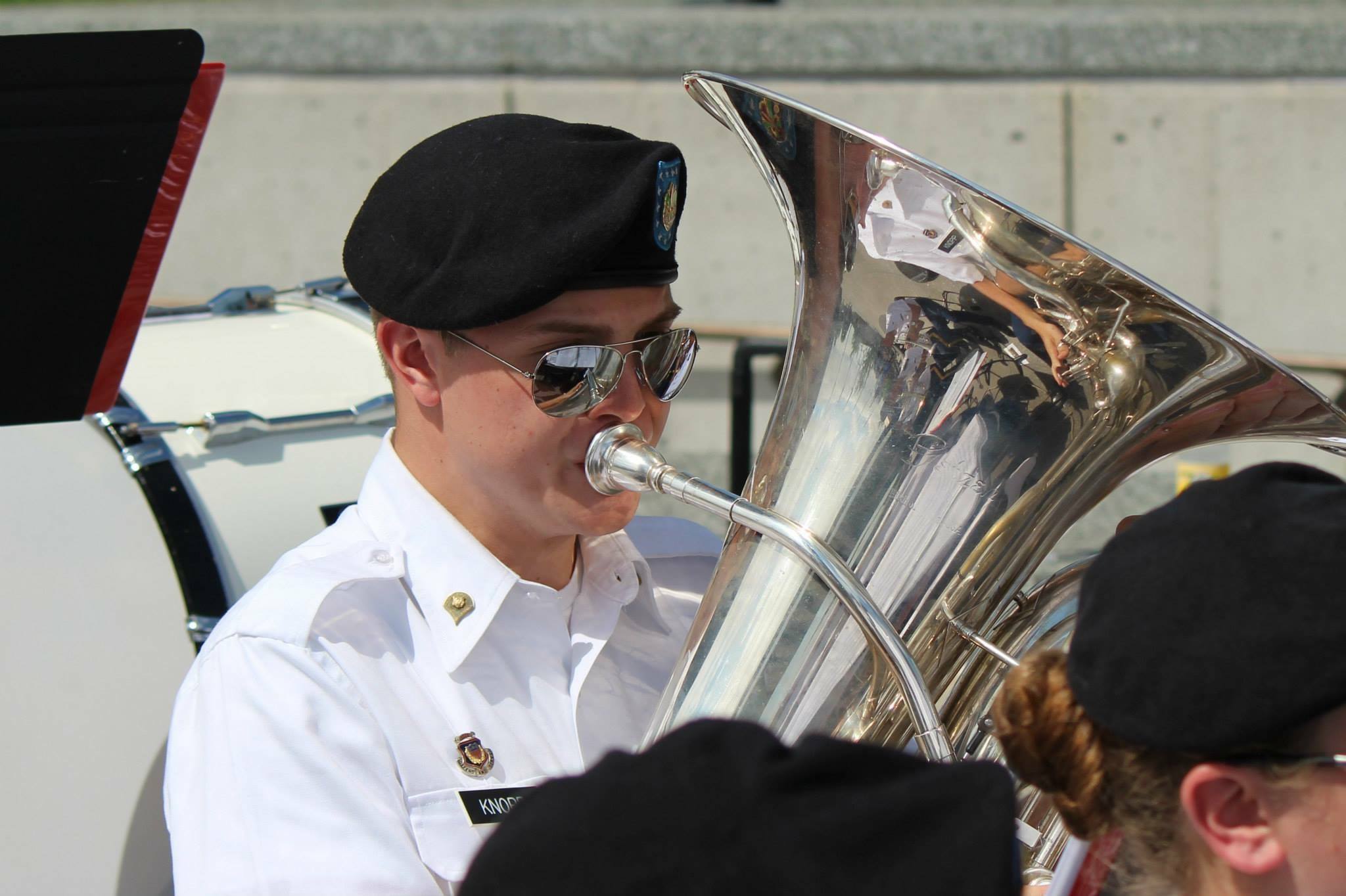 Matt Knopp performs at a military event. Photo courtesy: United States Army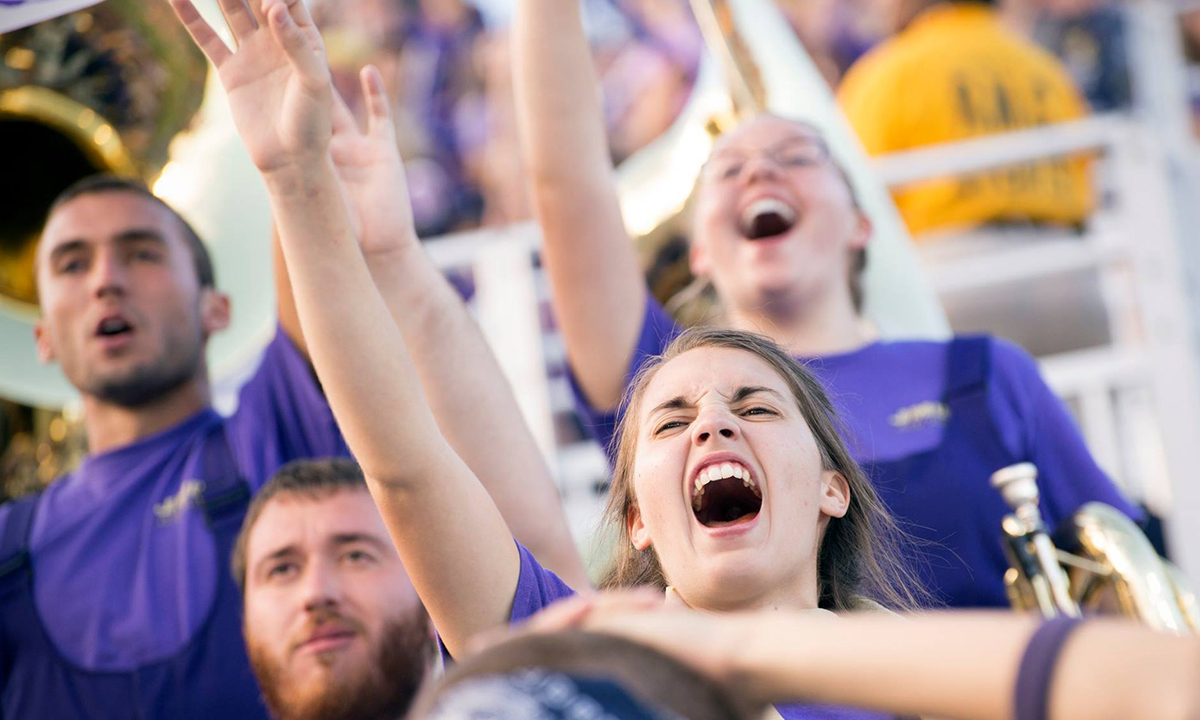 Stephanie Ashwell cheers on the football team with the Marching Royal Dukes.