News
Marching Royal Dukes Announce 2015 Leadership Team
---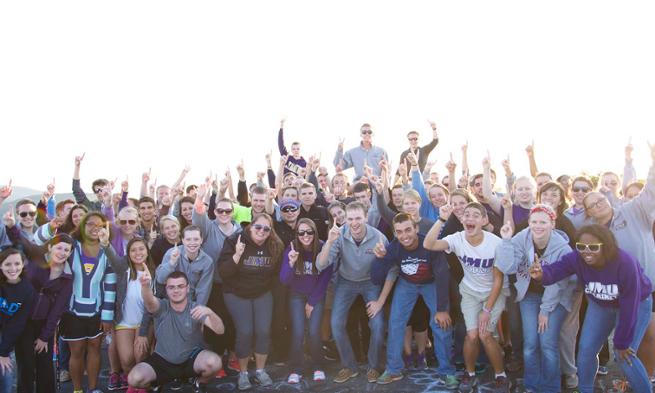 A special thank you to our 2014 season leadership, seen below.

Congratulations!

After reviewing over 200 leadership applications, 3 weeks of interviews, auditions, and quite a bit of discussion and consideration, we are pleased to announce our leadership team for next season.
---
If you would like to contact your section leadership, kindly connect with the people below who are listed with links to an email address.
Directors & Staff
Scott Rikkers, Director
Chad Reep, Assistant Director
Connie Driscoll, Administrative Assistant
Steve Cash, Drumline Instructor
Hunter Desper, Percussion Assistant
Carly Philp, Color Guard Director
Erin Fairchild, Color Guard Instructor
Laura Milford, Color Guard Instructor
Elizabeth Keene, Band Assistant
DJ Landoll, Graduate Assistant
Sarah Wilson, Graduate Assistant
Julia Urban, Dukette Coach
** Each position listed in Alphabetical Order **
---
Drum Majors
Mark Adkins
Paige Durr
Thomas Graham
Megan Hendrix
JP Riley
---
Section Leadership
FLUTE
Katie Byrnes, Section Leader
Caroline Clouse, Section Leader
Grace Dingus, Section Leader
Bridget Brown, Drill Instructor
Annie Franks, Drill Instructor
Madison Pappano, Drill Instructor
CLARINET
Shannon Light, Section Leader
Chris Pennington, Section Leader
Emily Swope, Section Leader
Shawna Ergenbright, Drill Instructor
Rebecca MacIntosh, Drill Instructor
Kendra Wiley, Drill Instructor
ALTO SAXOPHONE
Ashley Kyle, Section Leader
Ben Ostapovicz, Section Leader
Emily Ranttila, Section Leader
Josh Burnap, Drill Instructor
Sarah Cruikshanks, Drill Instructor
Deanna Ferrone, Drill Instructor
TENOR SAXOPHONE
Gina Moore, Section Leader
Tommy Nixon, Section Leader
MELLOPHONE
Austin Frank, Section Leader
Lenny Grasso, Section Leader
Renna Nouwairi, Section Leader
Jessica Myers, Drill Instructor
Hunter Payne, Drill Instructor
Alex Rivero, Drill Instructor
TRUMPET
Dillon Paradis, Section Leader
Michael Parker, Section Leader
James Pennington, Section Leader
Sarah Blevins, Drill Instructor
Justin Dennison, Drill Instructor
Allie Woodbury, Drill Instructor
TROMBONE
Will Ford, Section Leader
Kyle Lundquist, Section Leader
Vinny Okechukwu, Section Leader
Rachel Artman, Drill Instructor
Stuart Brazil, Drill Instructor
Dillon Thomas, Drill Instructor
BARITONE
TJ Low, Section Leader
Muhammad Mehdi, Section Leader
Allison Satterwhite, Section Leader
TUBA
Billy LaPietra, Section Leader
Matt Showerman, Section Leader
Jeremy Wojton, Section Leader
PERCUSSION – BATTERY
Tim Kaetzel, Captain
Steven Vereb, Snares
Eli Roberts, Tenors
Grayson Simmons, Basses
Elise Tessin, Cymbals
PERCUSSION – FRONT ENSEMBLE
Nicoletta Moss
Kat Warstler
UNIFORM MANAGERS
Kami Aielo
Taylor Young
PERSONNEL MANAGER
Natalie Coppola
COMMUNICATIONS & MARKETING
Chase Maszle
LOGISTICS CREW
Brandon Liu
Amanda McBryde
Alec Moser
Jasmine Shoemaker
GUARD CAPTAINS
T.B.A.
GUARD EQUIPMENT MANAGERS
T.B.A.
Published: Thursday, April 16, 2015
Last Updated: Friday, November 3, 2017