News
Cameroon May Offer Life-Altering Experience for Study Abroad Students
---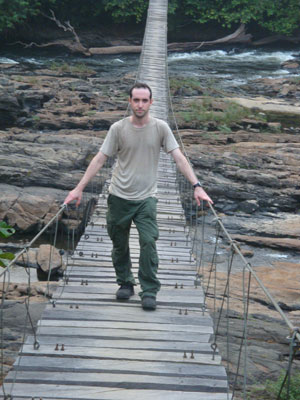 By Shannon Murphy ('11), JMU Public Affairs
Joshua Linder's first visit to the West African nation of Cameroon changed his perspectives on life. Now he's giving four JMU students an opportunity to have a similar experience.
From May 9 to June 2, four JMU students and two students from universities in New York, will accompany Linder, an assistant professor of anthropology at JMU, to Cameroon, where he has been researching primate ecology and conservation since 2003.
"When I got back from Africa, I was a completely changed person.  I learned more about the United States and who I was as an American citizen by traveling abroad. You learn about yourself and what you're capable of. You learn what you love. You learn what you hate. What you put into it, is what you'll get out of it," Linder said.
Between camping, hiking, surveying plants and interviewing Cameroonian villagers, students will have an opportunity to broaden their perspectives and change their own lives. They will be participating in activities that will give them field experience and a better understanding of biological anthropology and environmental ecology.
The group will be studying in Cameroon's Korup National Park, "a global biodiversity hotspot that is home to many kinds of mammals found nowhere else in the world, many of which are threatened with extinction," Linder said.
Linder studies bushmeat hunting—hunting for wild meat—and its effects on animal populations and forest regeneration.
"I want to understand the impact that humans are having on their environment, specifically the impact of hunting. If you take away all the animals, and the animals are dispersing seeds and helping plants grow, what happens to the plants?" Linder asks.
Discovering the answers to these questions will be one of the many aspects of this summer's Cameroon study abroad program.
Study abroad participant Katherine Pisciotta, a JMU sophomore anthropology major, said, "I am looking forward to learning how to conduct research and be immersed in a new culture where I can learn about different ways of life. I'm also very interested in studying animals and other cultures and really want to make a difference in the world. I believe that this trip encompasses all of those aspects."
The four-week program will include an eight- to 10-day rainforest camp and hike to learn about plant and animal surveying. The remainder of the trip will be spent in towns and villages, interviewing people about what they know about rainforest wildlife and habitat and what locals think of conservation efforts.
Students will receive four credits for the trip and take away skills unparalleled to campus academics. "They're going to learn how to interview people, how to take data and how to analyze data. When they apply to graduate school or for internships anywhere in the world, they'll have these skills in their tool belt. They'll get a lot out of it," Linder said.
Not only will students assist Linder with his current research, they will provide the framework for future projects.
"If we want to affect the environment and have a positive influence on humans and how we're using and abusing the environment, we need to get students involved right now, so when they become leaders of this country they think to protect our environment instead of destroy it," Linder said.