News
Without Comforts of Home, Africa Trip Opens Students' Eyes
---
By David Jordan ('13), JMU Public Affairs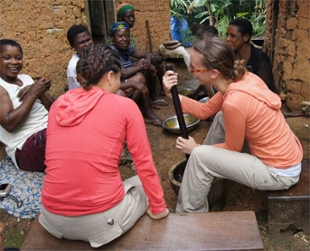 Related Content:
They had to deal with illness, insects, wild animals and mud, but a group of JMU students who spent much of May in Africa also reaped some rewards from the experience.
"Living like the local villagers was an experience all its own, and a very humbling one at that," said senior Ash Alexander.  "Making friends with the Cameroonians, people I will never forget, was incredible. A very close friend to Dr. (Josh) Linder even named his daughter after me. She was born the day we left."
Linder, an assistant professor of sociology and anthropology, took six students—four from JMU and two from universities in New York—to Korup National Park in Cameroon from May 9 to June 2. Linder has been researching primate ecology and conservation at Korup since 2003.
"The goals of the program are to understand the biological, cultural, and social aspects of doing wildlife conservation in a tropical forest," said Linder, who has received grants this year of $3,250 from Primate Conservation, Inc. and $8,870 from Denver Zoological Park.  "Getting [students] to open their eyes, to observe what's around them, and to write down everything they see, everything they hear."
During their four weeks in Cameroon, the students camped, hiked, observed plants and animals, interviewed villagers and learned lessons not possible in a classroom.
"I wasn't really teaching that much," Linder said. "I was just kind of presenting them the information. 'Here it is. Here is conservation. Ask questions.' That's the best way to learn."
"Some challenges we faced were the basic hardships of living in Africa," said junior Amanda Martensen. "Getting sick with the African 'runny stomach,' sleeping on hard forest or mud hut floors, hiking long hours, and the lack of bathrooms and showers . . . [dealing with] sickness was probably the hardest part of the trip."
In the jungle, students were divided into two teams, one to focus on plants and another to concentrate on animals. Every three days, the groups switched duties. Their days began with early morning hikes to the research field. They spent several hours each day observing and learning in the rainy conditions of the West African wet season. In the afternoons, they returned to their camp, where they reviewed the results of the day's research and enjoyed the comforts of dry clothing and warm meals.
In the villages, students met and mingled with native Cameroonians and even took part in traditional Cameroonian rituals, an important part of their education. To grasp biological conservation, researchers must also understand the native people, Linder said. One of the goals of the trip, he said, was to expose the students to a lifestyle in which they were not accustomed.
"In the larger question of, 'How do you do conservation?' It's not just the biology, it's not just the ecology. You have to incorporate the people," Linder said. "The people who live there and are affecting biodiversity, who rely on the resources of the forest and who rely on a healthy ecosystem. So teaching how people are intertwined with the park and the forest resources and getting to know the complexities of conservation is important because conservation isn't an exact science and is very difficult and complex to understand."
"Overall, the trip was a huge learning experience," Martensen said.  "Although the first few days we were all in culture shock and out of our comfort zones, the other students and I learned a lot together and helped each other through a lot. Many of us had times where we were sick or missing home and the other students were always there to help and comfort us. I met some of my best friends on this trip. I was able to experience how a completely different part of the world lives and I learned a lot about the importance of protecting nature, not only for the primates and other animals, but also for the people that depend on their environment for everything."
Students received four credits for the trip and Linder plans to take another group. More information about the trip is available from the Office of International Programs or by getting in touch with Linder at linderjm@jmu.edu.