News
New dean of The Graduate School plans to build on solid foundation
---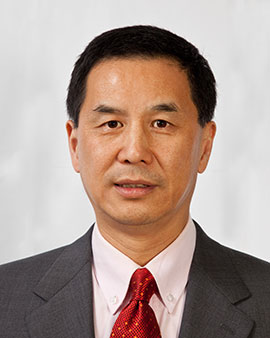 The new dean of The Graduate School at James Madison University is looking forward to applying experience gained at two national research universities to strengthen JMU's graduate-level education. 
Dr. Jie Chen joined JMU July 1 after serving as dean of the College of Graduate Studies at the University of Idaho since 2011. At IU, he also held a named professorship, the William Borah Distinguished Professor of Political Science. 
Previously, he was chair of the Department of Political Science and Geography at Old Dominion University for five years. Chen joined the ODU team in 1997 as director of the Institute of Asian Studies, a post he held for eight years before being named director of the graduate program in international studies, a campuswide M.A.- and Ph.D.-granting interdisciplinary program. During his time at ODU, Chen was a finalist for the Virginia Outstanding Faculty Award of the State Council of Higher Education for Virginia and won the Joel S. Lewis Faculty Award for Excellence in Student Mentoring and the Charles O. and Elisabeth C. Burgess Award for Faculty Research and Creativity. 
While a resident of the Tidewater area of Virginia, Chen, who was born in China, became acquainted with JMU. "I like this university," he said. "JMU has a good reputation, particularly in training undergraduate students." 
He plans to build on that solid foundation to enhance and increase JMU's graduate school and graduate programs. One idea is to strengthen connections between select undergraduate and graduate programs in developing five-year programs of study. 
"Graduate student recruitment is different from undergraduate student recruitment because the students focus on departments and colleges rather than the whole university," Chen said. Beyond capitalizing on JMU's fine reputation, Chen believes The Graduate School needs to build capacity for increasing the current graduate population of approximately 1,800 students. 
Students comparing graduate schools are looking across the range of disciplines – business, engineering, science areas, social sciences and humanities. JMU has an opportunity to increase enrollment in these fields, especially in the development of interdisciplinary and applied programs, Chen said. 
Chen also wants to foster an environment of excellence in research and teaching skills of graduate students. "Whether they intend to teach or not," he said, "those research and communication skills are transferable and will prove beneficial in any careers." 
Chen anticipates working with JMU's Office of Research and Scholarship to identify areas of collaboration. "These two areas should go hand-in-hand in advancing graduate education at JMU," he said. 
The new dean also plans to continue his own research, which involves the study of the Chinese middle class and the political implications of Internet use in China. His most recent book, "A Middle Class without Democracy: Economic Growth and the Prospects for Democratization in China," was published by Oxford University Press. He holds the rank of professor of political science. 
# # #