News
Remote Reserve Makes Ideal Laboratory
---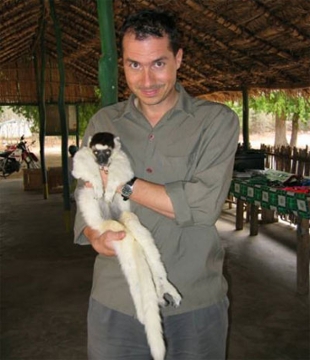 By Alex Sharp VIII ('10), JMU Public Affairs
The flight from Washington, D.C. to London takes seven hours. It takes another 13 hours to fly from London to Antananarivo, the capital of Madagascar. From there, a day-long drive gets JMU researchers Richard Lawler and Roshna Wunderlich to a remote research site on the Beza Mahafaly Special Reserve in southwestern Madagascar.
"We do a lot of immediate meetings just to catch up on things and integrate with the locals," Lawler said, recounting a process he's become accustomed to in the 11 years he has spent researching sifaka lemurs. "And then, essentially, just going out into the forest and doing the capture process."
Beza Mehafaly natives collect data on the sifakas year round, but capturing the animals and tagging them occurs only during Lawler's month-long visits, which he calls the "capture season." Typically between 25 and 40 lemurs are tagged each capture season.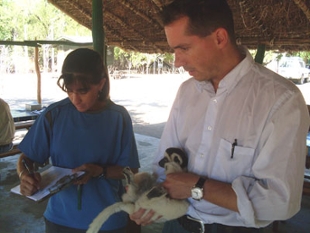 Captured lemurs are fitted with collars around their necks. Each collar has a number that is used to identify the animal. Researchers also take tissue samples from the lemurs for genetic analysis and do a number of measurements before releasing them. The measurements and tissue samples are analyzed in Lawler's laboratory at JMU, where he determines parenting patterns and environmental and genetic influences on offspring, and how those influences affect longevity.
Inafa, The Dart Master
Due to their cat-like body size, a blowgun is the only weapon light enough to tranquilize a sifaka lemur without injuring it. Darting sifakas requires a special skill.
Enter Inafa, a Malagasy native to Beza Mahafaly who specializes in darting sifakas.
"His timing and his accuracy have to be perfect," said Wunderlich, a biologist that specializes in primate locomotion. "They're not big animals, and they're way up in the trees. Plus you want to hit them in the leg, and not some place that would endanger their health. And he was just spot on."
Lawler, who's spent one month a year since 1998 alongside Inafa in the Malagasy forest, is amazed by his accuracy.
"He's spectacularly well trained and skilled at darting these animals," Lawler said, adding, "he literally can hit a matchbook-sized target from about 35 yards."
Beza Mahafaly
There are few distractions at the Beza Mahafaly Special Reserve, where meals are cooked over open fires and the researchers sleep in tents.
"Our field site has no running water, no electricity," Lawler said. "When there's no opportunity for the basic things you take for granted, you don't miss them as much as you think you would."
A couple buildings at the field site are used as rudimentary labs and as temporary holding stations for darted sifakas.
The research site is in a federally protected area, which makes it ideal. While other national parks in Madagascar witness heavy tourism, the Beza Mahafaly does not.
"Lots and lots of tourists means more damage to trails, more potential for them interfering with the research, so—and maybe this is me being selfish—I like the fact that there's not much tourism," Lawler said.
With little distraction, and little interference, Lawler and his research team have compiled a wealth of environmental and genetic data on the sifaka lemurs. Once the data is analyzed, there may be some answers to a question that has intrigued Lawler since his days as an undergraduate: How does the sifaka lemur live so long?