News
Gladys Lisanby and the Arts
A Lifetime of Service
---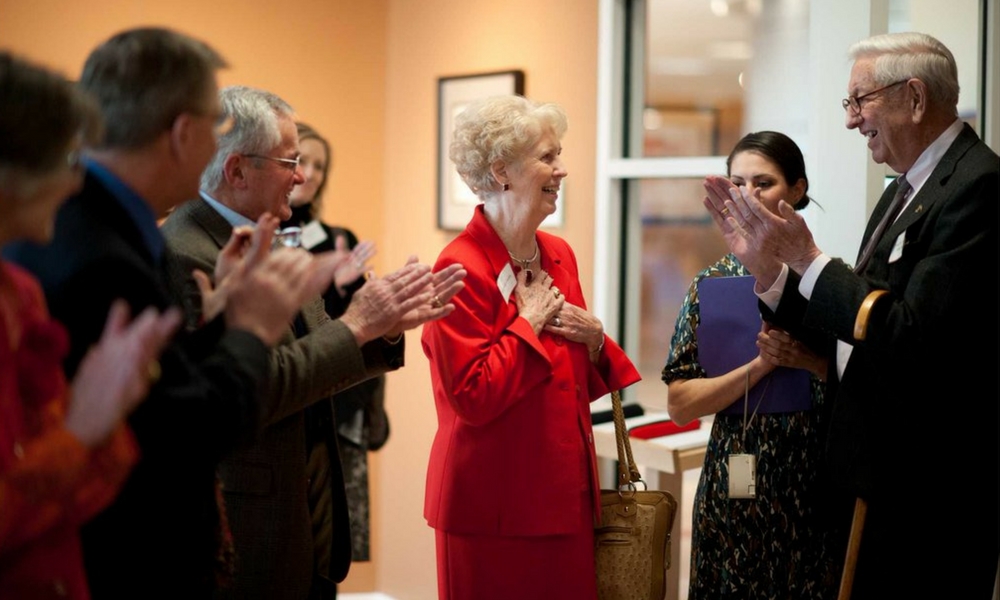 By Jen Kulju (M'04)
JMU alum Gladys Lisanby returns to her alma mater to celebrate the Forbes Center production of Children of Eden, which is based on a concept by her late brother-in-law Charles Lisanby, and for a scholarship luncheon, where she will meet and talk with eight arts students who have benefitted from scholarships she created.
"I think it's very hard to get a scholarship in the visual and performing arts, so that's why James (her late husband) and I decided to donate in that area," says Gladys, who established the Lisanby Dean's Scholarship program in the College of Visual and Performing Arts and the Lisanby Art History Scholars in Museum Studies Scholarship to support incoming freshman interested in pursuing art history and museum studies.
Gladys graduated from Madison College in 1949 with a teaching degree in health and physical education, but landed her first job in that field—without an interview—because modern dance had been a part of the curriculum. She would go on to teach health and PE for 17 years, in Portsmouth, Virginia, and all over the country after marrying James, a chief engineer in the Navy, in 1951.
The couple went on to have two daughters, Elizabeth Ann and Sarah, both of whom enjoy the arts. Gladys says her husband took art after he finished his career, and "loved it," while she is "not an artist," but has always been interested and active in the arts. Gladys currently serves on a national board at the National Museum of Women in the Arts, "the only museum in the world dedicated to women artists." In 1998, Gladys was asked to form a committee in Mississippi to advocate for the inclusion of work by women artists from that state into the National Museum. "When we started the committee, there were no women from Mississippi represented. Now we have 55 in the archives," exclaims Gladys. For her work with the NMWA, she received the Mississippi Governor's Award for Excellence in the Arts in 2005, the same year her family lost their home in Hurricane Katrina.
Gladys was determined to find beauty in the wake of the destruction, however, and led the efforts to publish Katrina: Mississippi Women Remember, a compilation of essays (with photos) about the hurricane and its impact. All proceeds went to artists who had lost their studios until they were able to get back on their feet. After a couple of "stressful" years, the Lisanbys, too, were able to rebound, eventually deciding to renovate their family farm in Kentucky, where Gladys currently spends half of her time. (She spends the other half in Arlington, Virginia.)
Gladys is excited to return to JMU to celebrate renowned scenic designer Charles Lisanby, whom she describes as a "wonderful artist who especially loved his nieces." Gladys is equally excited to see the arts students and hear how the scholarships have helped them. "I have always had extra beats in my heart, and I told my doctor recently that I had lost a beat … because I'm just so happy to be able to help others."