News
From the Interns' Desk
Emerson Tedder
---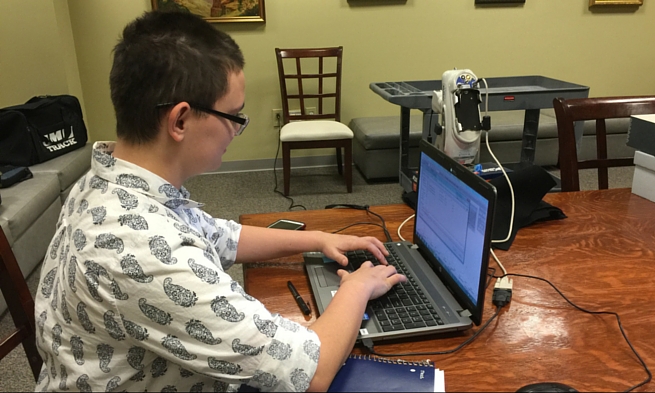 As an intern with the Madison Art Collection and Lisanby Museum, I enjoy the opportunity to practice what I learn in the classroom with real world application in a professional research setting. Public history and museum work means the ability to handle objects most people only get to see behind glass. Working with the Mesoamerican collection this spring has provided me with notable experience in interdisciplinary research through the artifact itself. Centuries old figurines are my primary focus in the larger project for the Mesoamerican Collection, combining historical and iconographical analysis to determine where exactly these works came from in Mesoamerica. 

In addition to this textual and visual research, I also help run the spectrometer we have to supplement our scholarly findings with chemical data. The spectrometer uses a powerful x-ray beam to scan the objects carefully positioned in front of its path; a cord links the Tracer up to a computer that then graphs the different elements found in the material composition. 
For example, we consistently found high levels of iron on the ceramics tested; this makes sense because many glazes are made out of lead, and high levels of iron spiked over areas on pieces more heavily glazed.  

Similarly, some of our objects have a whiteness to them that sets them apart from the typical red, black, and brownness of the other ceramics, indicating a calcium build up, something we could infer from a general knowledge of ceramics but now know concretely because of scientific data. After scanning a good portion of our collection, we hope to use the results in combination with our non-scientific research to group some of the artifacts together by similarities. This could in turn be used to inform possible larger conclusions about cultural exchange between different societies in their respective time periods. 
Consistent exposure to the source encourages research, creating avenues for a deeper cultural understanding of a sadly understudied area of the world. These objects represent a physical connection to a world most scholars ignore in favor of canonistic Western history and thought. More than just objects for aesthetic display, these pieces function as reminders and signifiers of complex societies and artisan peoples who deserve to be known.  
My opportunity to work in this environment strengthens my academic and ethical interests, two areas impossible to divide in the public history and museum fields. 
--Emerson Tedder (Art History/History)


Please click HERE for more information about Internships with the Madison Art Collection.
Published: Tuesday, April 19, 2016
Last Updated: Friday, February 9, 2018