Reimagining fashion
Independent Scholars
---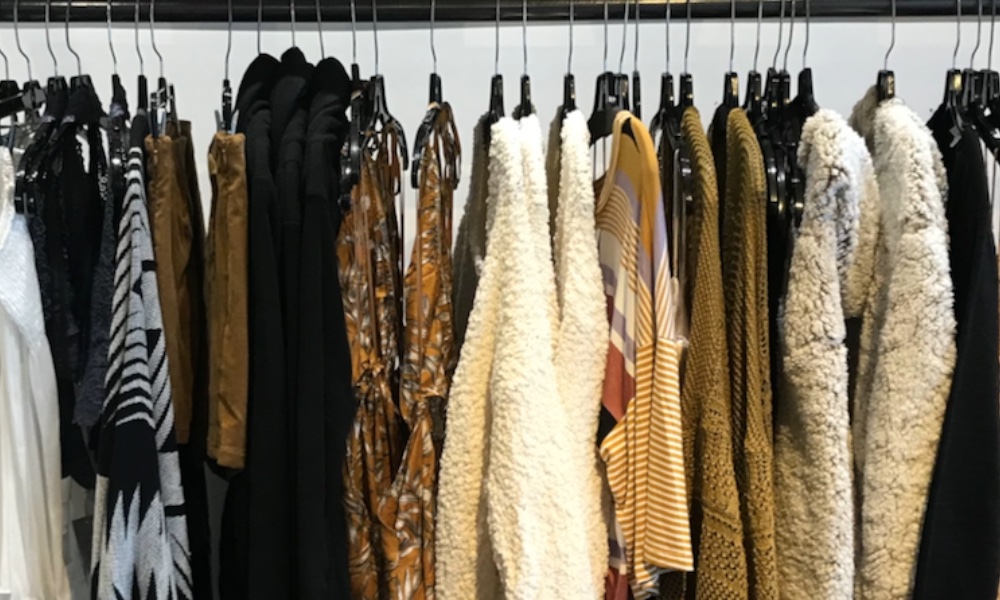 SUMMARY: Anna Lee ('23) pledges to help create a sustainable marketplace for future fashion and design.
---
Anna Lee is from The Plains, a small town nestled in a rural corner of northern Virginia. She attended Kettle Run High School in Nokesville. "I was always a dedicated student," she says. "I grew up in a very STEM-oriented environment, and took a lot of AP courses in math and science. But I yearned to be more creative and involved in the arts." Anna nurtured an interest in languages in her youth, and since elementary school has studied German, Spanish, French, and Arabic.
At the age of seven, Anna and her cousin were excited to enroll in sewing classes with fabric designer, textile artist, and author Annabel Wrigley. Anna drew a lot of her subsequent creative inspiration from Wrigley. "She has such a creative mind," says Anna. "She always came up with her own patterns for our projects. I learned how to sew in her personal garage work room, and then when she started her business, her warehouse." Sewing represented a unique form of expression for Anna Lee in part because a lot of people her age did not know how to sew. "I had developed a special talent," she recalls. Anna's sewing progressed in another unique direction because her father is a hunter and taxidermist. "Once I got pretty decent at sewing my dad recruited me to make bear and fox rugs. It's hard work to get needle and thread through those pelts and also get it to the point that the customer is satisfied."
Currently, Anna Lee works as a seamstress in Teresa's Work Room in The Plains-Marshall area. She makes curtains from exotic textiles. "I've worked with lots of very expensive fabrics to make custom-made curtains, and had many gratified customers." Anna loves spending her days at Teresa's and working with other skilled craftspeople who are doing custom work. "I have all day to sew and work with these beautifully made fabrics," she says. "It's not a very stressful environment for me. Honestly, it's kind of my peace." Lee has been working at Teresa's for the last four years and has even had her work photographed for magazines such as Southern Home.
Anna's mother attended Bridgewater College and developed a deep appreciation of the Shenandoah Valley. "My mom wanted me close by," Anna says. "I wasn't so super interested in that, but I love being here at JMU." Anna toured the school and it stuck with her. When she was accepted by the university, she came back for CHOICES and toured the school again. "CHOICES is where I found out about Independent Scholars, and that really helped me with my decision. There was a group of current Independent Scholars sharing their major experiences at one of the info sessions, and I was so intrigued. I realized I could do something special here."
In addition to her degree program in Independent Scholars, Anna has declared minors in General Business, Art, and Honors Interdisciplinary Studies. Her major is entitled "Fashion Merchandising and Design," which focuses on the environmental sustainability of the industry. Independent Scholars "opened the door to being extremely creative and strategic." Anna had the opportunity to explore courses that she had an interest in – even when they did not end up in her final curriculum for the major. Anna's concentrations are in arts (sewing), business (merchandising), environmental sustainability (chemical dyes and materials and how clothes are made), and foreign languages (good for travel in the fashion industry and communication with business partners).
One of her favorite JMU classes was a sociology class taught by Dr. Beth Eck. "I have not had a lot of women as professors and she is a fabulous role model," Lee recalls. "We read this book about the disparities of class differences in college." Women described in the volume went to live in a college dorm and experienced residential life with people from a wealth of different backgrounds and experiences. "The book described the clothes they wore and the parties they were attending and their social status. It was eye-opening to me because social status also defines the fashion industry." Encountering specific examples of how differences in socioeconomic class affected dress and buying choices was important to Anna. "It really opened me up to all these different people and perspectives," she says. "I think that I'd been seeing fashion from the perspective of my own experiences far too often."
Lee has also learned a great deal about fast fashion and buying habits in her time at JMU. "My generation has a bad habit of wearing some clothes only one time. Many clothes are either super trendy or quickly fall apart. People don't know how to sew and fix their own clothes; it's easier to throw them away and buy something new." Also, she says, clothing was just made differently in decades past. "I've gone through my mom's closet and my grandmother's closets on both sides and have picked out some very well-tailored items. Vintage clothes were often made very well, but then again, maybe the items I've chosen have just stood the test of time."
Anna ultimately wants to design her own environmentally friendly line of clothing. She is also interested in vintage items and giving new life to old clothes. "A majority of my closet is thrifted. I'm really into classic fashions. My style fluctuates between neutral black, white, tan, gray – it looks upscale but isn't necessarily composed of the most expensive things. These are things I've collected over the years. Sometimes I slip over to the preppy realm and wear Lacoste or Vineyard Vines with khaki shorts and sneakers. It really depends on what I'm feeling on a particular day or in a particular season." Anna Lee confesses to taking a lot of her inspiration from Gossip Girl. "That show has been extremely influential to my thinking about fashion." Anna also gets her cues from Women's Wear Daily and social media posts by Emma Chamberlain, Hannah Harrell, and Millane Friesen.
"Most of my university experience occurred during COVID," says Lee. "It definitely shaped who I am today and my coursework and everything I do." To compensate for lost opportunities, she responded to the call for pandemic-induced substitute teaching and Instacart delivery. She also created a workshop on 'Adulting 101: Sewing Basics for the Honors College.' "I taught four basic stitches," Anna laughs. "It was crazy. I thought it would be so easy, but it wasn't that easy for the other students. I spent a lot of time teaching them how to thread the needle, how to cut the thread, how much thread you needed, and how to tie off the loose ends." She also conducted a sewing clinic for young girls to make reusable heating pads for animals that are coming out of veterinary surgery.
Anna's senior project will include some of the clothing she's designed, some work from her metals and jewelry classes, and some taxidermy. She also has a number of published essays in The Independent Scholar, including articles on reinventing the fashion industry and the annual Met Gala.