Independent Scholars
Political Campaign Management and Communications
---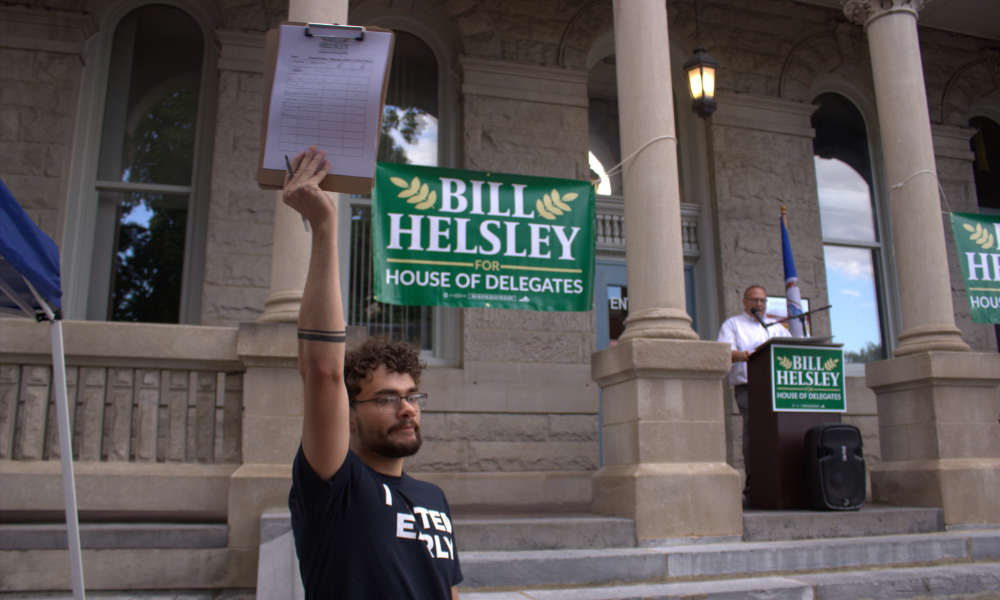 SUMMARY: Jory Woods ('21) Launches Career in Virginia Politics
---
Jory Woods has built a formidable portfolio in politics since his graduation from James Madison University in 2021. He's served as field director for Bill Helsley for Delegate, helping the campaign develop the overall field plan and an innovative college outreach strategy. His management of a team of eleven interns led to an extra 1,400 voter registrations in only six weeks. Jory's strong ground effort helped Helsley earn more votes than any other Democratic nominee in the history of Virginia's House District 26.
Jory is also Virginia Young Democrats' elected Membership Director as well as the President of Harrisonburg-Rockingham Young Democrats. Young Democrats is the official youth auxiliary of the Democratic Party of Virginia. Recently, he accepted a post as Competitive Analyst for AL Media. AL Media is an award-winning political firm whose past and current clients include Barack Obama, Joe Biden, Rev. Raphael Warnock, Stacy Abrams, Val Demings, and countless more. The firm seeks individuals like Jory who are familiar with political campaigns and have experience working with data. At AL he builds relationships with clients and provides them with up-to-the-minute information, developing and tailoring reports for each client.
While attending JMU, Jory created an Independent Scholars major in Political Campaign Management and Communications. "Independent Scholars is good for students who are motivated and have an entrepreneurial spirit," he says. "It gave me a focus and encouraged research and discipline. I was in the driver's seat in figuring out how my classes and experiences connected to my specific interests and goals."
Jory's transformation from an interest in politics to a more active role was born from real trauma. "My brother died of a fentanyl overdose. That was a huge motivating factor for me. So many communities have been decimated by over-prescription and abuse of painkillers. In the political discourse of that moment when we realized the damage that was being wrought, they called it an 'opioid epidemic.' When you think of an 'epidemic,' though, you typically think of something that was caused by or comes out of nature. I remember saying in an open forum that this didn't feel like an epidemic. It felt like it had been planned—that it was an injustice perpetrated by human beings against other human beings. It was addiction for the sake of profit. I didn't feel like a victim of a natural disaster. Rather, I felt like we'd been attacked by these pharmaceutical companies and prescribers."
Jory quickly found himself seeking justice for people who ordinarily do not have a voice in the electoral process. When Jory turned eighteen, he began canvassing in the city of Richmond. "I was nervous to be knocking on doors and meeting all of these people. But they paired me with a Vietnam War veteran and a war protester. We spent a lot of time together, and he was able to share all of these stories about the protest movement. His stories were really inspiring. For him, that era represented a victory by a mass movement of people."
In 2018, he got a call to volunteer for Abigail Spanberger for Congress. Jory was soon promoted to field intern for the campaign. He tirelessly campaigned for Spanberger; he canvassed, led the training of volunteers as a pod leader, and managed road sign logistics. He also assisted the communications director for the campaign and coordinated efforts with the Chesterfield Young Democrats. "I canvassed like crazy for Abigail," Jory recalls. "She was running for U.S. representative from Virginia's 7th congressional district, which the Republican Party had held for 36 years. I completely wore out a pair of shoes going door to door. I knocked on probably thousands of doors in north Chesterfield County for that nail-biter election. It was fun, and we won."
By 2019, he was closing in on his associate's degree—taking classes at John Tyler Community College, UCLA's Extension School, and Southern New Hampshire University. He decided to transfer into JMU. While he was making his decision, he spent his free time volunteering for Larry Barnett's campaign for the House of Delegates in District 27, and helping Ghazala Hashmi in her primary race for Virginia State Senate District 15. Hashmi is a professor in the English Department at J. Sargeant Reynolds Community College, and leveraged her knowledge of classic American literature in her successful campaign. "It was beautiful to see that," says Jory. "Hashmi was the first Muslim woman elected to the Virginia State Senate."
At JMU Jory really felt like he was able to flourish. "There is a culture of learning here," he recalls. "I struggled with a lot of personal issues in high school, and JMU really helped me rediscover the value of an education. I have three older brothers and one younger brother, and I'm the first of any of them to finish college." Among his activities:  JMU College Democrats Treasurer, Honors College, Dukes Debate participant, Climate Strike organizer, and Truman Scholarship nominee. While in school, Jory also served as a Research Intern for the House Majority PAC, monitoring thirteen Congressional House races and sending research memos containing key race details to staff. He wrote press releases, organized poll data, and tracked Federal Election Commission Independent Expenditures (IE) on a daily basis.
Jory Woods participated in JMU's competitive Washington Semester Program in 2020. The Washington Semester enables students to explore the wealth of political and cultural opportunities available in the Washington, DC area. The program includes semester-length internships, courses taught on-site, panel discussions by people in various professions, cultural activities, and networking opportunities with JMU alumni working in the District. The two-class seminar experience and the internship formed part of Jory's individualized curriculum for his Independent Scholars major.
For his senior honors thesis, Jory explored coordination within the IE community and their affiliated political parties. He studied message discipline, party politics, and the effects of political scandals. In his survey research work, Jory discovered a potential issue with the way political parties levy attacks on their opponents. "The outsourced opposition work done by the DCCC and NRCC showcases an overall theme that seeks to replicate the seriousness of a scandal," he says. "Regardless of if there was misbehavior or an abuse of power, their messaging implies a nefarious motive and frames the issue at hand as if it was a scandal." The techniques Jory uncovered are in sympathy with Dartmouth professor Brendan Nyhan's assertion that media scandals are more impactful because they are placed solely in the hands of their medium. As such, partisan scandals created by each party attempt to be considered and interpreted in a similar context. "Perhaps the larger trends of cynicism and mistrust in our institutions have incentivized their usage," he explains.
Jory notes that campaigns are an exciting participatory phenomenon for American citizens. For many people, the campaign acts as a point of contact in fulfilling their civic duty, such as when a canvasser knocks on a door to remind people to cast their vote. However, by looking behind the scenes, a number of unique questions emerge about how a campaign's actions impact the democratic process. In today's world, the decisions a campaign makes and the operations it chooses to prioritize can reveal key insights into America's political climate. Every campaign is different. From a city council race to making a run for the White House, campaigns tackle universal obstacles. At the same time, some campaigns may take on unique challenges depending on the area they are in or the political context of the time. Due to their ability to engage in public discourse, campaigns can be shown as evidence of the feelings and attitudes of people living at that time and place.
"Campaigns in my opinion are kind of awkward," Jory explains. "But at the end of the day it is about whether you can inspire a community to ask for more from the people who represent them. Campaigns are an important place where people can engage in civic engagement. People don't always want to engage. Sometimes people would rather tune out. We're in a really toxic political climate. It means we need to have tough conversations. I was talking to someone just this morning who was feeling that the people in this area are constantly being passed over for whatever funding is coming down the pipeline. A lot of people in this region feel like they've been forgotten. Politics should be a place for empowerment for the citizenry—for them to speak out for their own community."
"Campaigns are engines of civic participation, whether the people in a particular region are on the winning side or the losing side. That said, the more competitive we can make district, state, and general elections, the more the population will be active and engaged as citizens with the process of governing. The sad thing is that today we don't necessarily have that. Incumbent politicians may disagree, but competitive elections are always better for the citizens."
About the future, Jory says his native Virginia remains the best place for political jobs. "We have elections every single year. And our proximity to Washington, DC means that we always have a hand in national politics. Right now, I think I'd love to be the campaign manager for a Congressional race. That's the current goal. But I think the work that I've done doesn't necessarily have to pigeonhole me. I'd love to do social campaigns. I'd love to do advocacy work. I'd love to do nonprofit work. I'd love to work for the Democratic Party in a more direct way. I'd love to maybe do policy work. There are so many possibilities ahead of me. I need to keep reminding myself that I don't have to do this one thing. There are multiple opportunities to pursue."
Someday Jory would like to be a candidate recruiter or campaign manager for his own race. Candidate recruiters are responsible for getting people prepared for office in the future. "I believe that the moment a person chooses to run for office, whatever their reason may be, or whatever their story may be, is probably the most wholesome part of politics," he says. Jory is also considering applying for a graduate school program for working political professionals.  "I really just want to learn more and get to the next level."