Independent Scholars
Shukrana Shukrullah ('24) Wins Three National Scholarship Awards
---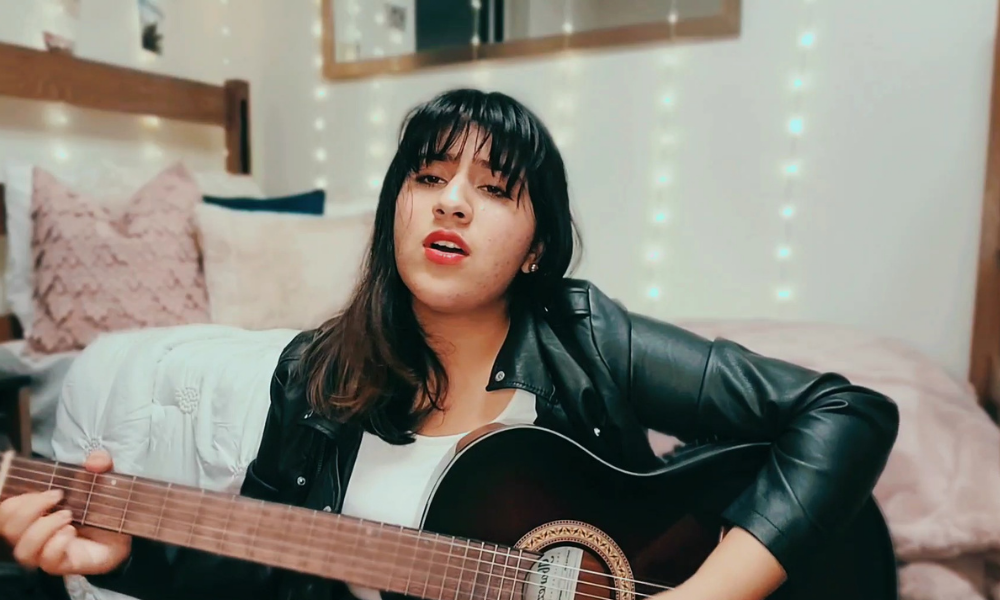 SUMMARY: Independent Scholar designs major in Music Management and Production
---
First-year JMU student Shukrana Shukrullah is the recipient of three prestigious national awards: the Gilman Scholarship, the Fund for Education Abroad Award, and the Freeman-ASIA Scholarship. "To win three major study abroad scholarships is an extraordinary achievement and a direct testament to Shukrana's vision and passion," says JMU director of student fellowships advising Dr. Meredith Malburne-Wade. Shukrana is pursuing a major in Independent Scholars (JMU's design-your-own degree program), with minors in Asian Studies, British Communication & Media, and Honors Interdisciplinary Studies. Shukrana is also a Centennial Scholar.
Shukrana has created an individualized major in Music Management and Production. She is a gifted artist who writes, performs, and records her own music. She also creates original covers of songs, which she posts online. She is an accomplished player of keyboard instruments and guitar. She has developed a curriculum that emphasizes skill building in music entrepreneurship, management, and law with a particular focus on global and intercultural music production. In addition to her upcoming JMU Semester in London this fall, Shukrana plans to engage in popular music networking and cross-cultural collaborations in an internship semester in South Korea in the spring. Shukrana aspires to record her first album before graduating from college.
While none of her family members are professional musicians, everyone in her family has eclectic interests in music. Her brothers create electronic dance music. Her sisters listen to Bollywood songs. Her nieces are hooked on the soundtracks to Korean dramas. Shukrullah finds solace and inspiration in music. "It's about being vulnerable and personal," she says. "People are going to know your thoughts. Singers are influencers. I want to use music to advocate for issues that are important to real people. The music industry is cutthroat and competitive, but you need to remind yourself that your voice is unique."
"I like to write in peaceful, natural places. Being away from distractions helps me focus in on myself and my process." Shukrana explains that when she began writing songs in her pre-teens she felt she didn't have a large storehouse of personal experiences to draw upon. Often, she found inspiration by imagining the fictional inner lives of film, television, and fictional book characters. "It's always easiest for me if it's my own personal experience," she says, "but I don't always have the words to express how I feel." Her songwriting process today varies. Occasionally the tune arrives first. Other times it begins with a few words. "Sometimes I just pound on the keyboard. I don't know if that means I'm Beethoven or a toddler having a tantrum."
In addition to making original music, Shukrana is interested in learning more about audio engineering, artist management, promotion, and licensing. This past year, Shukrana has been studying how digital technology is transforming some of the most important aspects of our lives, including the ways we hear, compose, and perform music. Technology is changing the music industry. Digital audio workstations are putting recording, editing, and production tools in the hands of more people. Streaming services are making music more accessible. The paradigm for music promotion is shifting from "top down" to "bottom up." Modern technology is also making possible new forms of live entertainment and more career options.
She has written a number of articles for JMU's in-house publication The Independent Scholar on topics ranging from pandemic-related innovations in music performance to the globalization of K-Pop. Through research and writing, Shukrana has developed a solid understanding of media and entertainment, women in business, culture and identity, and the internationalization of music. Shukrana is highly aware of the ability of music to transform national economies and individual opportunities. She is particularly knowledgeable about K-Pop music and the rise of South Korea's cultural economy.
The Korean wave is now a powerful force in global entertainment; it also exemplifies how music can exert soft power across the world and contribute to unique images of what is "cool." Shukrana seeks to apply lessons learned from the growing popularity of Korean music, television, brands, technology, and smart infrastructure to shape the foundations of a new global creative economy. To this end, Shukrana is interested in learning about legal reforms, music industry start-ups, new musician recruitment systems, youth movements, and national investments in the entertainment industry.
Shukrana Shukrullah is an intern this summer for the music education startup company Light the Music. She is seeking further opportunities to expand her knowledge about the music industry and develop expertise as a musician in her own right. Her goal is to become a full-time touring musician. "Music is more than just entertainment," she says. "It's an international movement that is opening up people around the world to experiencing new and different cultures. That really inspires me."