Independent Scholars
Telling Native Stories
---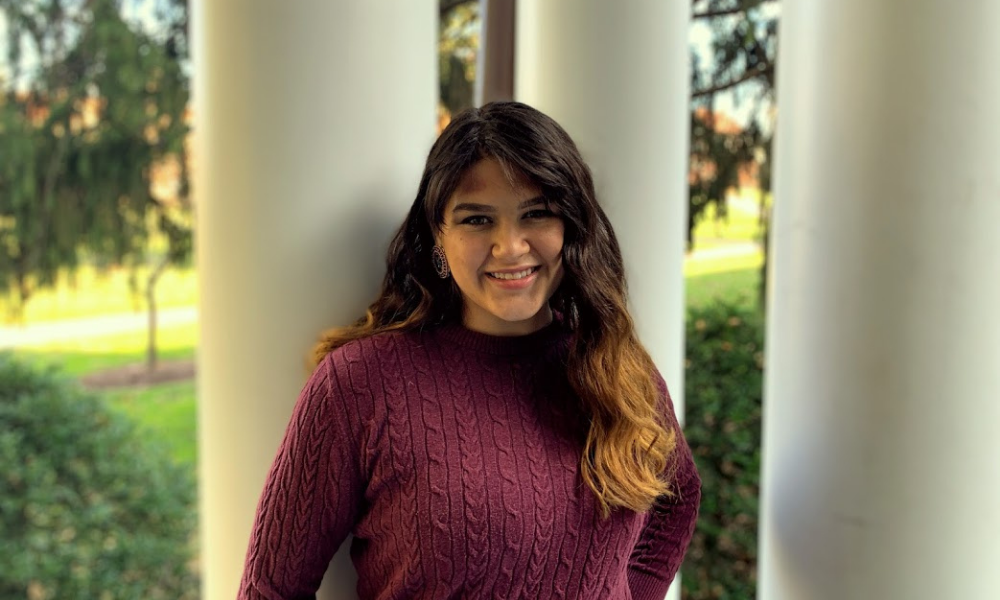 SUMMARY: Corinne Martin ('23) uplifts indigenous culture, history, and narrative with unique Independent Scholars major
---
Corinne Martin recalls always having a love for reading and writing. She aspired to use her writing to make a difference but was unsure how that could happen. At John Randolph Tucker High School, she was a member of the Advanced College Academy, a dual-enrollment program that gave her the opportunity to graduate from high school with an associate's degree. Corinne began exploring her Native American heritage, and during the Standing Rock protests against the Dakota Access Pipeline in 2017, she began writing in support of the cause.
 "That was an important moment in the development of Pan-Indian identity," she recalls. "And it really resonated with me. We all have different identities that we navigate, but at the core we are all connected." Corinne performed a spoken word poem titled 'Native' at a school talent show. The school's literary magazine subsequently published the poem, and it won a prize. "I knew then that my purpose was to amplify the voices of Native American people."
Corinne is a member of the Sappony Tribe of the High Plains Indian Settlement along the North Carolina-Virginia boundary line. The Sappony were originally located in upper western Virginia in the area around Charlottesville. When White settlers arrived, the tribe moved south where they grew tobacco and other subsistence crops and made exquisite quilts. Everyone in the tribe is a descendant of seven main families: Coleman, Epps, Johnson, Martin, Shepherd, Stewart/Stuart and Talley. The tribal council consists of a representative from each of these families. Many of the tribal members were sharecroppers in Virgilina, Virginia and Person County, North Carolina into the 1950s. The Sappony community today has a church, tribal center, and a country store, which recently closed. Nearby Lake Mayo hosts a park and a heritage summer camp for Sappony young people.
"That tie back is so strong for me," she says. "I've driven around town with my grandfather and heard so many stories." Corinne's great-grandparents made the sacrifice of moving away from the tribe and their small cabin to find a better life in Henrico County, Virginia, where Corinne grew up. "My grandpa says that it wasn't until he started doing really well on the high school football team that people started to acknowledge our family." Corinne says that her great-grandfather really encouraged hard work among his children and grandchildren. "When you are Native, you do have a lot working against you. So I think he really wanted everyone in the family to work as hard as possible and become successful."
Corinne says that so many of the opportunities she's had, including going to college, are a direct consequence of her great-grandparents' many sacrifices. "It was challenging growing up," she says. "I only met one other student who was Native American the entire time I was in public schools." The Sappony tribal council is trying to improve opportunities in the communities of the High Plains. "My grandfather said that even though he hadn't lived there for sixty years the place still felt like home."
Corinne participated in the Native Education Forum (NEF) at North Carolina State University in her junior year of high school. NEF is a pre-college summer preparation program for rising high school juniors and seniors who want to explore Native cultural identity and community ties. The experience proved consciousness-raising. "At the forum, I learned about the federal tribal recognition process. The government requires proof of some long-standing tradition, which is very challenging for some tribes. So many tribes have lost their languages. The federal government also fails to recognize mixed-race tribes, and think they are not tribes at all. Federal recognition also requires proof of a treaty with the government. There's this preconceived notion among Whites that Natives get all of these government benefits. But in point of fact, most reservations experience extreme poverty."
Corinne is currently a member of the Centennial Scholars Program. She is double majoring in English and Independent Scholars, with minors in Environmental Humanities and Honors Interdisciplinary Studies. She learned about the Independent Scholars major in a JMU class. "We had a photography project where we had to choose a photo and make contact with someone related to the photo," she recalls. "I decided very early on that I wanted to use a photo by Josué Rivas, who spent seven months at Standing Rock documenting the protests. I loved his photography." The professor suggested she reach out to Rivas and perhaps get an interview. He emailed Corinne back. "That assignment really reignited my passion for Native studies. I was like, 'Wow, I wish I could do this more.'"
"Many of my college choices were made out of necessity," says Corinne. "I didn't know creating my own major could be an option for me. Now I am getting a degree in something I genuinely care about." The Independent Scholars major is giving her opportunities to pursue her interests in "Native American Culture, History, and Narratives." Says Corinne, "I am pursuing this major as a way to return the sacrifice of my great-grandparents and give back to Native communities," she says. "The histories and stories of Native people are rich and full of culture. By sharing my own stories and giving voice to the stories of other Natives, I hope to make an impact on the generations that lay ahead of me."
"What has been so great about Independent Scholars is that the other students are equally passionate about their self-designed majors and open to new ideas. The classes have focused on learning for the sake of learning. That has been extremely attractive to me. So many students in this world don't seem to enjoy learning, but maybe that's because they haven't hit upon the right thing to learn about yet. I work very hard at this major, but it feels effortless."
Corinne is actively trying to tell Native stories, because for a long time those stories were silenced. "Erasing our stories or pushing Native narratives into the historical past is a weapon of colonization," she says. "There definitely needs to be more acknowledgement of what Native people have suffered. There have been genocides. Native American people weren't actually made American citizens until 1924. Into the 1970s this country was forcibly sterilizing Native women. Native women today are vulnerable to human trafficking, go missing, and are murdered at alarming rates. We need to talk about these things and people need to share their stories. The first step in solving a problem is acknowledging that it is a problem. The majority of what schools teach us about Natives is centered around the Colonial Period and perhaps the Trail of Tears. So much of the Native experience on this continent is not known to most people. We need to do more than acknowledge that it was a really dark time for Native communities in the past. There are so many ways that Native communities are still being negatively impact and overlooked in this country."
Corinne is also pursuing a minor in Environmental Humanities after taking a class with Dr. Katey Castellano on "Literature, Nature, and the Environment," which features Native stories. Native peoples are also contributing to dialogue about climate change and sustainability. "Indigenous peoples are being impacted the most right now, and they are also the ones most knowledgeable about how to sustain life on the planet."
Corinne notes that it is important to uplift contemporary Native voices. "So often in popular media the natives depicted have been 'historical' figures rather than contemporary people," she says. Native creators are also now telling their own stories. "Native people need to lift their voices and their experiences – they need to be seen and heard. That is an important first step. I sometimes feel disconnected from my identity because, when you look around, you don't find others who share your experience. I'm grateful that I have a large family and we can all be together at events and feel like we share the same identity and history."
"I am mixed, and so my race has always been entirely dependent on the person perceiving me. I've been mistaken for almost every race you can think of. People can be very ignorant about Natives. I volunteered at a school one time and when I told one of the little girls that I was Native, she was like 'you know that Native Americans don't exist anymore, right?' Obviously, I don't live in a teepee and I don't do all of these things that media tells us are part of Native culture. My traditions and culture are my family's traditions and culture."
Corinne is also working with another Native student on campus to revive the Native American Student Union(NASU) as the organization's vice president. The Native American Student Union brings awareness to the Native American community on the JMU campus. It is a place to participate in Native American culture while also learning about the heritage and culture behind the practices. Students do not have to be of Native American or Alaskan Native decent to join NASU.
In 2020, Corinne completed an internship with a publishing company. She read manuscripts and helped the press make publishing decisions. "In March they reached out to me again and asked if I'd read a book that had quite a few Native characters in it. They wanted me to comment on the Native representation and also ensure that it was proper, that it accurately depicts Native people." She is considering enrolling in a graduate degree program in Indigenous Studies. "I think as long as I remain passionate and keep doing what I love that I'll figure out where I'm supposed to be going next."