Nurturing Inclusive Communities through Hip Hop
Independent Scholars
---
SUMMARY: Willis Landon ('20) cultivates self-expression, cooperation, and life skills in young people with community-based music education
---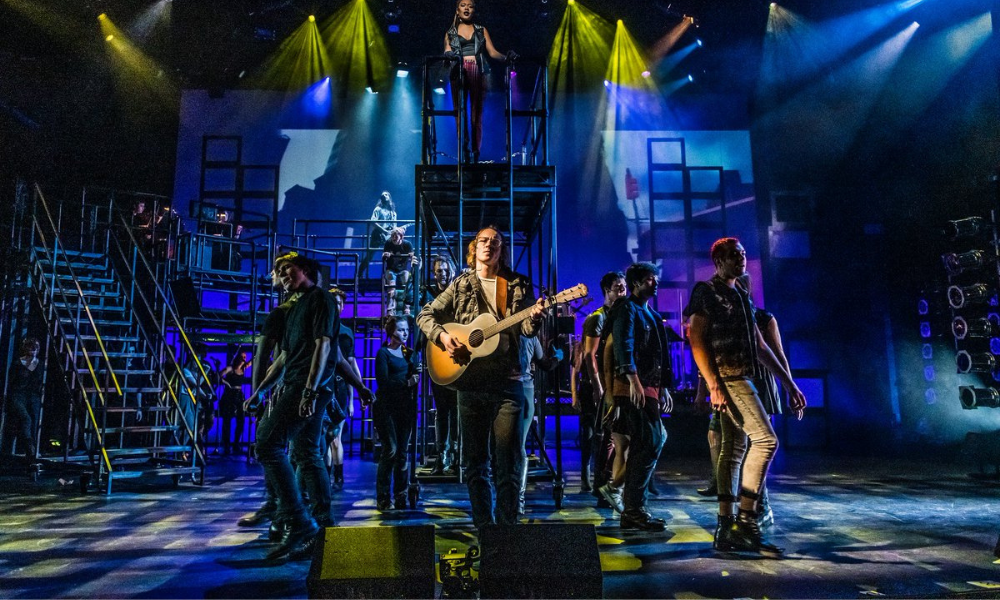 Willis Landon was born and raised in Roanoke, Virginia. Roanoke's school district had an excellent public school music program, giving Willis access to an array of musical activities catering to students, teachers, and performers of all ages. They started out playing cello in the orchestra, and picked up the electric bass in middle school. Upon discovering the Music Lab at Jefferson Center, an arts program that serves 6th through 12th grade students, Willis realized that music did not have to be confined to the four walls of the classroom. Music Lab gives middle school, high school, and homeschooled students access to professional-grade recording equipment and an education program dedicated to teaching performance, production, business, and life skills through music. "I learned so much about music and myself through the non-traditional outlets that the Music Lab provided, and I was greatly inspired by the administrators and educators in the program," they recall.
Willis put together some bands at Music Lab, and played with a local bluegrass group and the Latin Clave band. Latin Clave is an ensemble of dedicated musicians in Roanoke who play upbeat salsa, cumbia, bachata, merengue, and Latin jazz. Throughout high school, Willis made some records, played local art centers, theaters, and music festivals, and did many gigs with Latin Clave. "When I went to college, I carried so many important lessons from the Music Lab with me, but I still wasn't quite sure how I could use my education to create an environment like the one at the Jefferson Center."
Willis pursued majors in Theatre, Music Education, Jazz Studies, and Music Industry before discovering the Independent Scholars major at JMU. Willis also found formative and significant opportunities at JMU and in the local community. They fronted a jazz/funk hip-hop band Gryzzle, which did tours up the East Coast. Willis learned how to be a professional touring musician and work in a tight performing group. Willis says that they will always fondly remember making beats at the Golden Pony in downtown Harrisonburg with families and musicians from JMU's Center for Inclusive Music Engagement.
Willis received a grant from the College of Visual and Performing Arts to attend NAMM, the National Association of Music Merchants trade show to learn more about the music business and their President's Innovation Award. They also traveled to Canada to learn from Québec's rap music artists. One of the contacts they made after the summer trip was with Montreal rapper Ashanti Mutinta, known professionally as Backxwash, who had just won the Polaris Award, the Canadian equivalent of the Grammys. 
Willis completed an Independent Scholars major in New Music Practices and Curriculum Design. Their senior project focused on the topic of accessible community music education. Willis says that at the heart of the project's thesis were three guiding questions: What does it mean to teach 'authentically,' meaning in a culturally responsible way? What are the best practices for an effective and sustainable community music education practice? And, what is being done in music academia and in the non-profit music sector to decenter whiteness in music education? "There are a lot of insensitive ways to teach hip hop," Willis says. "You need to teach it in a culturally-aware manner. Whiteness is central or hegemonic to education. I recall learning that the history of music rests on old, dead white men. But that's not what music is all about."
"Some music educators are discrediting hip hop as this 'music that won't last.' But hip hop is the most listened-to music genre in the world. It is not going to be peripheral. At the core of teaching through hip hop is the ethos of how am I going to tell you my story, and how are you going to tell me your story. It goes well beyond the music. So much of my project was about how to reach students where they are."
Willis says that a good Independent Scholar must develop guiding questions that they want to answer and be willing to put in the work, even when the original questions transform around you, as you learn more about your subject. "In Independent Scholars I learned that I could structure my time at the university towards building skills and learning material important to me and my future plans. The students in my cohort developed interdisciplinary projects that traditional degree programs could not accommodate. One explored the intersections of anthropology and art history in the Persian Empire. Another studied gender disparities in STEM and is now pursuing a law degree. I found a great deal of validation in knowing that I wasn't the only one who was looking for a university-sanctioned way to study something that didn't quite fit into a pre-existing major."
"My advisors and I put together a plan for my remaining time in school, including a course list, independent study projects, and a justification for my degree: 'What work would I do that existed outside of an established major?' Independent Scholars allowed me to pursue music as it aligned with my educational interests and philosophy. The coursework and hands-on learning also prepared me for my senior project in the Honors College." Professor Sam Suggs, an internationally recognized and prize-winning bassist who served as project advisor, notes that Willis "is the type of mythical self-starter that often gets talked about when discussing the future of our industry. Their infectious artistry, humor, positive energy, and poetic way of shaping the world through language and music is something I miss intersecting with on a weekly basis now that they have graduated."
Willis is also grateful for the advice and support of JMU professors Jesse Rathgeber, David Stringham, Matthew Chamberlin, and Philip Frana. "Rathgeber and Stringham in particular asked really good questions, got me thinking, and offered me great resources. Chamberlin and Frana understood that I needed to explore a lot of things independently, and supported the work because they saw how valid and important it was."
They are currently busy with several projects and living in Boston, Massachusetts. Willis is in a folk trio called Palmyra (https://palmyratheband.bandcamp.com/) with two roommates. The group is practicing every day, doing weekly livestreams, and booking wedding gigs. As Sashathem (https://sashathem.bandcamp.com/), Willis is working with a PR team in Brooklyn, New York to put out a record this coming March. Sashathem has opened for Electric Kif, Chris Bullock of Snarky Puppy, and Kung Fu. Willis also teaches guitar lessons online to about 30 young people each week, and is fundraising for Southern Harm Redux, a coalition of activists and drug users. "I put out a project last year online for this," Willis says. "A cassette [a resurgent retro format] is coming out in March for my latest project which is raising funds for No More Dysphoria, a non-profit that helps fund transitions for trans folks."
Willis aspires to become an ambassador of inclusive hip-hop education. They are inspired by the legacy of Toni Blackman and Anjimile, and continues to learn about hip-hop history and education at ZUMIX, an East Boston-based nonprofit dedicated to building community through music and creative technology. Willis is also learning how to write grants and build resources for local nonprofit music labs.