Satisfying Deep Curiosities
Independent Scholars
---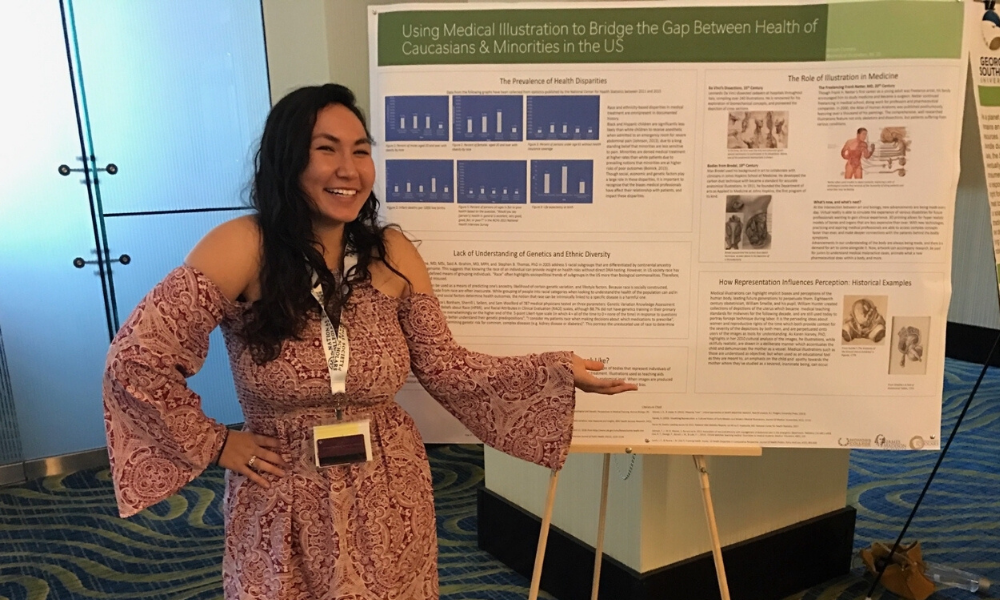 SUMMARY: Kristen Connors ('20) uncovers the wonders of human life, the body, and education
---
Kristen Connors is from Plymouth, Massachusetts, site of the first Mayflower Pilgrim colony. She went to a small Charter school with a graduating class of 41. "I live in a beautiful town overflowing with a proud history," she says, "and I loved getting involved with the town, whether it be serving with Meals on Wheels or interning for the district Senator." Going to a university with over 20,000 students represented a big change. James Madison University cultivated her appreciation for the arts, and helped her see the Harrisonburg community as an important part of her undergraduate education.

Kristen learned about JMU from her high school cross country coach, who had also attended the university. "As soon as she told me about the Blue Ridge Mountains, I decided I needed to check the school out," she says. "When I toured, I was struck by how much the school values student leadership and community service. I even cried watching the information session video."

She applied to JMU as a Statistics major, then almost immediately switched to Health Sciences. "I got so much out of all of the general education classes I was taking," she recalls. When she heard about the Independent Scholars program through the Honors College, she was immediately interested. "I knew I had to check it out. It really allowed me to see the intersections between different colleges and fields of study." Kristen now feels extremely well rounded as a student in a liberal arts university. Her hand-crafted major at JMU within Independent Scholars is Biomedical Illustration. She has minors in Biology, Sociology, and Honors Interdisciplinary Studies.

One of her most valuable experiences at JMU has been serving as a yoga teacher in the University Recreation Center (UREC). "Being a yoga instructor at UREC has taught me so much about forming meaningful connections and empowering my peers. I loved watching the sunrise as I took my class through sun salutations." She's gained confidence through teaching in UREC, and has been able to mentor future instructors and hand down the gift of her experience. One of Kristen's mentees will begin teaching at JMU next fall after taking her class every Tuesday morning over two semesters. "I'm so proud to have a legacy, bringing warmth and intention to the Mind/Body studios."

Kristen recalls that Dr. Joseph Harsh, her capstone advisor, explained to her about how he was going to mentor her from the beginning. "He left me to develop a goal, problem solve my way there, and then return to him for questions, feedback, and support," she says. "He gave me space to make mistakes and develop better solutions because of it." While her project was collaborative to some degree, and interwoven with the goals of the Biology Department, Dr. Harsh allowed her to satisfy deep curiosities through collecting and exploring data. "Dr. Harsh was so genuinely invested in me, and no matter how stressed out I was, I'd always feel so much lighter after leaving one of our lab meetings. My thesis would not be what it is without his guidance, constructive feedback, and mentorship."

She's also been involved in a lot of different co-curricular activities during her time at JMU, and is grateful to have met a diverse pool of peers so passionate about a variety of things. "I think that sometimes I was so focused on being a student, I forgot that my time at JMU was also an incredible opportunity to really enjoy my time doing things that would develop me in more intangible ways; hiking and enjoying the local nature, having coffee dates with friends and learning more about their experiences. It took me a while to find that balance."

During her time at JMU, Kristen sampled a lot of different organizations. Some that she became fully invested in were UREC group exercise instructor and manager, Peer Assisted Study Session leader for General and Organic Chemistry courses, marketing director for Relay for life, and Alternative Break leader. Her service as Alternative Break leader led her to the position of Alternative Spring Break Coordinator within the Community Service-Learning Office. More informally, she ran on the club cross-country team, and played intramural softball, basketball, and football.

Kristen says she doesn't know if she's going to directly apply her major to future career aspirations. At one point she was looking to become a professional biomedical illustrator and remains very excited about continuing to grow as an artist. "The Independent Scholars Program has definitely helped me to explore the interpersonal and creative aspects of the sciences," she says. "I've learned a lot about the process of learning through creative visualization. In the future, I want to create accessible educational materials as a genetic counselor." 

Independent Scholars allowed her to connect with different corners of the university, and expand her understanding of what education is all about. Kristen says that by designing her own degree, she has a better grasp of what it can mean to be a life-long learner, and have communities centered on learning and growing together. "I studied social inequality, art (especially figure drawing), and the biomedical sciences. With this, I could piece together how to begin tackle inequities and disparities within US health care through education."

For her Biology thesis Kristen studied the James Madison University Biology Department's response to national calls to increase the science, technology, engineering, and mathematics (STEM) workforce. She was especially interested in the department's focus on improving the entrance and retention rates of students who transfer into JMU. The department piloted a transfer student course-based undergraduate research experience (tCURE) in the Fall of 2019. This course was integrated into one of two sections of the already established BIO 203: Bacteriophage Discovery lab, and incoming transfer students were encouraged to enroll in the tCURE section.

To gain insight into its impacts on transfer studentís transition and enculturation into JMU BIO, Kristen's study evaluated the tCURE in respect to cognitive, affective, and behavioral outcomes of students in each of two sections of BIO 203. She also collected data from JMU BIO students who had transferred into the program prior to Fall of 2019 to gain insight on perceptions of their barriers to academic success. At the end of the course, tCURE students saw comparable cognitive gains, greater technical gains, and greater gains in science identity in comparison with the other BIO 203 section, as well as had a greater sense of belonging in JMU BIO. tCURE transfer students also reported that the course helped them to navigate JMU BIO and build community within it. Results of this study suggest that a number of design features included in the tCURE framework contribute positively to the transfer student experience.

Next year, Kristen will be attending the Universidad de Alcal in Spain and working towards a Masters in Bilingual and Multicultural Education. She want to use this experience to strengthen her intercultural communication skills, and then go to school for genetic counseling. "I believe that continuing to strengthen my interpersonal skills, especially with native Spanish speakers, will make me a better medical professional, and more able to serve my community."