Independent Scholars
Leveraging Passions to Create Meaningful Social Change
---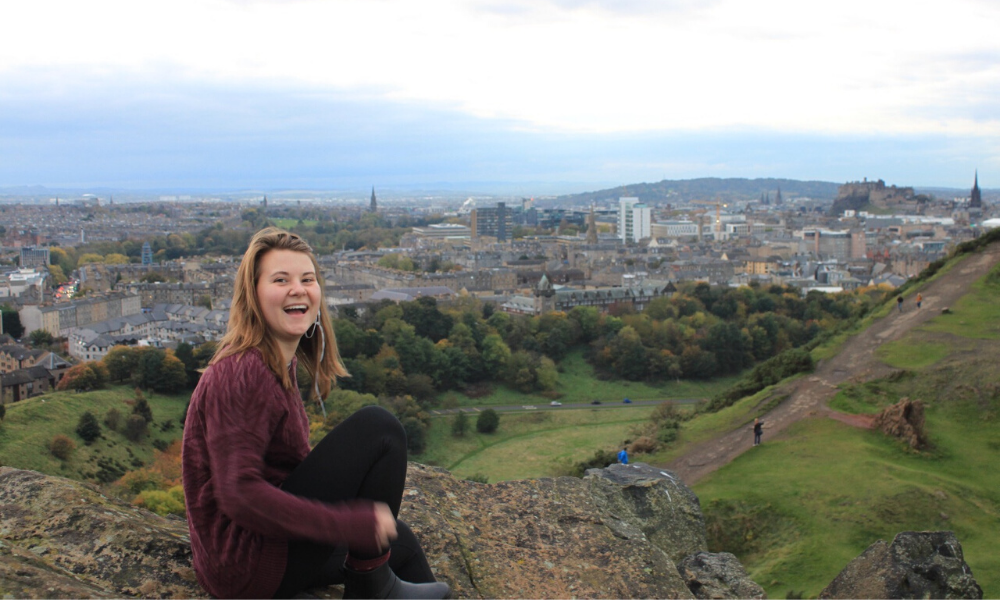 SUMMARY: Visual storyteller Madi Schultz ('20) is excited by creative problem solving, good design, and the power of the arts
---
Madi Schultz was born in Ohio, but considers NOVA home. "I think the way my parents raised me was pretty counter to the fast-paced, highly competitive nature of Northern Virginia." Her parents let her play sports when she wanted to, and take advantage of various extracurricular activities she was passionate about, rather than the ones that might look good on a college application. "The diversity I grew up around was tremendous," she recalls. "There were a dozen languages on each sign at my elementary school, but also a great deal of economic diversity – it shaped my heart for justice. My mom's engagement with the community also shaped my love for and appreciation of service."
Madi always had a knack for academics. She learned to adore school largely because of educators who taught her how to love learning over content. "I went to an incredible elementary school which had an advanced academics program. We did things like conducting our own in-depth research for National History Day projects, bringing rocks to school to crush up berries and make cave paintings, writing personal expository essays, going on field trips to Pennsylvania to see special exhibits, that sort of thing," she says. Her school experience was formative in firing her curiosity for diverse subjects.
 She enjoyed her years at South County Secondary School in Lorton, VA, and especially a class in AP English Language and Composition. She had a teacher, Melanie Cameron, whose love for the classics still affects Madi today. Cameron helped her see literature as exciting and scandalous, rather than simply a dry requirement. But it was through photography – long hours spent in the dark room and skipped classes to print photos in the lab – that defined her identity in high school. To this day people still recognize her as the 'artsy one,' the student who produced award-winning photos that plastered the walls of the art hallway. "Those were the glory days," she reminisces. "My photography teacher Scott Saylor was a character. He holds a very near place in my heart. He was stubborn as the day is long, and we butted heads a lot, especially at the height of my angsty 'rebellious' phase, but he always believed in me and pushed me to create more, different, and better."  
Madi applied to a dozen colleges, and had narrowed her choices down to Christopher Newport, JMU, and Susquehanna University in Pennsylvania. She eventually submitted her deposit to enroll at JMU at 11:59 PM on the night it was due. "I chose JMU because I saw myself in the people there. But I was not confident in my choice at the time. I sobbed in a Target laundry aisle the night before I left to come to school because I was a puddle of anxiety about the transition. If I knew then what I know now, though, I'd make that choice over again a thousand times." Madi says that JMU has been joy, challenge, opportunity, community, and home for her the past five years.
She started out her career at JMU on a pre-occupational therapy track, but that changed quickly. Madi was a justice studies major, a social work major, and an art minor at different points in time. "After dipping my toes in a number of majors and not being able to settle, I sat down with the honors academic advisor Jared Diener, who suggested I might be a good candidate for Independent Scholars." Through the proposal writing semester, she was able to articulate exactly what fired her imagination, and create an action plan to learn as much as she could about the intersection of the arts, media, and social justice. "I wanted to forge my own path. I wanted to have a degree of autonomy over my academic journey that a single predetermined major didn't allow. I wanted to be able to swim in a bunch of different disciplines, and to identify and begin to communicate the threads that connect them all."
Madi is graduating with majors in Independent Scholars, and Media Arts & Design with a journalism concentration. "Ultimately, I am exploring ways in which media, and specifically photography, can be used as a catalyst to change. Media can hinder or complicate justice issues, spark conversation, and shape and be shaped by society." She has developed convictions about how her own work can advance, comment on, or explore social justice causes. Madi is currently wrestling with what narratives she has a voice in, and which ones she does not, as a middle-class white female. To sharpen her interpretive skills, she took JMU courses in Art and Activism, Writing and Photography, and Justice and Media.  
Independent Scholars, she says, is unique in that it is concerned with connections between the disciplines. "A lot of majors allow you to dig deep into a specific discipline and a specific way of thinking," she says. "Independent Scholars allows you to dig deep into how different schools of thought intersect with, amplify, and complement one another. For me, it's been more of a dance than a straight path. Rather than classes or professors telling me what to think about, I have to synthesize the information I'm getting from school, extracurriculars, talks, books, and the world at large."
Daniel Robinson, associate director of the Institute for Creative Inquiry and instructor of art studio, is Madi's honors advisor on her senior project entitled Mothers and Daughters. "As soon as I met with Daniel, I realized that he 'got it,'" Madi recalls. "He vibed with what I was trying to accomplish, and had a lot of his own expertise to share. Each time I meet with him, I walked away with a new book or body of work relevant to the specific questions I'm asking. He both challenges and encourages me as an artist, student, and as a human being."
"Madi developed a project that intentionally pushed her in uncomfortable directions," says Daniel. "She asked questions without clear answers, and pursued them rigorously. She challenged me to think deeply about her work and the creative process. She never took the easy route, and it shows in the quality of her work."
Last summer, she traveled to Urbino, Italy with the SMAD department. Madi spent a month learning about the culture there, and wrote a story, created a video, and took photographs. She interviewed Italian speakers with an interpreter. Her work on that project can be viewed online at http://2019.urbinoproject.com/. One of her photographs was selected as the cover of the 2019 Urbino Project Magazine. She spent a semester studying at Griffith College in Dublin, Ireland. While in Ireland she interned for Guaranteed Irish, a small nonprofit that promotes Irish-based businesses. She created graphics and oversaw distribution on social media, conceptualized and recorded radio promos for the Irish Business Show, and worked to create brand recognition across platforms. Her adventures and other photography work can be viewed at https://schultmb.wixsite.com/blog.
Madi also worked seven summers at a camp near Middleburg, and so has a tool belt of unlikely skills which she sometimes jokes about putting on her resume. For instance, she can get sleepy eight-year-olds to shower and dress in under five minutes, drive a 15 passenger van across three state lines in a day, tie a retraced figure eight knot, and start a blazing fire with absolutely no dry wood. She is also a mentor for Big Brothers Big Sisters, a past member of Intervarsity Video & Graphics, a student designer in BizLab @ JMU Ice House digital services, and an assistant at the nonprofit The Nest Collective.
After graduation, Madi wants to continue working towards justice, peace, and equality through media. "Down the road," she says, "I would love to create my own publication that highlights people and issues (with undertones of 'social justice') in a specific community or place." She is excited by creative problem solving, good design, and the power of the visual arts as a catalyst for social change. She is now seeking a job that will allow her to leverage her passions to create meaningful change.