Independent Scholars
In pursuit of equitable education
---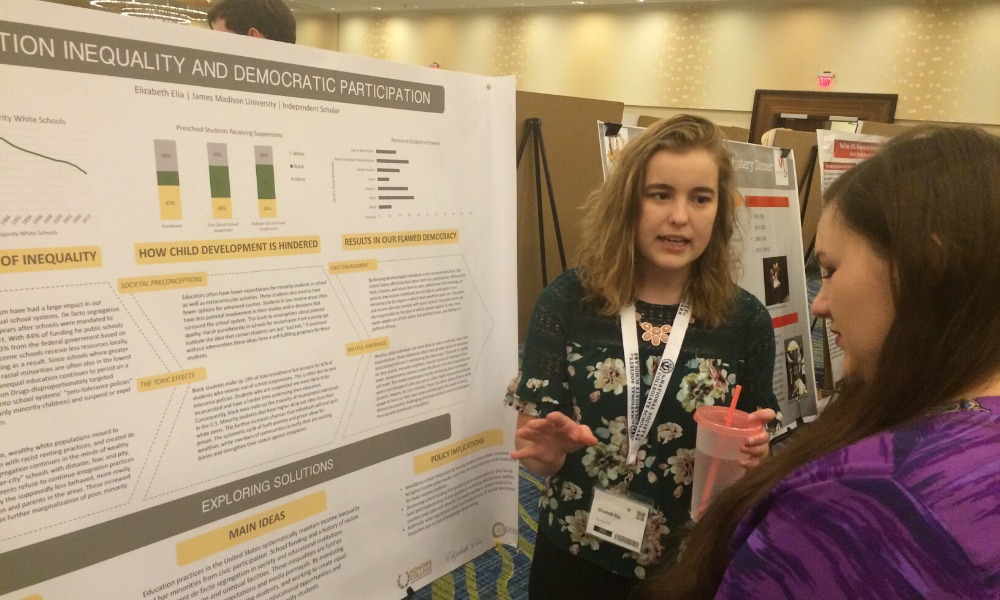 SUMMARY: Elizabeth Elia ('20) explores the relationship between learning, social justice, and public policy
---
This year's university valedictorian, Elizabeth Elia, calls King George County, Virginia, the birthplace of James Madison, home. Her parents didn't have a lot in the beginning, she says, but they embodied the American Dream. As Elizabeth grew up, she began to notice things local young people did not possess. King George didn't have much in the way of civic engagement activities, or places for thoughtful conversation, or even common public spaces for people to inhabit.
At JMU, Elizabeth had an early epiphany that she needed to learn how to persuade people to help one another. She had many different interests before stumbling across the Independent Scholars Program. She was interested in journalism, nonprofit studies, pre-law, media arts, political science, and advertising. Independent Scholars gave Elizabeth the opportunity to handcraft her own major.
She always had a desire to help people develop active citizenship. As an Independent Scholar she explored a lot of problems that were important to her and that needed answers. Elizabeth says that in the classroom her eyes were opened most by Dr. Amy Paugh, professor of anthropology, who taught a class on Language and Culture that became part of her Independent Scholars courseplan. Linguistic anthropology helped her build a deeper understanding of culture, from language acquisition and socialization, the way we think and our identity – even politics and literacy.
Elizabeth graduates this month with an individualized major in Social Justice through Education Policy. Her senior honors project explores equitable education participation and newcomer students at Harrisonburg High School. Her advisor is Dr. Edward Brantmeier, an associate professor in the College of Education and assistant director of the Center for Faculty Innovation, with readers Dr. Carlos Alemán and Dr. Carah Whaley. She studied newcomer students who are refugees and asylum seekers, and/or are from underrepresented populations. She looked at the cultural, institutional, and individual barriers associated with equitable education. She paired these investigations with a case study of culturally sustainable mathematics pedagogy. The thesis includes some macro scale recommendations about equitable education and social justice policies. There are even some paragraphs about the current coronavirus pandemic in the final document.
Regarding the pandemic, which has altered the traditional arc of in-person learning across the country, she says that while she's relatively good at school, online learning is very difficult. She has learned how much she relies on her routine, her friends, and the physical environs of campus. Now all she has is a MacBook Air. She wants to do her best but that's hard right now. Elizabeth adds that it's fortunate her Kinesiology class is online. She says that she is committed to the workouts and so is getting a decent amount of exercise. It's been really good for her.
Elizabeth took advantage of numerous co-curricular opportunities over her four years at JMU. In Fall 2017 she served as a coordinator for Overcoming Barriers. While working part-time in JMU's Community-Service Learning office she led Alternative Break Program trips to the East Coast Migrant Head Start Project in Florida and to Joshua Tree National Park for climate change research. She led Science Explorer and Lego League activities as a program intern at the Explore More Museum in Downtown Harrisonburg. Elizabeth served as an Honors College teaching assistant for the First Year Experience program under academic advisor Jared Diener, as well as TA for an honors seminar in the civic engagement and community service area of emphasis sequence led by Dr. Whaley.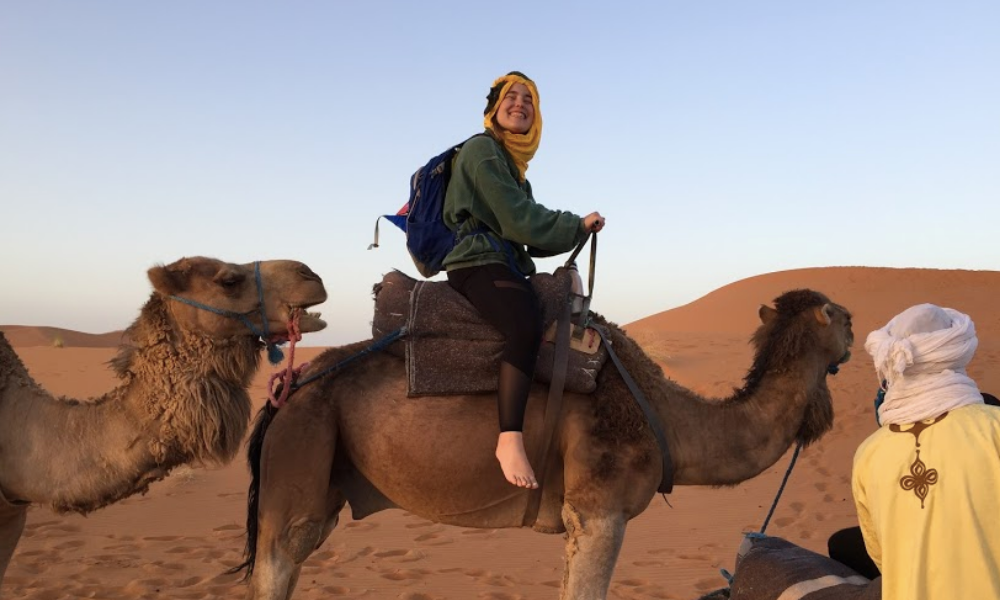 Elizabeth is a past vice-president of foundation and philanthropy for Delta Gamma, and a discipler in Cru. She's completed a mission trip to North Africa, and leads a ministry of Cru that exists to inspire and equip every fraternity and sorority member to leave a spiritual legacy in their Greek House. Elizabeth also served as a First Year Orientation Guide (FROG) and a Valley Scholars program mentor in 2018-2019. She is a member of the international women's fraternity Delta Gamma and the philosophy honors society Phi Sigma Tau.
JMU is a place where Elizabeth became confident and flourishes. She reports that she has grown in mind, body, and spirit. Her four years at JMU have been humbling. She works hard and every day discovers many others working hard as well. Her family is excited about the person she has become. Elizabeth shares this advice with the next generation of JMU students: "Enjoy every second and don't spend the whole time thinking about the future. You only get four years of college. It flies by faster than you think. Enjoy the journey!"