Independent Scholars
Structure, Shelter, and a Way Out
---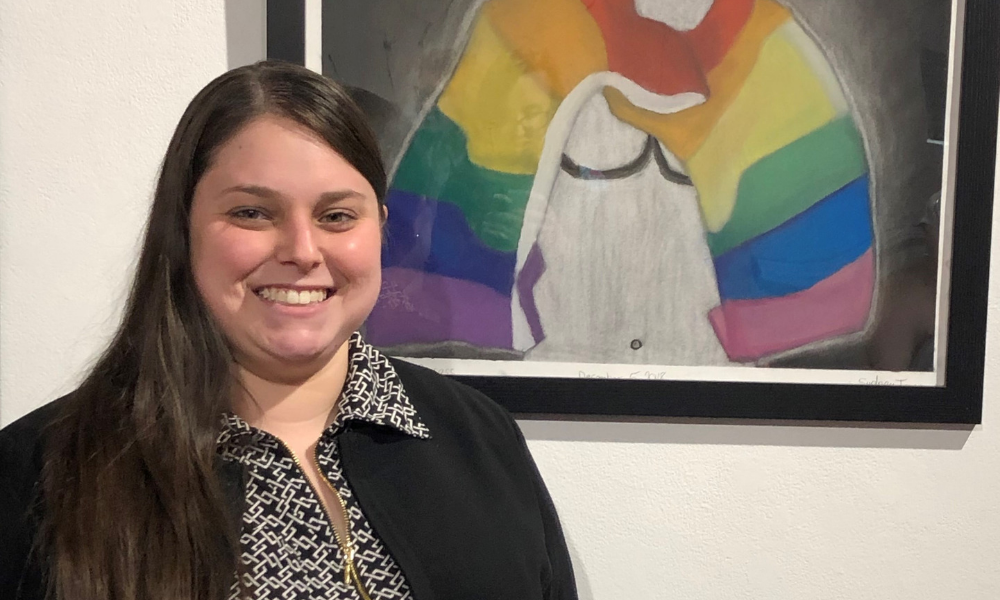 SUMMARY: Sydney Inger brings attention to the plight of homeless LGBTQIAP+ youth
---
Sydney Inger is surprisingly good at organizing events and following through on their success. At the tender age of eight, she started a small organization called "Kids Feeding Kids." The group, inspired by Red Cross commercials for African aid, collected food for local Long Island, N.Y. pantries. Over the next decade, Kids Feeding Kids gathered over two tons of food. In 2012, she started a food and clothing drive to supply Long Islanders with items they lost to Hurricane Sandy. In a local newspaper from that year she asserts: "Hunger has no expiration date." Sydney has completed collection drives for Island Harvest, the UJA-Federation of New York, and a local veteran's food pantry. Even at her bat mitzvah she made sure that leftover food was donated to charity.
Sydney now dreams of taking her advocacy work to the LGBTQIAP+ community by building a nonprofit food pantry. As a JMU Independent Scholar, she is shaping the direction of her own education to make this happen, and dreams of opening her own youth shelter.
Sydney credits family and school in East Meadow, N.Y. with her early activism. "My family and I are very close," she says. "I would not be who I am without their guidance, love, and support." She also credits guidance counselor Joanna Silberman and social workers Margherita Diglio and Lori Petersen and at her high school with providing daily inspiration. Sydney is also an accomplished artist, scholar, and athlete.
These days Sydney is excited to share her passion for learning with LGBTQIAP+ youth. She's pursuing two majors and two minors at JMU. She's completing a BFA in Graphic Design and a BS in Independent Scholars – the university's distinctive "design-your-own" major. Additionally, she is working on minors in Honors Interdisciplinary Studies and Family Studies. Sydney recalls falling "madly in love" with JMU. "Coming from out of state," she says, "I was looking for a university with a family-friendly atmosphere, along with caring, intelligent professors and administrators who would help me flourish."
Sydney wants to build a place where LGBTQIAP+ youth are comfortable and accepted. She's motivated by a desire for diversity, access, and inclusivity, while helping as many young people as possible in their journeys coming out and living their truths.
She remembers facing many challenges as a LGBTQIAP+ youth herself. "Identifying with the community," she says, "made me an easy target for bullying and rumors." She's thrown herself into her education, searching for answers that can help others to find basic necessities and develop the confidence to live out their dreams.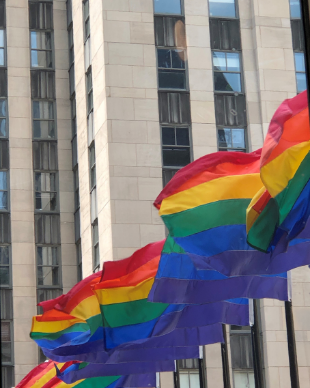 Sydney's vision is to create a shelter in the Shenandoah Valley that can be a safe place where homeless LGBTQIAP+ young people live. She imagines an education program, clothing exchanges, on-site counseling, nutritional meals, and clean beds – all grounded in principles of trauma-informed care and integrated access to housing, medical care, and social services. She is already partnering with Dr. Rocky Parker, Assistant Professor of Biology and Vice President of the Board of Directors for the Shenandoah LGBTQ Center (https://www.shenlgbtqcenter.org/) in Staunton, Virginia. From their website, the Center is a supportive network where people of all ages in the Shenandoah Valley and Greater Appalachia can thrive as equal, healthy, supported members of society. "I will be collaborating with the Board of Directors to create a food bank," says Sydney.
"So often the people who visit the Center are in need of support in multiple ways," says Shenandoah LGBTQ Center Executive Director Emily Sproul. "Whether they are students at local colleges, young adults seeking more independence and employment, or older people living on fixed incomes, food security is an issue for many in our community. By providing a food pantry through the Center we can help alleviate this stress that keeps them from living healthy, happy lives."
Rocky Parker met Sydney after being connected to her via Jared Diener in the Honors College. Rocky's involvement with supporting LGBTQIAP+ students is broad, from working at JMU via Safe Zone, the Valley via his work with the Center, and organizing and advocating for LGBTQIAP+ biologists in a national scientific society. "So to have the opportunity to work with a rock star like Sydney was something I couldn't pass up, especially since she came in armed with substantial experiential knowledge. Sydney is an exemplar of the pursuit of independent, impactful scholarship." As a cis-identified gay man who grew up in rural Arkansas, Rocky empathizes with the narratives he has heard at JMU from his own students and broadly in the Shenandoah Valley, and is highly motivated to do what he can to support the diverse queer people living here. "Sydney's project has exceptional potential to drive change for a vulnerable, neglected group of Americans right here in Virginia."
Sydney knows that LGBTQIAP+ youth homelessness is a complex problem, and that answers will need to be drawn from disciplines like Social Work, Family Studies, Sociology, Art History, Justice Studies, Women's, Gender, and Sexuality Studies, and even Graphic Design. Many interdisciplinary questions lie at the heart of her research: What are the unique challenges and risks common among LGBTQIAP+ youth? How do religious and sociocultural norms, and the transition to adulthood, affect these young people? What about racial, cultural, and ethic identities – how do they impact homelessness and hunger? In what manner do homeless shelters currently treat LGBTQIAP+ individuals? "My questions cannot be sufficiently answered in only one major," she says.
At JMU, Sydney says, "I'm making lifelong connections with professors, staff, and other students, and learning skills useful for networking." Sydney believes that three traits – hard work, open-mindedness, and humility – will inevitably lead to the accomplishment of wondrous things.