Independent Scholars
Infusing Nature in Interior Design
---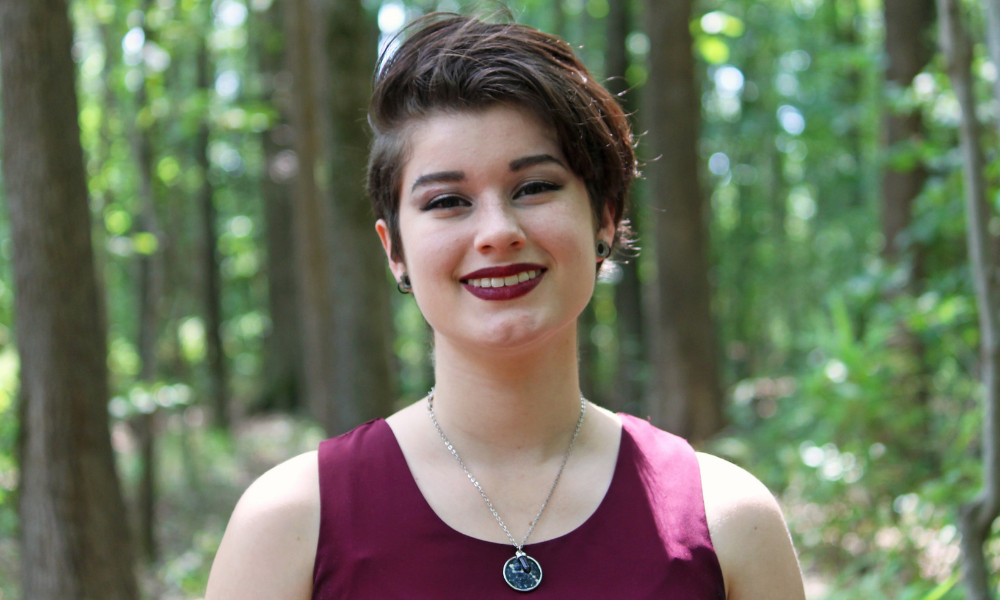 SUMMARY: Junior Olivia Duke combines passions in unique major that reimagines living spaces
---
Olivia Duke describes herself as an open-minded and empathetic person who happens to live in a state (Virginia) sandwiched between two great interior design traditions: the Northeast's efficiencies and the South's eclecticism. Now she's looking out west to Seattle, and as far east as Switzerland, for natural inspiration in transforming the way we design our homes.
Olivia is majoring in Independent Scholars with a specific focus on nature, community, and domestic design. She's found her calling after what she describes as an "academic awakening" that took her well beyond the desire for good grades. Wanting to express herself as a creator of more humane and sustainable living spaces, Olivia pursued visual arts in high school as well as here at JMU.
In class, an initial mind map of ideas, sources, and questions related to Olivia's interests completely occupies all available space on a large white board. "I've taken an intense interest in the 'notable parts' of typical residences and adopted lifestyle choices in my state," she says. "That means observing our best assets, but also qualities that need improvement."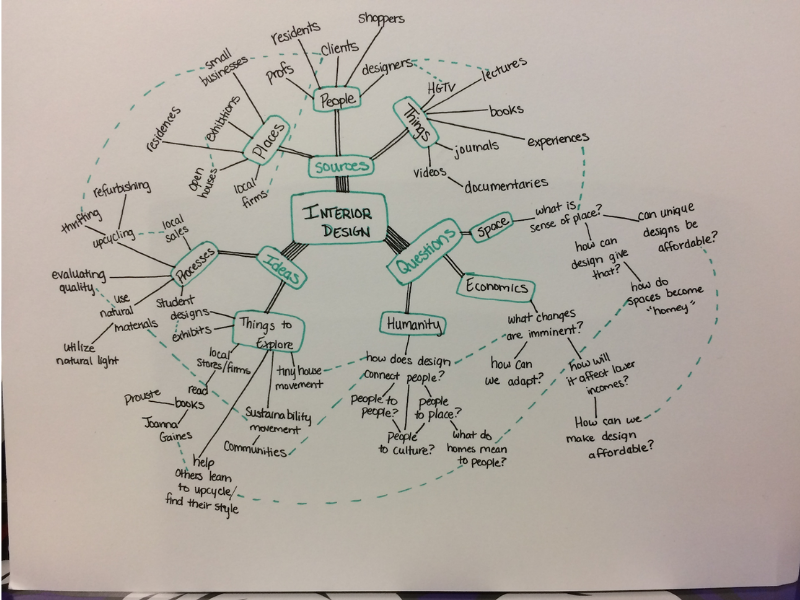 Independent Scholars, she asserts, gives her substantial freedom to discover many topics and skills she never knew existed, and shows her how to express personal talents through creative media. Olivia believes the exceptional opportunities afforded by JMU's build-your-own major permits her to break the bounds of traditional disciplines and topics and combine different movements, trends, and ideas into something new and valuable.
Olivia's focus as a designer lies in examining how nature can find a comfortable place in people's homes in a way that is affordable, as well as promoting a sense of place and community. She's motivated by direct experience. "I had this amazing opportunity to assist in the interior design of a new office building that my father was working on," Olivia remembers. "I was amazed to see how products and living spaces were made to be easily or affordably manufactured, but in complete disregard for quality, sustainability, or authenticity."
Olivia is currently studying how people connect in domestic life, how humans and nature fit together, and how sustainable materials affect quality and cost. She hopes to utilize natural and repurposed materials for homes and interiors to produce quality products that will stand the test of time.
She also wants to know more about the many factors that contribute to a nourishing ecosystem – for both people and the earth – including how the combination of nature and community can lead to the best ways to sustain our lives. Olivia believes Harrisonburg is the perfect environment for inspirational design thinking. "It's a beautiful area with a good community, and for me it's the perfect size."
She is particularly interested in biophilic design, which originated in the context of architect Frank Lloyd Wright's work on buildings that flow into the surrounding natural environment. Wright was followed by architects who directly incorporated raw natural materials into their designs.
Biophilia today means incorporating a "love of life" into design. It is a worldwide movement – with strongholds now in the Pacific Northwest and Central Europe – to integrate nature more fully into daily life, including housing. The belief is that the bonding of individuals with nature promotes close-knit societies.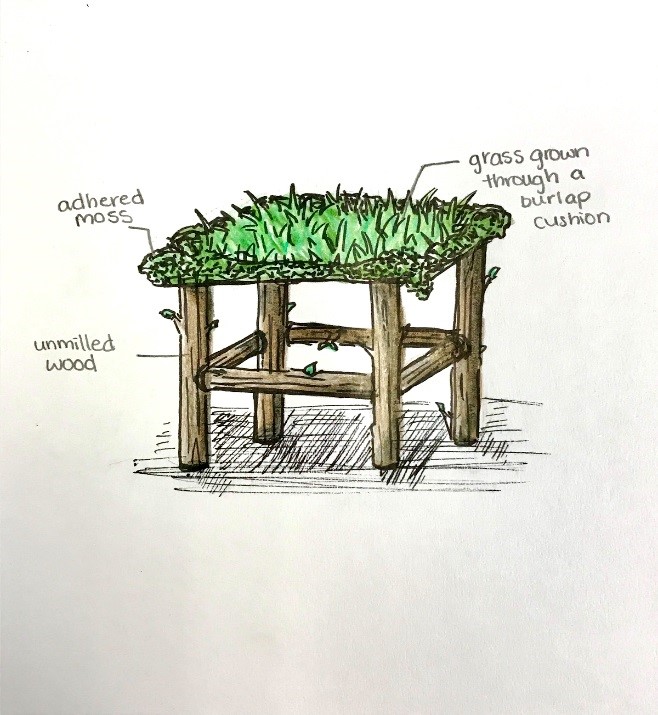 Nature, in other words, is a catalyst for community. Olivia wants to see expert creators and common people
engaging in natural design to facilitate community involvement and civic engagement. For her Independent
Scholars work, she intends to draw from the disciplines of visual arts, collaborative studies, design, sociology, philosophy, and natural sciences.
Olivia wants interior design to show that everyone is worthy of care and compassion. "It is my hope," she says, "that I can work with others to create spaces that will provide comfort, personality, and a healthy living situation, and find ways to show others how they can create these kinds of spaces for themselves."
Olivia notes that Independent Scholars approaches learning by putting research and application on equal footing. The major, she says, "teaches students that – in order to create their best work – they must be knowledgeable; not just in their own field, but in any that could apply." Careful searching 'outside the box' is the main method she values in this program, she says – supplemented as it is by small classroom settings and friendly dialogue.
Olivia is currently learning from R. John Mertens, a JMU artist and assistant professor whose work is characterized as sound, fiber and performance installations that question forms of pedagogy, interaction, folklore, historicity and contemporary craft. He has shown nationally and internationally with recent solo and group exhibits at the Museum of Contemporary Craft in Portland, Oregon, the Dennos Museum Center, Muskegon Art Museum, Ann Arbor Art Center, MOCA in Virginia Beach, and the Scythia Arts Center in Kherson, Ukraine. "Mertens has shown me things about art – and even life – that I've never before considered," she says. Mertens teaches Olivia when to be selfless in her own work, and when and how to be selfish. "What makes art what it is? What has place and value in a particular community? How does meaning get attached to design and vice-versa? Mertens speaks about these things as they are."
Says Mertens, "In a time when students and citizens lean toward playing everything safe, Olivia, possibly due to the experimental nature of the Independent Scholars program, immerses herself fully in the process of learning. Olivia is not looking to simply answer the questions put before her but to understand why the questions have been asked, and to develop her own set of new questions from this context. This ambition and free-thinking are the qualities that exemplify the art programs at JMU."